Mamata flags people's hurdle to cremations
CM concern over lone Covid-19 crematorium in Dhapa that serves the whole of Calcutta and Bidhannagar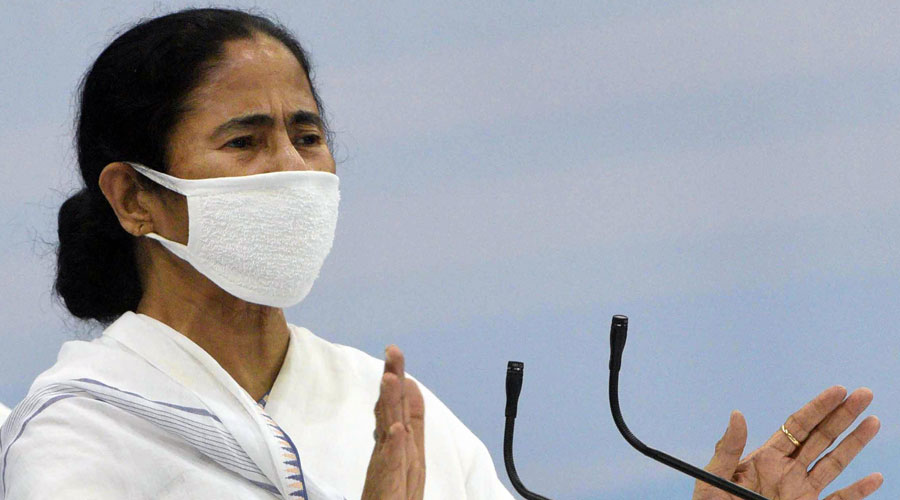 ---
Calcutta
|
Published 17.07.20, 03:55 AM
|
---
Chief minister Mamata Banerjee on Thursday highlighted the problems stemming from people's resistance to the Covid-19 dead being cremated in their neighbourhoods, saying Calcutta was left with just one crematorium now for this purpose.
Even this lone Covid-19 crematorium in Dhapa that serves the whole of Calcutta and Bidhannagar often shuts down, the chief minister said.
"On an average, there are 20-30 bodies. There is only one crematorium — in Dhapa. How many bodies can be cremated in one crematorium? That too shuts down at times," Mamata said.
"Building another crematorium will take at least four months," she added.
Calcutta has seven other crematoriums. Resistance from the locality had compelled officials to stop the cremation of dead Covid-19 patients in at least one of the seven crematoriums. Subsequently, it was decided to confine the Covid-related cremations to the Dhapa facility, which was originally earmarked for unclaimed bodies.
Mamata explained the authorities' struggles in finding crematoriums for dead Covid-19 patients as well as sites to establish quarantine centres for suspected patients.
Mamata said: "We have not been able to take over even one community centre (to set up quarantine facilities). No one will allow a (quarantine) centre in their neighbourhood." 
"No one will allow the cremation of the Covid-19 dead in their neighbourhood. Then where will the cremation be done?"
Officials of the Calcutta Municipal Corporation — which has been asked to cremate the Covid-19 dead from Calcutta and Bidhannagar — said the Dhapa crematorium also caters to unclaimed bodies, which adds to the queue.
"The crematorium has two electric pyres, one of which frequently shuts down. All these are reasons why the queues are lengthening," a civic official said.
What this means is that the bodies of coronavirus patients tend to lie for a long time at their homes or hospital morgues before they are taken away by civic teams for cremation, adding to the families' anguish and anxiety.
This newspaper had reported on Wednesday, quoting sources, that state home secretary Alapan Bandyopadhyay had asked the civic authorities to help allay the families' trauma by informing them as early as possible when the bodies might be cremated or buried.
In the absence of such communication, the families' wait often turns excruciating, especially because many are still unaware of the procedure for the last rites of the Covid-19 dead — specifically, that the families have no role in it.
Mamata said on Thursday that the state was allowing families to see the bodies. "We have made arrangements so that the families can see the bodies for 30 minutes," she said.
According to guidelines issued by the Centre, the body of a dead Covid-19 patient must be placed "in a leak-proof plastic body bag".
"The exterior of the body bag can be decontaminated with 1 per cent hypochlorite. The body bag can be wrapped with a mortuary sheet or sheet provided by the family members," the guidelines say.
"The body, secured in a body bag, exterior of which is decontaminated, poses no additional risk to the staff transporting the dead body."