Hilsa haul dips to '25-year low'
Fisher folk attribute the dip to less rainfall and lack of easterly winds that help in the movement of the fish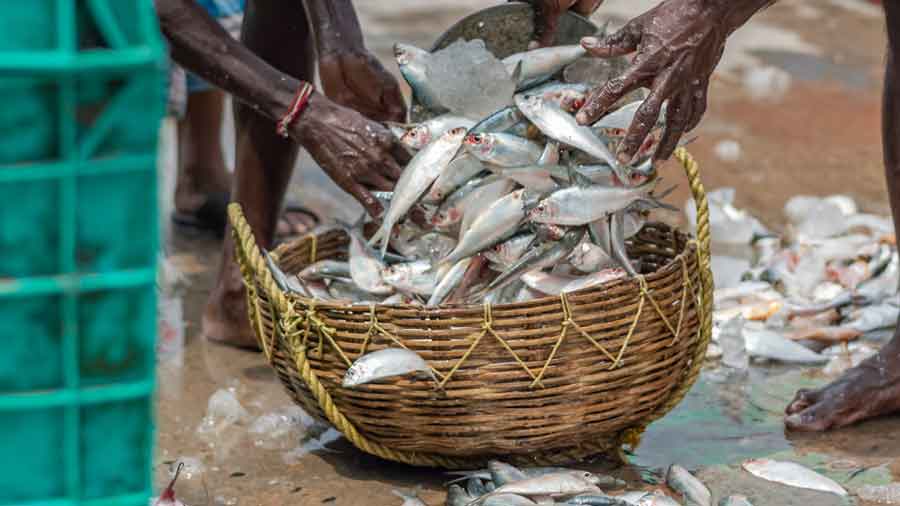 A harvest that 'you can literally count on one hand'
Shutterstock
---
Haldia
|
Published 05.08.20, 01:55 AM
|
---
Fishermen and trawler owners in East Midnapore and South 24-Parganas have reported a "negligible" hilsa catch six weeks into the fishing season. 
For the first time in almost 25 years a July monsoon proved so dry for the hilsa catch, sources said, attributing it to less rainfall and lack of easterly winds that help in the movement of the prized fish.
Digha Fishermen's Association secretary Shyamsundar Das said he had been tracking this trade for 30 years, but for the first time was seeing a hilsa harvest that "you can literally count on one hand". 
Assistant director of fisheries (marine), South 24-Parganas, Jayanta Pradhan agreed that in July the hilsa catch "almost amounted to zero". "Going by the record of the fisheries department this has been the lowest-ever catch in 25 years," he said. 
Hilsa trawlers, of which there are 3,500 in East Midnapore and 12,000 in South 24-Parganas, began fishing on the government-stipulated date of June 15 this year. Over a month and a half later, they say they have been "running at huge losses" ever since.
"The minimal hilsa that we have managed to catch has not fetched us even a fifth of the money spent on fuel and maintenance. We had a low yield in June but we were banking on a strong July monsoon which never came," said trawler owner Trilokesh Jana, who owns five vessels but has operated only three since June.
"We were bleeding in the lockdown. Our only hope was the hilsa, but even that was dashed," Jana added.
Sources said that South 24-Parganas' fishing economy for trawler owners, fishermen and fishmongers was almost wholly reliant on July's hilsa season.
In East Midnapore, sources said pomfret and prawn catches had kept operators' heads above water. "But we can't export them because of lockdown norms, and have to sell them dirt cheap in local markets," said a fisherman.
To add to their woes, Tuesday's low-pressure formation over the Bay of Bengal that is likely to continue on Wednesday has led authorities to ban fishing activities over these two days.
"This year has been a series of disasters," said a Digha fisherman. "Normally, we go on hilsa trips five times a month. Since June, we went only twice, and lost money. The average fisherman has not even made Rs 3,000 so far."