Case on BJP MP over quarantine violation
Bengal govt desperate to avoid issues of alleged corruption raised by me: Ranaghat BJP MP Jagannath Sarkar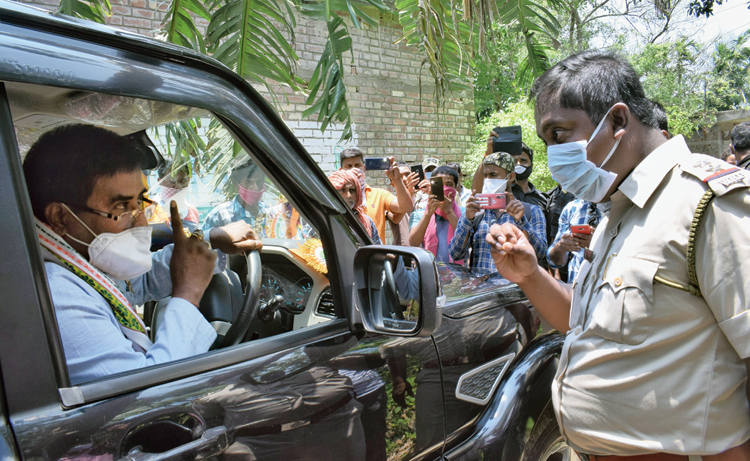 A cop speaks to MP Sarkar on Tuesday.
(Abhi Ghosh)
---
Santipur
|
Published 02.06.20, 10:49 PM
|
---
Police have invoked a section of the Disaster Management Act to start a case against Ranaghat BJP MP Jagannath Sarkar for allegedly moving around by flouting home quarantine advice issued to him by Nadia chief medical officer (health) on May 25.
CMOH Aparesh Bandopadhyay had advised the MP to remain in home quarantine for two weeks in "larger public interest" since he had allegedly mixed with suspected Covid-19 carriers.
But Sarkar refused to receive the advice letter when a police team reached his Santipur home at 3am on May 26. He insisted that he would receive the letter only if a similar advice was issued to Trinamul leader and Nabadwip municipality chairperson Bimankrishna Saha who had also visited those quarantine centres along with party activists.
Since May 26, the MP kept on flouting the advice.
On Tuesday, a police team led by officer-in-charge of Santipur police tried to prevent the legislator and his wife from leaving for Kalyani. But the MP eventually left home, prompting the police to start a case against him under Section 188 of IPC for non-compliance of the guidelines by a public servant and under Section 51(b) of the Disaster Management Act.
V.S.R. Ananthnag, superintendent of police Ranaghat police district, said: "A doctor (CMOH) has advised him to be at home so as to save himself and other persons. So, where is the problem? When so many deaths are occurring in the country regularly, it is the minimum responsibly expected from an MP"
Sarkar termed the advice as a 'conspiracy'. "The state government has become desperate to put me in confinement to avoid embarrassing issues of alleged corruption raised by me," he told The Telegraph.
Accusing the district administration of double standard, he said: "If I have done any mistake by visiting the migrant labourers at the Nabadwip quarantine centres, Trinamul's Bimankrishna Saha has also done the same and he should have been given similar quarantine advice. But, it has not happened."
An officer of Nadia's Covid-19 management cell said: "The MP has been advised according to the protocol of Covid-19 precautions. This is common for all people. We have no prejudice against the MP."