Bengal readies for Covid test on migrants
According to sources in the health department, a majority of the exercises were taken up during the first wave of the pandemic last year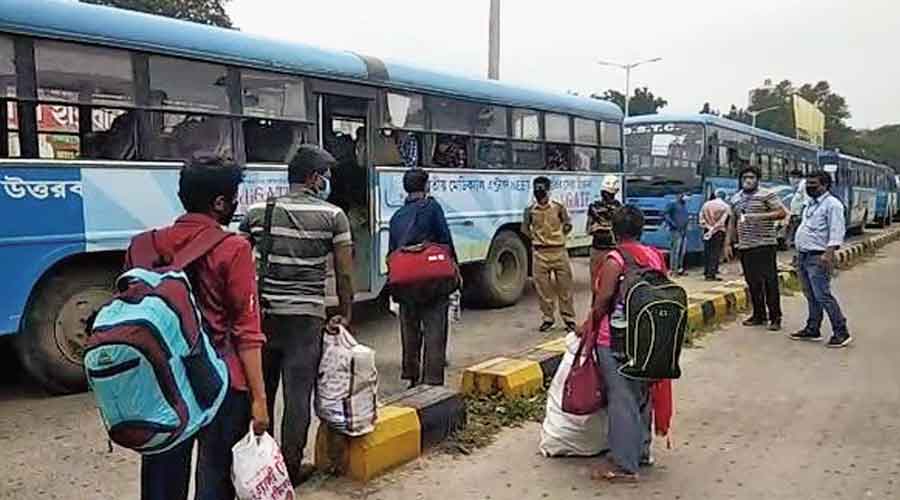 ---
|
Calcutta
|
Published 21.04.21, 01:02 AM
---
The Bengal government has decided to increase vigil at railway stations and entry points in border districts amid apprehensions that migrant workers will return from Maharashtra, Delhi and Kerala, where Covid-19 cases have increased alarmingly in the last few days.
The authorities of the border districts have been asked to intercept the returnee migrants, conduct tests and treat them if found positive.
"Some restrictions like wearing masks and sanitisation have already been put in place by the railway authorities, but we need to start screening of passengers coming from states with high Covid caseload. We also need to ensure testing facilities for the returnees and lead them to quarantine centres or safe homes in the coming days to contain the spread of the virus," said a senior health department.
Sources in the health department said a majority of the exercises were taken up during the first wave of the pandemic last year.
"But last time, we had to do it in a hurry and that's why the migrants had lodged several complaints. We want to handle the issue more efficiently this time. So, we have started making arrangements in advance," said a source.
A senior bureaucrat said the steps had been planned after the government had sensed that there could be a rush of migrants to Bengal as restrictions had already been imposed in Mumbai and Delhi.
"Some more states like Kerala could announce restrictions in the coming days. And once restrictions are put in place, migrants tend to return to the state. So, we have to keep arrangements ready," said the bureaucrat.
According to the sources in the health department, management of returnee migrants is extremely important to prevent the spread of the disease in rural areas.
Health experts in Calcutta said the state government had successfully managed the flow of nearly 14 lakh migrants during the lockdown last year.
"All returnees were taken to quarantine centres for certain periods and kept under observation to check whether they developed symptoms... If they had developed symptoms, tests were conducted. This is how the spread of the virus was prevented from entering rural areas," said a health expert.
State government officials said they felt that similar steps were needed this time.
"If the virus spreads in rural areas, it would spell a disaster. As the health infrastructure is literally poor at villages where a majority of Bengal's 10 crore people live, the situation could go out of control if the virus spreads to the rural areas," said an official.
Sources in the state government said the ruling establishment would not take any chance in terms of management of migrants.
"Migrants are mainly from districts like Murshidabad, Malda, North Dinajpur and South Dinajpur where elections are yet to be held... If the migrants come back and face mismanagement, it could leave the ruling party in real trouble," said a source.