Purulia website for migrants
Portal likely to be launched on Thursday opening fresh opportunity for work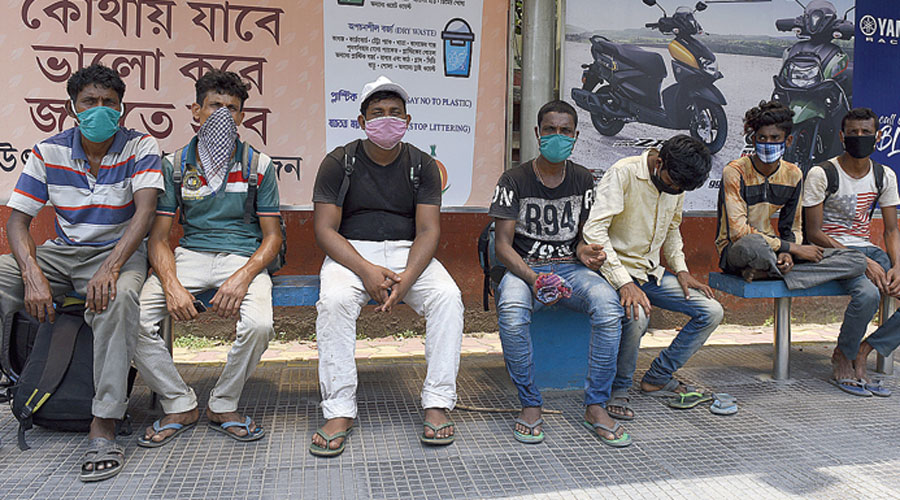 ---
---
Purulia district administration has readied a portal that has migrant workers' data like their field of experience and contact details.
Migrants and employers can register themselves on the website www.vishwakarma.puruliya.in. The process can also be done through government offices at block, subdivision and district levels.
The portal comes at a time migrant workers across Bengal are complaining of lack of jobs after returning from various states.
Sources said Purulia had become the first district to launch a platform where both jobseeking migrants and employers could register their names. The district has data of around 36,000 migrants out of 67,000 who returned from various states and districts of Bengal during the lockdown.
"We will act just like a bridge between the employers and skilled and semiskilled job seekers, mainly migrants, who have come back from other states with experience. So far, we have enrolled data of 36,650 migrant labourers on the portal and the process is on," Purulia district magistrate Rahul Majumdar said.
The website is likely to be launched officially on Thursday and it would open a fresh opportunity for the migrants to get work.
The Mamata Banerjee government has already asked all districts to set up around 2,700 centres namely Bangla Sahayata Kendra (BSK) from where anyone can apply for different government schemes online. The state government has set a deadline of July 15 to open such centres.
"As many rural people and migrants have no access to the Internet and they are not savvy with gadgets, such centres would help them register their names on the portal," said the district magistrate.
The database prepared by the Purulia district shows there are 13,484 migrants with skills in construction sectors and 1,230 in mechanics.
A total of 1,901 have experience to work in hotels and restaurants, while 1,159 have skills in carpentry and 1,402 as painters.
"I used to earn Rs 20,000 a month and here I can only get Rs 20,000 a year if I get 100 days of work in a calendar year. We need work. Otherwise, we can't survive," said Subodh Bagdi, 28, who used to work at a jewellery shop in Rajasthan and returned a month ago.
In few districts like Hooghly, Murshidabad and East Burdwan, the migrants held protests over lack of jobs.
New wing
CPM's trade union Citu opened its new unit of West Bengal Migrant Workers' Union in Birbhum's Nanoor on Wednesday in a bid to bring migrants under an umbrella. Around 85 migrant joined the union which assured them of helping them out to get work in different sectors.
Dipankar Chakraborty, district general secretary of the Citu, said: "The union has been formed to bring migrant workers under an umbrella. Different units will be formed in other blocks and districts very soon."