Malda mango growers stare at harvest loss for want of workers
4.5 lakh people directly or indirectly associated with the cultivation and merchandising of the fruit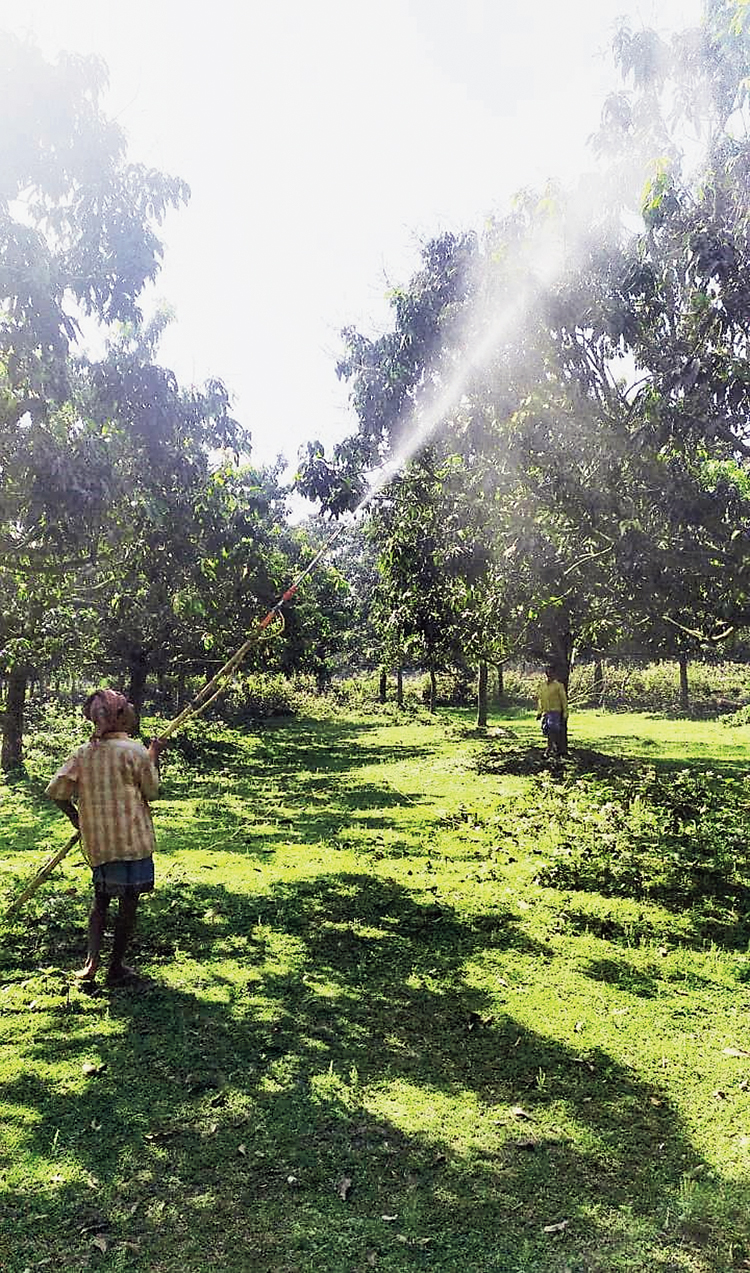 A worker sprays pesticide in a mango orchard in Malda district.
File picture
---
Malda
|
Published 13.04.20, 10:30 PM
|
---
Mango growers of Malda are apprehending an impeding crisis in the coming days as the lockdown has cast a shadow over production which provides livelihood to lakhs of people in this part of Bengal.
Around 5.5 lakh metric tons of mangoes are produced in Malda annually. However, the growers fear if they could not maintain the trees properly in the absence of labourers, the production might come down to three lakh metric tons in the current season.
"The situation is so alarming that the state food processing and horticulture department has issued written advice to the growers so that best possible care can be taken in the orchards when the time of harvesting is nearing," said a senior district official.
Representatives of the Malda Mango Merchants' Association have said 4.5 lakh people are directly or indirectly associated with the cultivation and merchandising of the fruit.
"This is the time when we spray insecticides on budding fruits at regular intervals. For this and maintenance of trees, we need thousands of workers. If we do not tend to trees now, there is a high risk of pest attack. We are not getting workers because of the lockdown and such tasks could not be carried out in thousands of acres," said Uzzal Saha, the president of the association.
There are 80,000 mango growers in the district.
The merchants mentioned that a section of migrant labourers, who were from Malda and stayed in other states, returned home at this time of the year to work in mango plantations.
"Around 10,000 of them are stuck in other states because of the lockdown. An equal number of workers, who have somehow returned home, are not ready to go to plantations fearing coronavirus infection," he added.
When Baisakhi Guti and Gopalbhog and other varieties are ready for harvest, pests like mango fruit borer, bacterial canker and diseases like thrips and mealy bug infestation and anthracnose are common.
The growers said while a couple of mango varieties were harvested from the third or last week of April, others like Langra and Khirsapati were plucked towards the end of May.
"It is from the end of April that the harvest and sale of mangoes gain momentum in plantations and at local wholesale markets. But this year, it is a completely different situation. We don't know whether buyers from outside would be able to come here," said Ujjal Chowdhury, the secretary of the mango merchants' association.
Last year, around 10 tons of the fruit had been exported to Europe. "We don't know what is there in store for us this year. If the mango cultivation is affected, it would have an impact on the local economy of Malda," said a grower.
Rahul Chakraborty, an assistant director of the state food processing and horticulture department who is posted in Malda, said they were taking initiatives to help the growers.
"We have already circulated leaflets among the growers through their cooperatives and panchayats and have told them as to how they should take care of trees. We are in touch with them and sending regular reports to the government," he said.