Labour troubles to the brim in rice bowl
Paddy harvest hit in east Burdwan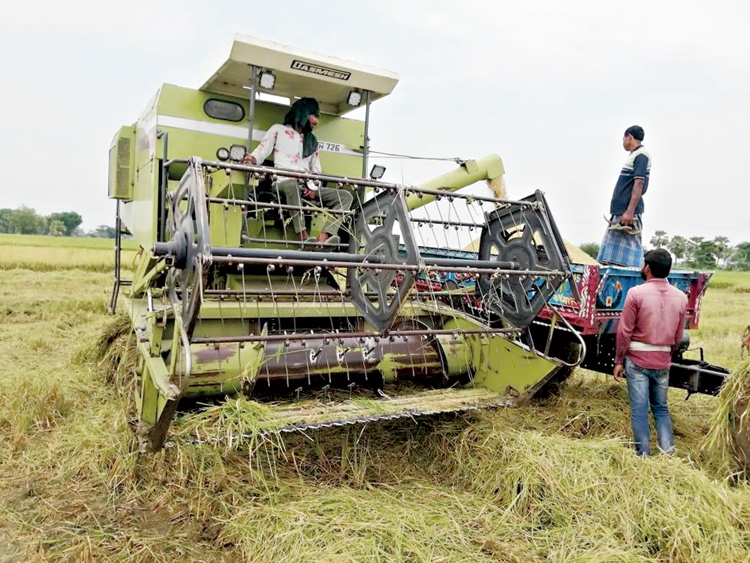 A harvester machine in a paddy field, East Burdwan. (Munshi Muklesur Rahman)
(Munshi Muklesur Rahman)
---
Burdwan
|
Published 03.05.20, 07:52 PM
|
---
The shortage of hired labourers from the neighbouring districts of Bankura, Birbhum, Purulia as well as Jharkhand has caused financial losses for several boro paddy growers in East Burdwan, home to nearly 1.72 lakh hectares of paddy fields, known as the "rice bowl of Bengal".
In the wake of the one-and-a-half-month lockdown, farmers are taking on lease harvester machines at exorbitant rates.
"We cannot let these crops go to waste. Since we don't have any physical labour, the only option we have is to shell out nearly Rs 3,000 an hour for the use of these machines as well as drivers' fees," said farmer Sabir Ali Sheikh, adding that an hour of operating the machine yielded roughly 2 acres' harvest.
Although Sheikh farms and owns nearly 15 bigha, he shelled out Rs 24,000 to use a local harvester machine for six hours this week. A bigha of properly harvested paddy crop yields roughly ten quintal.
"It has become a survival of the fittest. Each village has only one or two harvester machines and its owners are having to hike prices now because of the long waiting lists of farmers as well as the lack of availability of parts. Drivers are also asking for higher wages," Sabir said.
East Burdwan is trailed in paddy production by Hooghly, which yields roughly 55,000 hectares, almost a third of East Burdwan's produce. Harvest season, which begins at the onset of spring (early-mid April), was met this year by strict lockdown conditions.
"Those of us who cannot afford these machines are having to marshal our brothers and male cousins to work in the field. There is no other choice," said farmer Vinod Ghosh.
He added that an entire pool of hired labour would cost him less than Rs 1,500 a day, whereas a single harvester machine was now commanding up to Rs 8,000 an hour in Burdwan.
"We are doing our best to not let our crops spoil. We are already headed for serious financial troubles in the near future," he added.
With the Covid-19-induced lockdown in force, workers from the neighbouring district and Jharkhand cannot come to East Burdwan because of lack of transport.
Sources in the agricultural department said they had already launched a survey to officially assess the amount of paddy spoiled across the district.
"So far, we can confirm that 15,000 hectares in East Burdwan have gone to waste from the recent squalls and hailstorms. We are still conducting our survey to assess total losses," said deputy director (agriculture), Jagannath Chatterjee.
"This is unavoidable, as the state government has ordered that no outside labour can work now," he added.