Fulbari land port opens up
63 trucks with boulders reach Bangladesh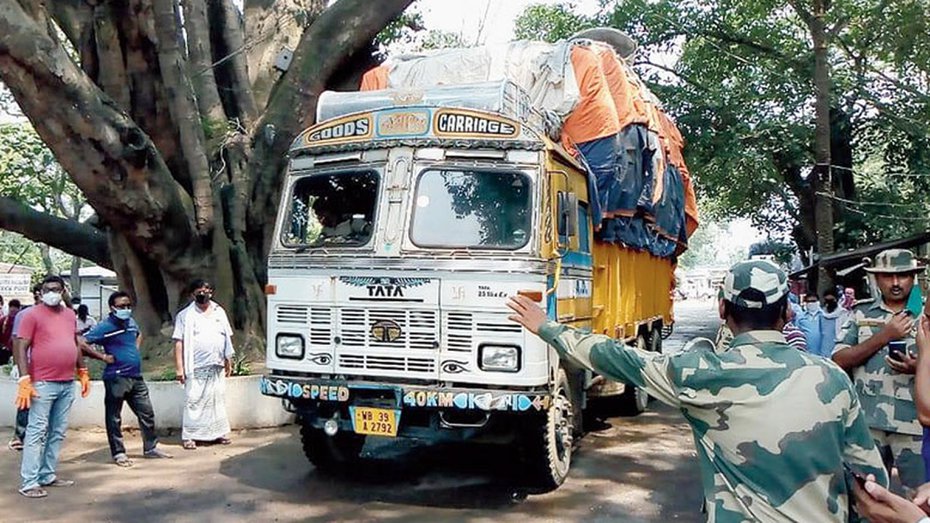 ---
|
Siliguri
|
Published 13.06.20, 10:14 PM
---
Trucks with boulders from India and Bhutan crossed the border from the Fulbari land port to roll into the Banglabandha district of Bangladesh on Saturday.
This marked the resumption of bilateral trade through the land port straddling Siliguri and Jalpaiguri.
"Trade started at the India-Bangladesh border in Fulbari from Saturday. Exporters from India have resumed their trading through this border," said Abhishek Tiwary, the district magistrate of Jalpaiguri.
As the Centre had announced the lockdown in the wake of the coronavirus pandemic, bilateral trade between India and Bangladesh had come to a halt via all six land ports in Bengal. Among these include four in north Bengal.
The halt made exporters raise the demand for trade to resume from these land ports, citing heavy losses and pressure from importers in Bangladesh. The Centre repeatedly communicated to the state, asking for trade to resume. Administrations of districts where these land ports exist also gradually opened up trade.
"Through Fulbari, boulders are mainly exported to Bangladesh from India and Bhutan. On Saturday, 63 trucks went to Bangladesh. From now on, we expect around 100 trucks to go boulders in a day," said an exporter. The resumption of trade, he said, brought relief for around 30,000 people directly or indirectly involved with it.
"Over past two weeks, we have been discussing with the district administration and the officials of the Border Security Force to restart trading through Fulbari. It is good that our efforts have yielded some results," said Abdul Khaleque, a member of Fulbari-II panchayat and advisor of Fulbari Local Truck Owners' Welfare Association.
Truck owners claimed to maintain all safety protocols at the border and beyond.
"Trucks are being sanitised at the border and the driver is screened before he is allowed to move beyond the fences. Also, the driver won't get out of the vehicle in Bangladesh and return once the goods (boulders in this case) are unloaded by workers hired by exporters," S. Naskar, secretary, Fulbari Truck Owners Association, said. Any truck from India or Bhutan, he said, will move for no more than 300 metres into Bangladesh. BSF officials said they would ensure each driver wore a mask and a face shield and carried sanitiser.