Doctors face probe over diyas at hospital
The officials said seven employees and three doctors had already replied to the showcause letter seeking unconditional apology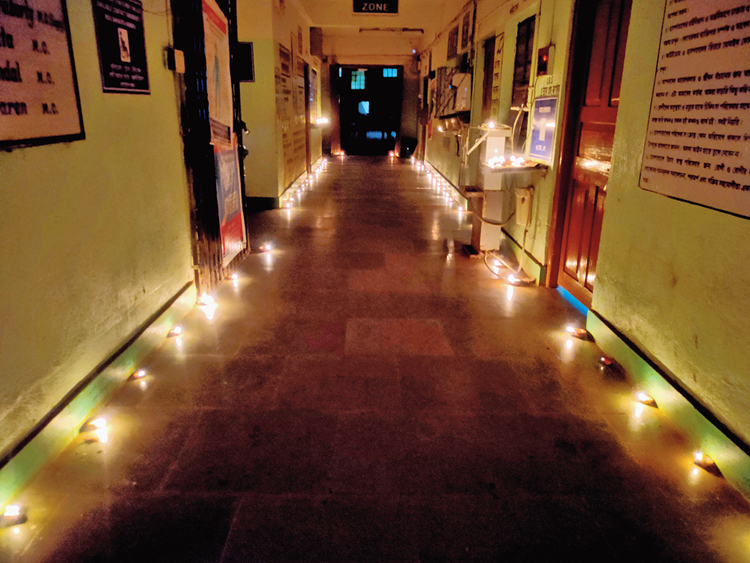 The Belpahari rural hospital on April 5 night
Telegraph picture
---
Jhargram/Suri
|
Published 13.04.20, 09:38 PM
|
---
The Bengal government has initiated a probe against four doctors, including the block medical officer (health) of Jhargram's Belpahari rural hospital, and some employees for lighting up candles and lamps by putting off electricity at the facility in response to Prime Minister Narendra Modi's nine-minute light show on April 5 night.
Officials said they had come to know through social media that doctors and employees of Belpahari rural hospital had put off electricity 10 minutes before 9pm on April 5 and decorated the entire building and the premises by lighting candles and earthen lamps.
"We had directed the chief medical officer of health (CMOH) to showcause all staff immediately to know the reason for such an activity. This is a gross negligence as it could have led to a major mishap like a fire," said a senior district officials.
The Prime Minister had asked citizens to put off lights at their homes and light up candles, lamps or torch flash lights of mobile phones to display the country's "collective resolve" to defeat the novel coronavirus.
Rani A. Ayesha, the Jhargram district magistrate, said: "We have already showcaused all eight employees and the doctors. We have started a probe and stern action would be taken."
The officials said seven employees and three doctors had already replied to the showcause letter seeking unconditional apology for their activities.
In his showcause letter, the CMOH of Jhargram, Prakash Mirdha, sought explanation whether they had taken any prior permission to observe such event from the authorities concerned.
"The undersigned would like to state that you had been done an incident at Belpahari RH (rural hospital) on 05.04.2020—that you put off all lights and you had lighted with candle and diyas etc. inside and outside of the hospital. It might occur a fire incident or any other accident at the hospital," the showcause letter reads.
The CMOH, however, declined comments when he was contacted on Monday evening.
"The premises is a government hospital and there were several patients. The government cant allow such an activity as it could have led to a mishap," said a senior official.