Cash runs out, barter begins
Centre adamant, a Depression-era resort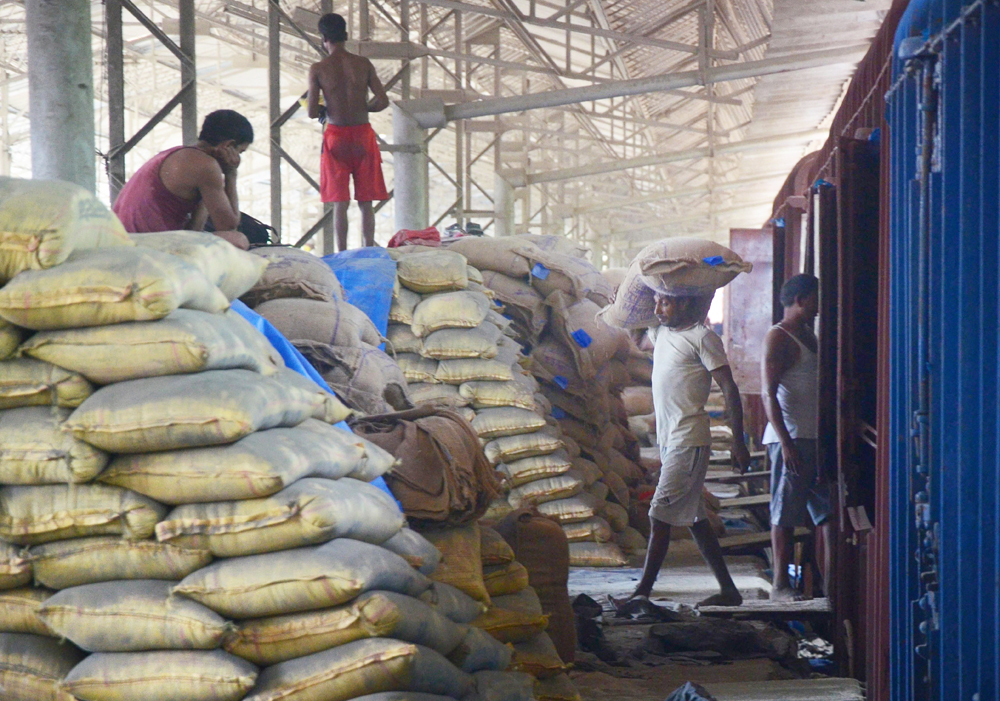 Labourers unload sacks of rice from goods train at Container Corporation of India Ltd yard during the ongoing Covid-19 lockdown, in Navi Mumbai, Wednesday, June 10, 2020.
(PTI)
---
Cooch Behar
|
Published 15.06.20, 10:49 PM
|
---
One of the hallmarks of the Great Depression of the 1930s in America was a fallback by families on the barter system to buy essentials.
Close to a century later, in an Indian village near the Bangladesh border, Aminul Haque (name changed) is bartering rice and flour for salt, mustard oil and vegetables in a pandemic-scarred season that has spawned many a doomsday forecast on the economy.
Haque, who had been working in Cooch Behar town, has returned to his home at Daribas, a village located in Dinhata-I block.
He has now run out of cash — at a time several economists and public figures, including Rahul Gandhi and Mamata Banerjee, have been pleading in vain with the Centre to transfer money to the poor.
"The only thing we have at home is rice and atta (flour), which are being provided from ration shops. But one can't have rice or roti alone…. We need salt, mustard oil, some vegetables and pulses. The problem is I don't have the money to buy all these," said the middle-aged Haque, the principal breadwinner in the family of four.
In Cooch Behar town, he used to work in a realty project and earned Rs 11,000 a month. His earnings dipped to zero in three months and his savings of Rs 2,500 were spent during the lockdown.
Haque said that without any income opportunity in his village, he had been reduced to exchanging a part of his grain and flour for other essentials.
It could not be confirmed whether all the 750-odd families in the village had embraced the barter system. But multiple sources confirmed that several people like Haque are approaching local grocers, vegetable vendors and small poultry farms and exchanging rice for food that they would ordinarily need to pay cash for.
After the lockdown, both the state and the Centre had announced additional allocations of rice to each ration cardholder. This extra food grain appears to be fuelling the trade in goods.
"My family is getting around 15kg additional rice these days, along with the usual allocation. We are using this additional rice and exchanging it in the local market," Haque said.
In Daribas, those selling groceries, vegetables, eggs or poultry are accepting rice, valuing it at Rs 20 a kg. This suggests that against 5kg rice, Haque and others like him are getting goods valued at Rs 100.
A similar situation prevails in nearby Jhari-Dharala. Several cashless villagers have opted for barter — a practice dating back to 6000 BC in Mesopotamia — to survive amid a pandemic-induced lockdown.
"One has to cross two rivers, Dharala and Giridhari, to reach these villages…. There are no banks, post offices or health centres in these villages," said a state government official.
The official said barter was the only trading option in the absence of income and savings.
In Daribas, vegetable growers like Swapan Burman (name changed) are among those accepting rice from people like Haque.
"I don't have cash and hence I can't go to Dinhata town to sell my produce. Besides, I need more rice now as two of my sons have recently returned from outside," Burman said.
"Suddenly, I found that some villagers were willing to give me rice in return for vegetables. I immediately agreed."
Sobahan Ali (name changed), who used to work in Delhi, lives in neighbouring Mashaldanga — an erstwhile Bangladeshi enclave that is an Indian village now -– in Dinhata-II block. Ali too has been exchanging rice received from the local ration shop for oil, spices and vegetables.
"I've a few hundred rupees left, which I have kept for emergencies. My family has six members. Hardly any work is available in or around the village," Ali said.
Rice is not the sole medium of exchange. A person who rears cattle is taking corn, a common fodder, from a farmer every day and offering him milk in return. Another person, who has a large pond, has exchanged fish for paddy husk, used as fish feed.
Attempts by this reporter to reach Souvik Dutta, the BDO of Dinhata-I, did not succeed.
Jayanta Dutta, BDO of Dinhata-II, said he did not have any specific information on the barter system in the villages.
"It might be happening in some villages. However, we are planning to start some projects in these villages under the 100 days' scheme so that people, including the migrant workers, can get some money in their hands…. We will launch the schemes soon," Dutta said.
Soumen Nag, a social researcher based in Siliguri, said the revival of the barter system had vindicated the economists who advocated cash transfer to the poor.
"There is an acute shortage of cash because of a lack of employment opportunities. Hence, people are using their available resources in the best possible manner at the local level. This again shows why cash assistance should be provided to them," Nag said.