Cops find a caged kangaroo from a truck on Bengal-Assam border
In north Bengal, recovery of an animal not found in the region or in the Northeast has been reported probably for the first time in decades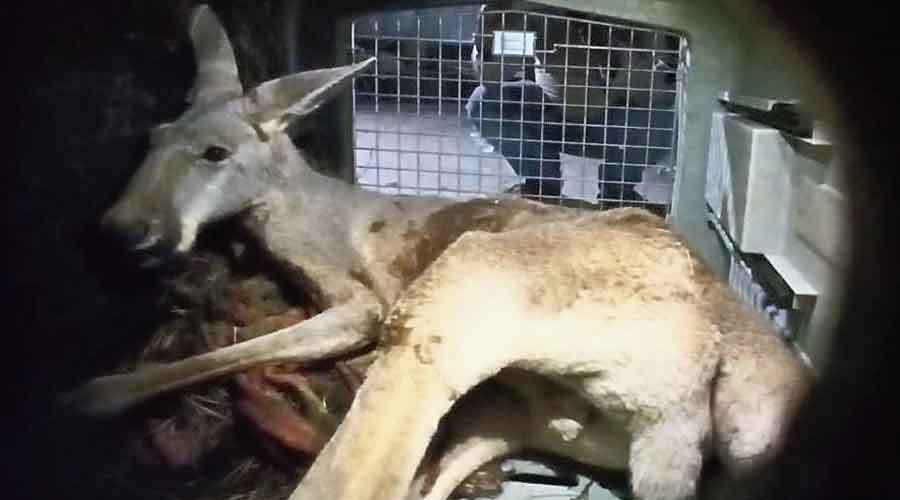 The male kangaroo recovered from a truck in Alipurduar district on Saturday evening.
Telegraph photo
---
Alipurduar
|
Published 14.03.22, 03:07 AM
|
---
Police were in for a surprise on Saturday late evening when they recovered a kangaroo from a truck during a routine check of all vehicles at Pakhriguri on the Bengal-Assam border.
In north Bengal, recovery of kangaroo, an animal not found in the region or in the Northeast, has been reported probably for the first time in decades.
Two persons have been arrested in this connection. The police have handed over the kangaroo to the state forest department who have decided to send it to the Alipore zoo in Calcutta.
Sources said that on Saturday, the team from Kumargram police station was checking all the vehicles entering from Assam. They came across a truck, the rear of which was covered with a tarpaulin sheet.
"Our men asked the driver to remove the tarpaulin. They found a box and a cage in the box. Inside it was the kangaroo. We have never heard about such a recovery of a kangaroos in the region before," said a senior police officer.
In India, kangaroos can be found only in some zoos. The animal does not have any natural habitat in India and in its surrounding countries.
After the seizure, the police contacted the officials of the Buxa Tiger Reserve (BTR). A team of foresters, along with a veterinary doctor, reached the spot to examine the animal and feed it.
The police questioned Javed Sheikh and Imran Sheikh, both residents of Hyderabad. As they could not furnish documents to satisfy the police that they were legally transporting the animal, both were arrested.
On Sunday, the duo were produced at the additional chief judicial magistrate's court here and sent them to police custody for three days. The kangaroo has to be kept in the custody of the Calcutta zoo, the court has ordered.
During preliminary probe, the police came to know the kangaroo was smuggled into India from Myanmar and brought to Assam's Guwahati where Javed and Imran received it. They were taking it to Hyderabad to hand it over to some other person.
"We suspect they are associated with an animal smuggling racket. Both need to be interrogated more," said a police officer. 
BTR authorities made arrangements to send the kangaroo to Calcutta with a veterinary officer and his team later on Sunday. "It is a male kangaroo and in a stable condition," said Buddharaj Sewa, the field director of the BTR.