Cops draw circles to stand in queue
Chalk lines were drawn late on Tuesday night to ensure the markings were ready by Wednesday evening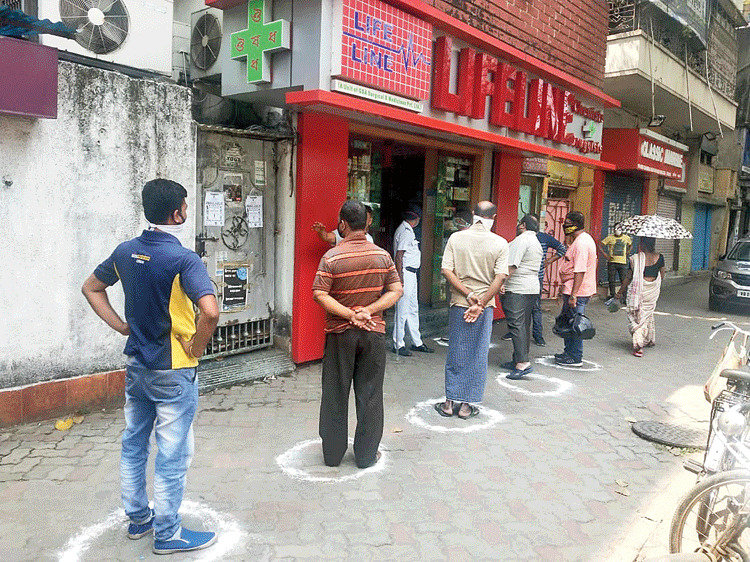 ---
|
Calcutta
|
Published 25.03.20, 08:47 PM
---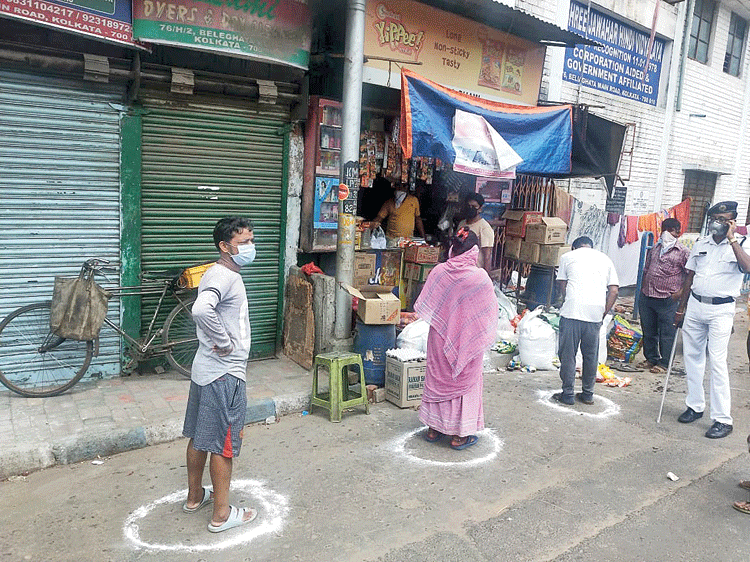 The police, however, failed to follow the rule to the book in congested markets. At such places, human surveillance replaced chalk lines.
"I was impressed by the way police intervened when I was standing in a queue at the Gariahat market. We were trying to maintain a gap, but suddenly a woman stepped in between. Within a minute, a policeman in white appeared from nowhere and alerted the woman that she was not following the rule of social distancing," said a resident of Gariahat, who had stepped out in the morning to buy vegetables.
Officers at Lalbazar said violation of the lockdown in Calcutta came down on Wednesday, compared with Tuesday.
Altogether 871 people were arrested for alleged deliberate violation of the lockdown across the city between 5pm on Tuesday and 5pm on Wednesday, compared with 1,003 arrested during the 24-hour period from 5pm on Monday.
The maximum number of violations were reported from the eastern suburban division, followed by places that fall under the south-east division.
Every vehicle on the road was checked and the driver or passenger asked to explain why he or she had stepped out.
"We usually do not stop a vehicle if there are children or women in the car. We presume that it's a family. But now we have strict instructions to check every vehicle. If someone is claiming that he or she is going to attend an emergency, we are asking for documents," said an officer.
10th patient
A 66-year-old man who was admitted to a private hospital off EM Bypass with fever and respiratory distress tested positive for the coronavirus on Wednesday. He is the 10th person in Bengal so far to have tested positive. Health department officials said the man was a resident of Nayabad, on the south-eastern fringes of Calcutta. Officials are trying to find out whether he had travelled abroad recently.
Police on Tuesday night drew circles with chalk in front of medicine, grocery and ration shops across the city to tell people how much distance they should keep among themselves while queuing up for essentials.
On Wednesday, chief minister Mamata Banerjee said at Nabanna that the idea was to maintain a safe distance among people who are forced to step out during the lockdown, which has been imposed to stop the spread of the coronavirus.
"Dur-e dur-e daran. Ek jon- er newa hoye gele, onno-jon neben (Maintain distance when you stand in a queue. Wait for your turn)," Mamata said while explaining the concept by drawing a diagram on a white board at the state secretariat.
The chief minister used a marker to draw a series of circles with a gap in between, indicating that people should stand in these circles and go to the next one only when the queue progresses.
She said the primary objective was to maintain safe distance, from the shopkeeper as well as other shoppers. "Keu kauke sporsho korben na (No one should come in physical contact with others)," she said.
Sources said the chalk lines were drawn late on Tuesday to ensure the markings were ready by Wednesday evening. The circles were drawn one metre apart to indicate the ideal distance that should be maintained among individuals in queues outside shops.
"Instead of telling people verbally to maintain a distance, it was better to earmark their positions. Initially, people were a little surprised. It was easier to handle the crowd this way," said an officer of Beleghata police station.