Cop watch on fatality stretch in Calcutta
Cops and 2 civic volunteers stopped vehicles on Jessore Road to help students and other pedestrians cross the road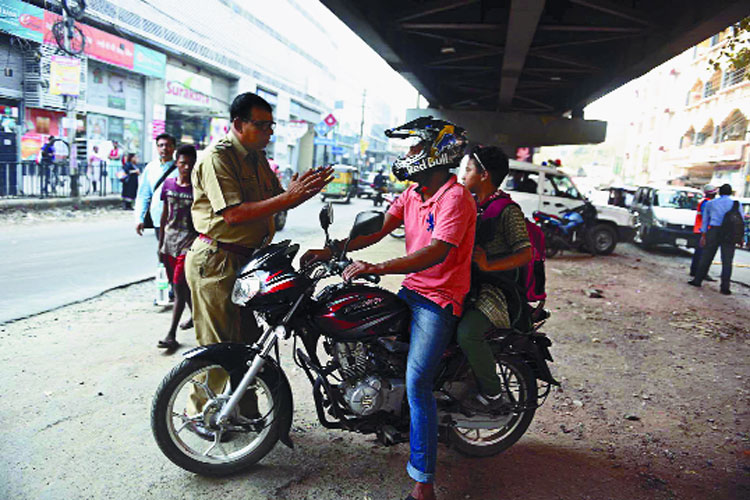 ---
|
Calcutta
|
Published 22.02.19, 10:13 AM
---
Policemen were seen managing traffic on Thursday morning on the stretch in Nagerbazar where a child was run over by a bus two days ago but violation of road rules by pedestrians and guardians accompanying their children to school continued unabated.
Cops were seldom deployed on that stretch of Jessore Road before the accident.
Most of the children riding pillion on Thursday were not wearing helmets. Cops requested the guardians with folded hands to protect the students' heads with helmets. The guardians, most of whom said they had never made the children wear headgear, were only allowed to leave after they promised to do the needful.
"It's only a five-minute bike ride from our home to our daughter's school. I used to wonder what could happen during such a short ride. But from now I will do as told by the cops. My daughter's safety should be the first priority," said a guardian, heading to school with his seven-year-old daughter riding pillion.
The policemen — a traffic sergeant and two other cops — and two civic volunteers stopped vehicles on Jessore Road to help students and other pedestrians cross the road. Pedestrians were often spotted trying to cross the road in groups before the men in uniform stopped traffic to let them pass. On many occasions motorists had to slam brakes as pedestrians suddenly came in front of them.
Five-year-old Anushka Kar, a student of Christ Church Girls' High School in Dum Dum, was run over by a private bus on Tuesday morning after her mother accidentally let go of her hand while crossing Jessore Road after alighting from the same vehicle.
The accident occurred at the Clive House bus stop near the Nagerbazar crossing, while the girl was on her way to school. Thursday was the first day the school was open after the child's death.
Arjun Sarkar, a resident of Dum Dum Park, alighted from a bus with his daughter at the spot where Anushka was mowed down. "Crossing the two flanks of the busy road in front of the school is a challenge. Guardians are in a hurry while accompanying their children to school. I was relieved seeing a cop stop a bus before signalling us to cross the road," he said.
Officers said deploying cops every day would not be possible. "We will deploy two civic volunteers," an officer said.
The police will also request the PWD, which maintains the road, to erect speed-breakers on both flanks of the road near the school. Plans are afoot to shift the bus stop, where Anushka got off a bus with her mother before being run over, around 50m from the crossing.