Cop scan on medical colleges
The team that visited the hospitals was led by Col Navendera Singh Paul, deputy commissioner, combat battalion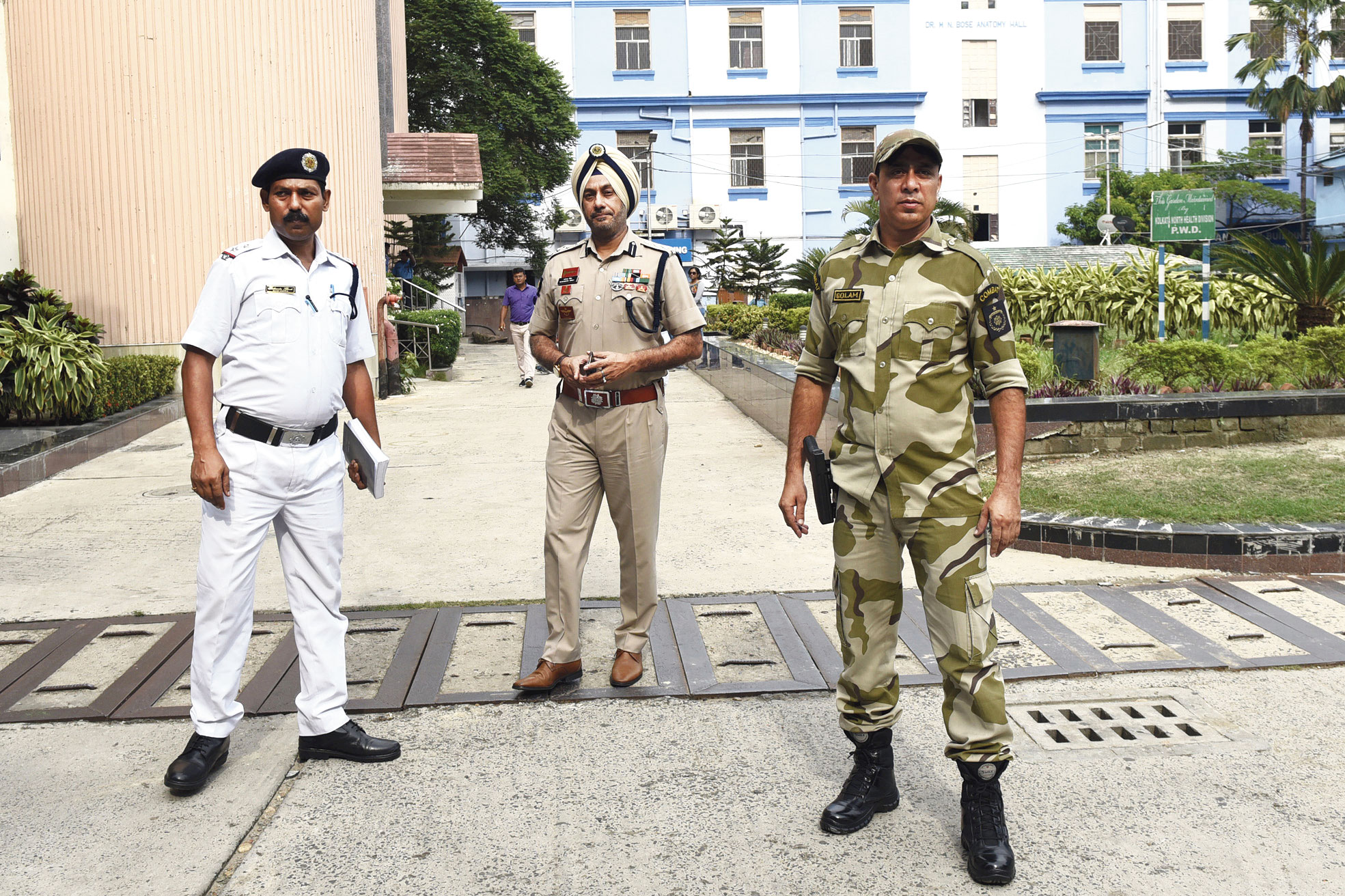 ---
|
Calcutta
|
Published 21.06.19, 02:34 AM
---
A police team that visited SSKM and RG Kar Medical College and hospitals on Thursday found several lapses in the security system, officials said.
Both medical colleges, where thousands visit every day, do not have any mechanism for continuous monitoring of CCTV footage and there are large stretches on both campuses that are not covered by electronic surveillance, the inspecting team found.
The team that visited the hospitals was led by Col Navendera Singh Paul, deputy commissioner, combat battalion.
The visit was part of the government's effort to identify lapses at the medical colleges — especially in security and infrastructure — and recommend remedial measures in association with health department officials.
"The idea is to prepare a roadmap for implementing all suggestions that chief minister Mamata Banerjee had made during her meeting with junior doctors at Nabanna on June 17," an officer said.
The junior doctors at the NRS Medical College and Hospital had started a ceasework on June 11 to protest an assault on two interns after the death of an elderly patient there.
The strike spread to other medical colleges of the state and was withdrawn after the Nabanna meeting.
It was decided that representatives of the police and the health department will visit the medical colleges. "Action will be taken based on the inspection report," a health department official said.
"The police team on its first visit found the private guards deployed at SSKM and RG Kar lacked training in handling mob or tackling an exigency. Besides, senior security officers, including retired assistant commissioners of police, who have been hired to oversee law and order at these institutions have no accountability," the official said.
"SSKM has six gates and RG Kar three. The team found that private guards were not deployed at all gates. We have asked the medical colleges to immediately buy body-cameras for the guards. The camera should be turned on whenever a guard visits a trouble spot. That will help police get a clear picture of what happened, especially at places where there are no CCTV cameras."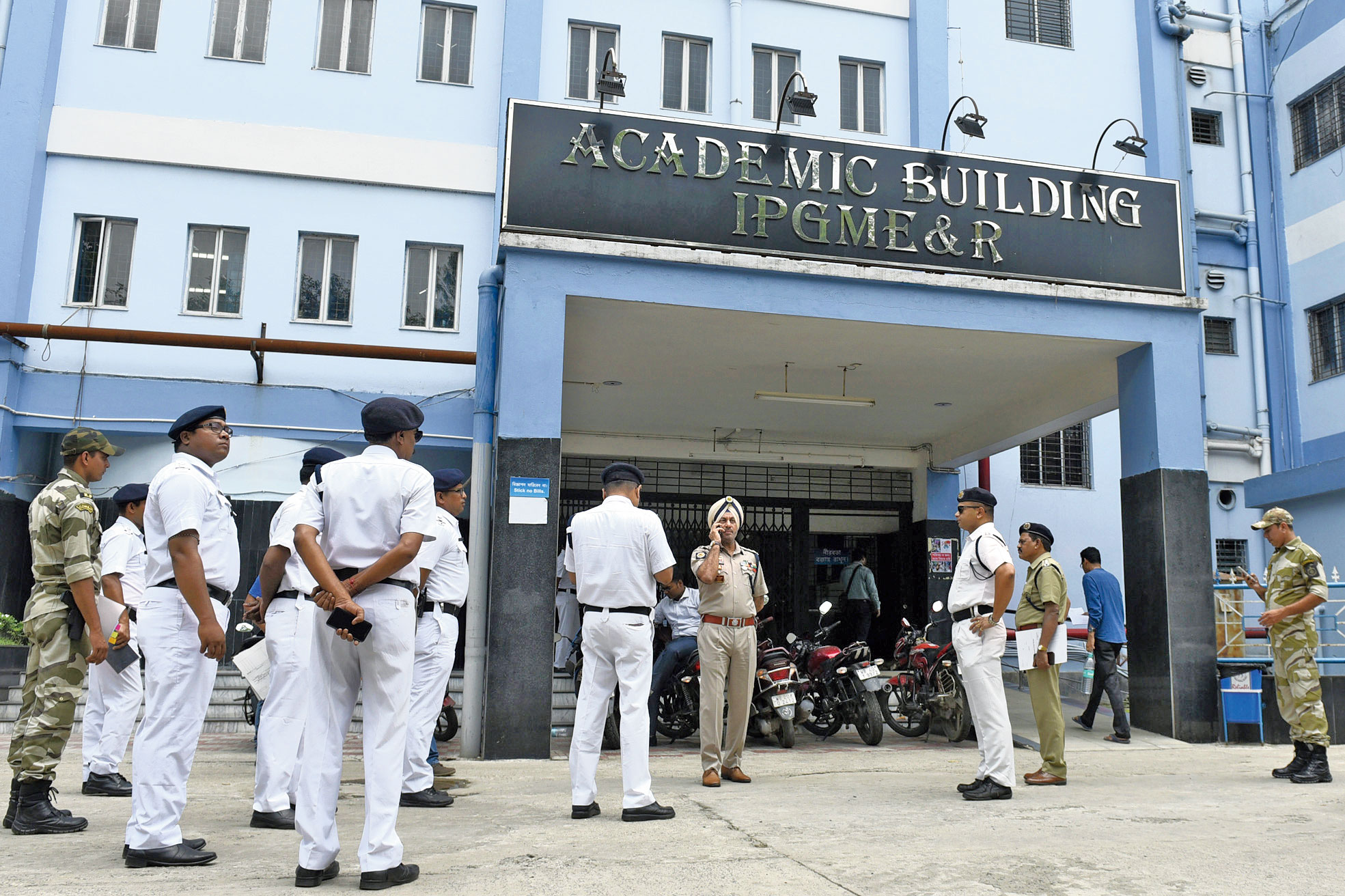 Col Singh Paul held closed-door meetings with senior officials of both hospitals. Manimoy Bandyopadhyay, the director of the Institute of Post Graduate Medical Education and Research at SSKM Hospital, and Suddhodhan Batabyal, the principal of the RG Kar Medical College attended the meeting.
A police officer said a "more intensive interaction" was lined up early next week, when the police team would talk to a section of junior doctors on the security loopholes at all five government medical colleges in Calcutta.
"We will train security personnel in the formations that will be replicated in various situations, such as handling of crowd or keeping a mob at bay," Singh Paul told Metro.
The police team found there was no system of deploying guards at any of the 31 buildings on the RG Kar campus. "Deployment of private guards is mostly based on immediate needs, even if it means leaving other places unguarded," a member of the inspecting team said.
Sources said the heads of SSKM and RG Kar were asked to draw up a charter of duties for all personnel and devise a system of accountability.