Conduct lessons at Calcutta airport
Disability rights activist lists dos and don'ts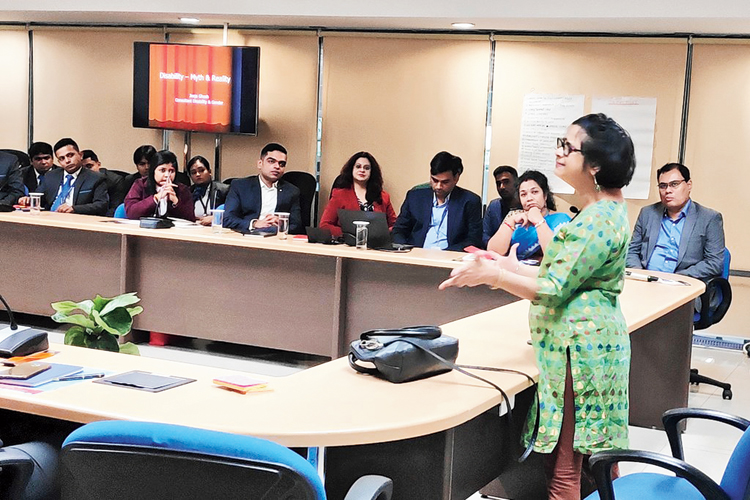 Jeeja Ghosh speaks at the airport on Tuesday
Telegraph picture
---
Calcutta
|
Published 17.12.19, 08:05 PM
|
---
A disability rights advocate with cerebral palsy on Tuesday sensitised airline employees and other staff at Calcutta airport about how to handle persons with disabilities and avoid discrimination.
Jeeja Ghosh told the airline and airport staff that they needed to be aware that "everybody has dignity and self esteem" and that should be respected.
Many people lack awareness about disability and "they don't know or understand", Ghosh said, attributing the lack of knowledge to "their background" and "their own prejudices".
Passengers with disability face various problems during air travel, right from check-in to boarding and getting off the plane, said Ghosh, who had recently faced harassment at an airline counter because she was travelling alone.
"People with artificial limbs are harassed during security check. We are often stopped for travelling without a companion," she said.
"I told them how they need to behave with persons (with disability) and how to communicate with them. Right from body language to facial expressions of the staff while interacting with fliers, everything matters," Ghosh said.
A frequent flier, Ghosh told the staff that one should respect the fact that a person with disability is travelling alone without an escort.
"I told them that when a person (with disability) is travelling alone, he or she has the confidence to do so and that should be respected. They should not come to their own conclusions on whether they can manage or not without asking the person," she said.
Ghosh said all passengers should be treated equally and one should not behave rudely with them or speak in an offensive manner.