Collapsed building in Malda gets political hue
While former minister and Trinamul leader Krishnendu Choudhury iterated that it happened because of lack of proper maintenance, Opposition parties suspect the hand of real estate developers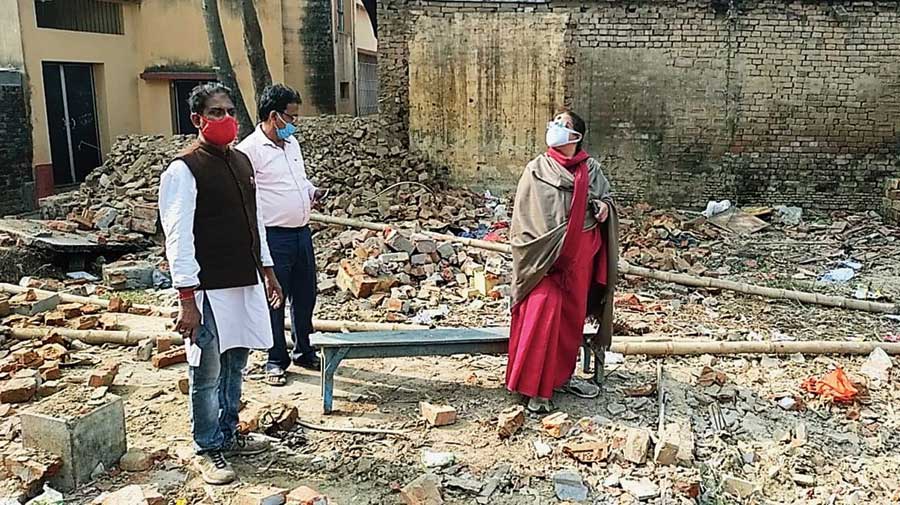 ---
Malda
|
Published 05.12.20, 01:49 AM
|
---
The "disappearance" of a primary school building in Malda town turned into a political issue within 24 hours of the matter coming to light.
While former minister and Trinamul leader Krishnendu Choudhury, whose party office is near the school, reiterated that the building collapsed on its own because of lack of proper maintenance, parties in the Opposition suspect the hand of real estate developers behind the building being reduced to rubble overnight.
On Thursday morning, residents saw the building of the state-aided primary school in Kalitala area reduced to a pile of debris. The school, closed since March like others amid the pandemic, has 40 students and two teachers.
An official of the district education department visited the spot and filed a complaint with the police, seeking a probe.
On Friday, Sreerupa Mitra Choudhury, a state BJP leader, went to the site and spoke to residents. 
"We fail to understand how a school building can turn into rubble overnight. The residents with whom I spoke fumbled, which raised our suspicions. In Malda, the highhandedness of some real estate developers is nothing new. Even water bodies have been rampantly filled to raise buildings. The administration and the police should come out clearly on how the school building vanished," said Sreerupa.
Left leaders of the district also sought a proper inquiry.
Ambar Mitra, the district CPM secretary, said the school was there for the past 51 years and that even if the building was old, why were no steps taken for its repair by the district education department. 
"There is information that the district inspector of primary schools (Suniti Sapui) who filed a police complaint on Thursday is trying to underplay the issue now. It would be his mistake if he thinks that the issue will subside," he said.
Sapui denied to comment on the issue on Friday.
Trinamul's Choudhury, however, said that the building had collapsed on its own.
"Even the polling booth in the school was shifted a few years ago because the building was dilapidated," the former minister said.
Malda district magistrate Rajarshi Mitra said they asked for all official records of the school and were waiting for the police report too. "If it is found that the building did not collapse on its own but was dismantled, the administration will take appropriate steps," said Mitra.