CMC: Be on guard against dengue
Citizens are advised to clean dry containers so the eggs do not stick to the inner surface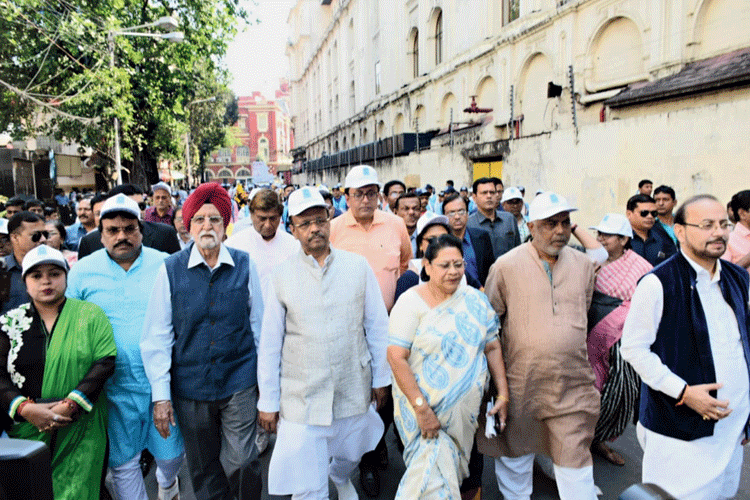 ---
Calcutta
|
Published 16.02.20, 07:19 PM
|
---
The winter is in retreat and the temperature is rising. It's time Calcuttans started taking steps to prevent the spread of vector-borne diseases such as dengue, the Calcutta Municipal Corporation said on Sunday.
A scientist hired by the civic body said the Aedes aegypti mosquito, the dengue vector, would find favourable conditions in the coming days to spread the virus. "The temperature would soon be in the range which makes the Aedes mosquitoes bite and infect humans with dengue," the scientist said.
Officials of the CMC's health department said if preventive steps could be taken from now, the dividends could be reaped during the monsoon, which routinely witnesses a dengue outbreak as conditions are ripe for Aedes mosquitoes to breed.
Mayor Firhad Hakim on Saturday led a dengue awareness rally from the civic headquarters to College Square. Deputy mayor Atin Ghosh, CMC chairperson Mala Roy and a number of officials of the civic body were among those who attended the rally.
"There are a few reasons why the fight against dengue should start immediately. People think that mosquitoes won't breed if it does not rain. Mosquito eggs can survive in dry conditions up to three years," said Debashis Biswas, the chief vector control officer of the CMC.
"The eggs hatch as soon as they get water during the monsoon. If the adult mosquito that laid the eggs was carrying the dengue virus, the new mosquitoes will be carrying it, too," Biswas said.
Public health professionals are advising citizens to clean dry containers so the eggs do not stick to the inner surface. "Remove garbage because mosquitoes have a propensity to lay eggs in places that are undisturbed and away from sunlight," said a professional.
Regular removal of garbage will ensure that the eggs are destroyed.
Aedes mosquitoes can lay eggs even in a spoonful of water. It takes a week after eggs are laid for adult mosquitoes to emerge. So, civic officials and public health professionals advise people to drain out stagnant water at least once a week.
CMC officials said that since Aedes mosquitoes have a tendency to breed in small containers, it is impossible for a government agency or the civic body alone to prevent a dengue outbreak.
"People must cooperate with the authorities. WHO has said that the fight against dengue has to be everyone's fight," an official said.