CM Mamata Banerjee prays to Jesus for unity
'Give us the strength so that we don't bow to those who want to divide us'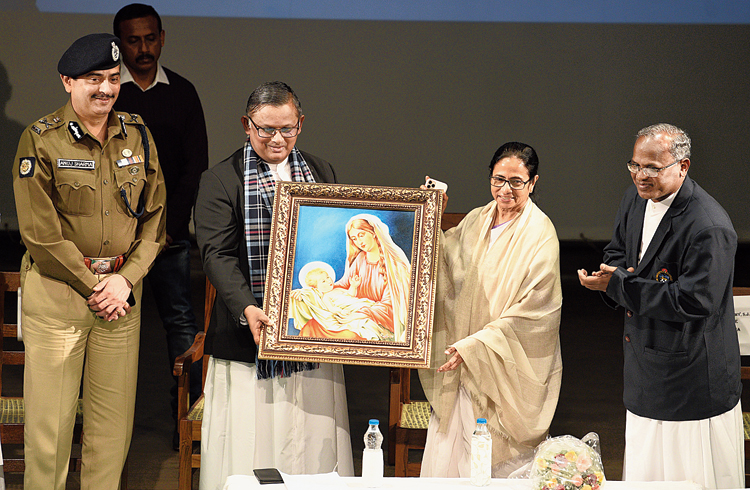 Chief minister Mamata Banerjee offers the first piece of cake to Bishop Linus Gomes, 99, after the customary Christmas cake cutting ceremony at St Xavier's College on Monday.
Picture by Gautam Bose
---
Calcutta
|
Published 23.12.19, 09:20 PM
|
--- Chief minister Mamata Banerjee on Monday said her prayer to Jesus this Christmas was to keep the country united during this hour of crisis.
"Borodin-ta kayno boro janen? (Do you know why Christmas is known as Boro-din)?" she asked the audience at St Xavier's College.
"Borodin means where the heart is big. Hriday-ta boro. With this big heart, let me say: Aami andhakarer jaatri. Prabhu, alor disha dao. (I'm a traveller in the dark. Lord, show us the light)… Jesus Christ, amader shakti din desh ta jeno aikyabaddhya thakey (Jesus Christ, give us the strength so that the country remains united)," Mamata told students, teachers, priests and former students at Christmas Meet 2019, organised by St Xavier's (Calcutta) Alumni Association.
She also sought strength from Christ so that "our head is held high" at a time many in the country are worried about being relegated to being second-class citizens.
"Tagore had said 'where the mind is without fear and the head held high'…. Let us ensure our head is always held high and Jesus Christ, please give us the strength so that we don't have to bow our head to any evil or the people who want to see the country divided," Mamata said to thundering applause from the audience.
"Let us take a pledge that we will remain one and united, sitting and talking together with each other."
Father Dominic Savio, the principal of St Xavier's College, later said what the chief minister had said embodied "the spirit of Christmas".
"The message of being together and loving each other is the spirit of Christmas and that is what the chief minister said. If you look around and see whatever is happening, this is the call of the time. To stay together in love," Father Dominic Savio said.
Mamata was scheduled to turn up at the Park Street address at 6pm. She arrived at 5.15pm and spent some time with Christian missionaries.
Among those with her on the dais was Bishop Linus Gomes, who is 99 years old. Mamata cut a Christmas cake on the dais and offered Bishop Gomes the first piece. There was rapturous applause.
"I feel good turning up at St Xavier's," Mamata said flashing a big smile. "We are all members of a sweet and small world where everyone loves each other. But these days we are facing crisis because divide and rule is being made a law… Everyone is concerned whether our fundamental rights, democratic rights, or constitutional rights would be protected."
Mamata had a message for those in power. "Governments may come and go. But this country will go on. Our democracy will go one for ever," she said.