CL Block artist sculpts Vidyasagar statue in 4 days
Race against time for Krishnanagar artist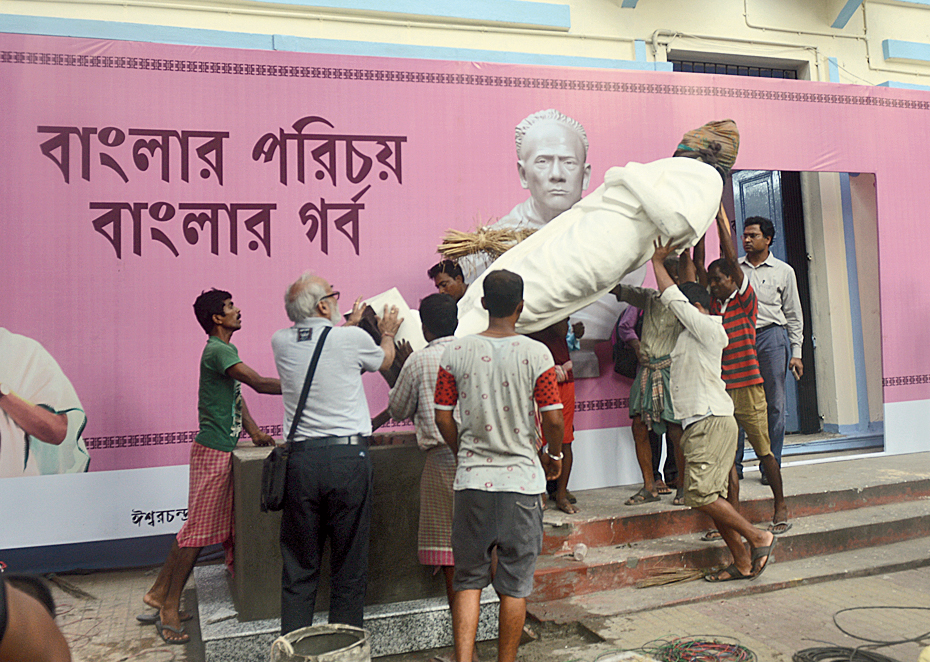 Gautam Pal (second from left) helps install the fibre glass statue at Vidyasagar College on Monday.
Picture by Bishwarup Dutta
---
Calcutta
|
Published 14.06.19, 01:31 AM
|
---
Four days is all Gautam Pal got to create a statue of Ishwarchandra Vidyasagar to replace the bust vandalised at Vidyasagar College in May.
"On June 4, my brother informed me that a messenger from minister Partha Chatterjee had come looking for me in our ancestral house in Krishnanagar. So I met the minister at his Naktala house. He asked me if I could build a Vidyasagar statue. I had one ready in my sculpture garden near Krishnanagar and showed him the picture. He asked me to return on June 6."
But when the minister placed the formal order for the statue on June 6, informing him that the opening programme was scheduled on June 11, he was in a quandary. "I told him it had to be a fibre glass one since I could not uproot the one in my sculpture garden. Even then, on coming out of his house I got nervous thinking if it could be pulled off. The statue had to be installed a day before, after all."
What followed were sleepless nights for Pal and his team of 15 men at his casting studio near Krishnanagar. "At the crack of dawn on June 10, I coloured the statue, wrapped it in bales of straw and let it dry on the lorry on the way to Calcutta."
On reaching the college campus around 5pm, he had to wait for the concrete pedestal to be ready and the statue to be installed on it. Only then could he put the finishing touches.
"It might have been a race against time but I am proud to have done my bit after the disgraceful incident that took place," said the CL Block resident, referring to the vandalism.