Civil society plea to Mamata Banerjee on political violence
The letter, dated March 30, was written in the light of a series of violent incidents, the Bogtui atrocity being the latest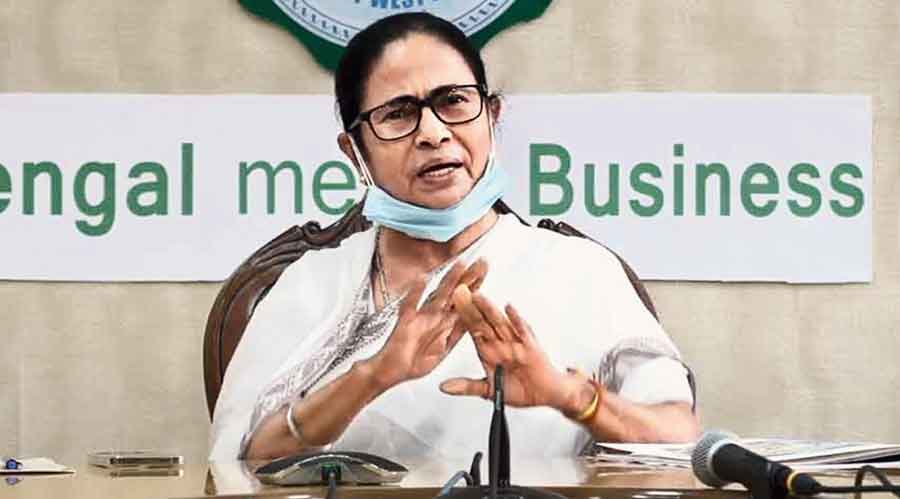 Mamata Banerjee.
File photo
---
Calcutta
|
Published 03.04.22, 01:57 AM
|
---
A group of members of Bengal's civil society have written to chief minister Mamata Banerjee urging her to put an end to political violence in Bengal.
The letter, dated March 30, was written in the light of a series of violent incidents in the state, the Bogtui atrocity being the latest. "As representatives of civil society, which desires democracy and a healthy political atmosphere, we hope —you may as well call it our demand — that the long and nasty history of Bengal's political violence stops," the letter, written in Bengali, said.
"Please ensure this under your leadership and through your administration. We hope that this letter will be received in the context of the well-being of the state and of the people of this state."
Whether the chief minister's office has received the letter couldn't be verified.
The letter bears the signatures of 22 eminent people, including filmmaker Aparna Sen, actors Dhritiman Chattopadhyay, Ashok Mukhopadhyay, Koushik Sen, Parambrata Chattopadhyay, Santilal Mukhopadhyay, Sujan Nil Mukhopadhyay and Suman Mukhopadhyay, rights activist Bolan Ganguly, poet Srijato Bandyopadhyay and singer Rupam Islam.
The letter began by condemning the Bogtui massacre as a "demonic act". It welcomed the administration's role in investigating the incident and distributing compensation under the chief minister's supervision but questioned the inaction of the police and civil administration in the run-up to the carnage.
"…The question remains, why were the police and administration not active and prompt before the incident occurred?" the letter said.
It expressed anxiety at the murders of Anis Khan and public representatives Tapan Kandu (Jhalda) and Anupam Dutta (Panihati), as well as poll violence and malpractices.
The signatories lauded Mamata as the reason "communal forces" had failed to wrest power in Bengal. They congratulated her for emerging as one of the "most prominent faces" in the fight against the ultra-Right. But if the state failed to remedy its "internal mistakes", communal forces would try to "take advantage", they warned.
They requested Mamata to ensure that next year's panchayat polls did not see "a rerun of the violence of 2018".