Civic polls in sight, top Darjeeling leaders knocks on voter's door
Edwards was the first to announce plans to try and visit 'each and every household in every ward'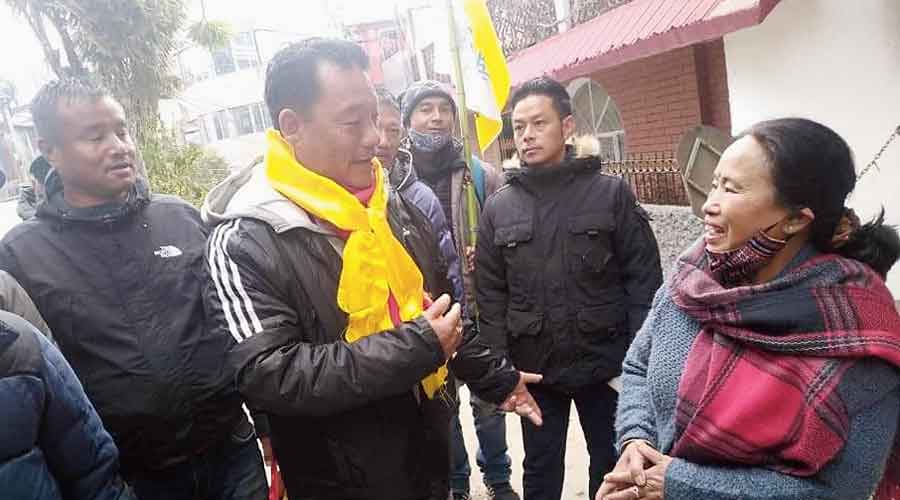 Gorkha Janmukti Morcha president Bimal Gurung interacts with a voter at ward 30, in Darjeeling town on Saturday.
Telegraph photo.
---
Darjeeling
|
Published 20.02.22, 01:13 AM
|
---
For the first time in years, top leaders of various political parties are on a door-to-door campaign aiming to cover all the 32 wards in Darjeeling ahead of the February 27 civic polls.
Gorkha Janmukti Morcha chief Bimal Gurung, his Bharatiya Gorkha Prajatrantik Morcha counterpart Anit Thapa, Darjeeling MLA and secretary-general of the Gorkha National Liberation Front Neeraj Zimba and Hamro Party president Ajoy Edwards have all seemed to have put on walking shoes to reach voters at home.
Edwards was the first to announce plans to try and visit "each and every household in every ward".
Given the intense competition this time, no leader could afford to ignore this strategy.
"This is the first election where top leaders of every party are visiting us," said a voter of ward 23 soon after Bimal Gurung paid him a visit on Friday evening.
Party insiders of all the hill parties admit the contest is intense this time and that they are leaving no stone unturned.
"During the last municipality election in 2017, Gorkha Janmukti Morcha had decided on many candidates by tossing a coin (lottery system). Everyone wanted to contest the election on a Morcha ticket. There were hardly any opposition candidates apart from Trinamul Congress," said an observer. Gurung's party had won 31 of the 32 seats with Trinamul bagging the lone seat.
"In 2017, Gurung had campaigned in just four to five wards where the party anticipated a close contest. That was it," admitted a Morcha insider.
This time, there is no clear wave.
Hence, Gurung personally wants to cover all the 22 wards where he has fielded candidates. The rest of the 10 seats have been left to Trinamul by Gurung. When Subash Ghisingh ruled the Darjeeling hills for 20 years from 1988 to 2008, he "hardly campaigned" during elections whether it was Lok Sabha or Assembly polls, recalled old-timers. "There was no question of Ghisingh campaigning for municipality elections. Such was his hold on hill politics," said an elderly resident of the town.
During the Ghisingh era, many of the wards would be won uncontested. Until the 2017 civic election, even Gurung would manage contested wins in many wards.
Most in the hills admit that the Darjeeling municipality is not just about winning control of the civic body.
Two new parties, the Bharatiya Gorkha Prajatrantik Morcha and the Hamro Party are giving a tough fight to old names like the Morcha and the GNLF.
Informed sources maintain that after the Darjeeling municipality elections, the state government plans to hold the Gorkhaland Territorial Administration elections.
"The results of Darjeeling municipality will have a huge bearing on the GTA elections. This is also the reason why the Darjeeling civic elections are being taken very seriously," admitted a hill leader.
Darjeeling municipality has 63,000-odd voters.
CPM charge
The CPM has stated that Trinamul leader Gautam Deb's decision to hold a meeting with the chairperson of various development boards formed by the state government and seek votes for Trinamul candidates in Darjeeling recently is a violation of the model code of conduct.