CAA protest at wedding reception
Couple hold poster during every click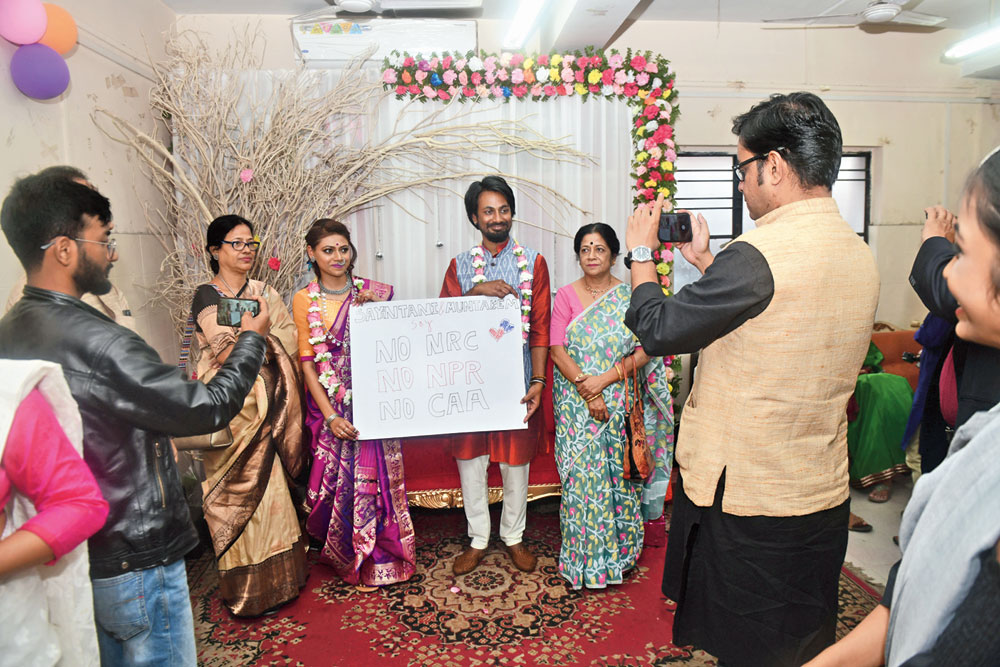 ---
|
Calcutta
|
Published 02.02.20, 07:08 PM
---
Film-makers Sayantani and Muntakem, who spent much of the past few weeks walking in rallies against the amended citizenship matrix, took their protest to their wedding venue, too.
Sayantani Khan, 31, a Hindu, and Muntakem Haque, 30, a Muslim, have known each other for six years, since they first met as students of multimedia animation at Jadavpur University.
They have worked together in several projects, the most recent being the curtain-raiser film of the seventh People's Film Festival that was held at Uttam Mancha last month.
The festival's message was "No to NRC, CAA and NPR".
Over the past few weeks, the two had walked in most of the rallies in the city against the Citizenship (Amendment) Act-National Register of Citizens-National Population Register.
At their wedding venue in Dover Terrace on Sunday, the couple kept a poster against NRC, NPR and CAA and made it a point to hold it whenever a guest wanted to click their picture.
Sayantani and Muntakem told Metro they felt their wedding could be another platform to spread awareness against the discriminatory citizenship regime.
"Wedding pictures are widely shared on social media, by friends and family members. We felt that if we display a poster against CAA-NRC-NPR while being photographed, we will be able to spread the message against the discriminatory regime," said Muntakem, wife Sayantani standing by him.
"We have been thinking about innovative ways to register our protest and felt that using our wedding reception as a platform could be effective," Sayantani said.
Friends chipped in as soon as Sayantani and Muntakem expressed their wish earlier in the day to use their wedding reception as a protest venue. The friends immediately set out to buy chart paper and sketch pens to prepare a poster.
"It was all impromptu. When they said they wanted to voice their opposition to CAA, NRC and NPR today, we did not waste a moment," said a friend.
This newspaper saw the couple explaining to some of the guests why they were holding the poster.
"This government is saying that people who cannot show documents would be stripped of their citizenship. But these are the people who voted in the elections in which the BJP won and formed the government," Sayantani said.
"The voter identity card and the Aadhaar card are good enough to ascertain a person's identity during elections but not to prove one's citizenship. This is bizarre," she said.
The couple had the support of their families. Sayantani's mother Sampurna and Muntakem's mother Marzina Begum were present at the function.
Marzina, a retired state government employee, said whatever her son and daughter-in-law did had her blessings. Sampurna, a homemaker, said "being a human being, not a Hindu or a Muslim" was one's biggest identity.
Couples across Kerala held anti-CAA posters at wedding receptions as well as at pre-wedding events in December.
In a video, a bride in a red lehenga was seen holding an anti-CAA placard in one hand and walking hand-in-hand with the groom through a busy road.
In another picture, a Hindu groom wearing a skullcap was walking with the bride, apparently in protest against Prime Minister Narendra Modi's remark that those resorting to violence could be identified by their clothes.