Circa 2022, first flash of power in Namo Jamdoba
The locality in Asansol South Assembly area houses 96 families and has around 200 voters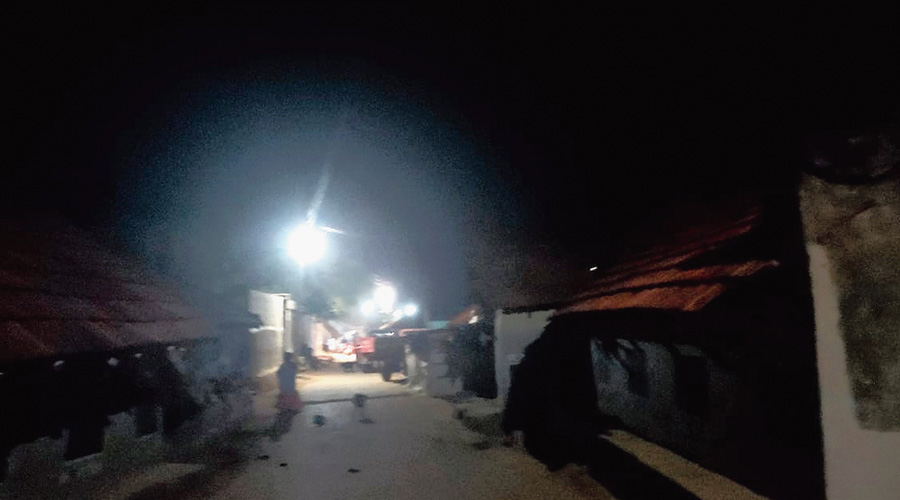 Streetlights at tribal hamlet Namo Jamdoba, 12km from Asansol, on Tuesday as electricity arrived for the first time here
Pictures by Abhijeet Chatterjee
---
Asansol
|
Published 01.07.22, 12:52 AM
|
---
Anil Kisku, who shares the same age as independent India, saw the first bulb lighting up his tribal hamlet, barely 12km from the industrial town of Asansol, on Tuesday night.
Residents of Namo Jamdoba in West Burdwan have been part of the Asansol Municipal Corporation for seven years now but for varied reasons, it took time till nearly the end of June 2022 for electricity to reach the locality that falls under after ward 87. 
"It is not that our locality (Namo Jamdoba) is remote. All localities around us got electricity years ago, but not us. I am very excited to see streetlights," said Kisku.
Namo Jamdoba in Asansol South Assembly area houses 96 families and has around 200 voters. The locality was earlier under the gram panchayat till Mamata Banerjee government formed a mega civic body by merging Jamuria, Raniganj and Kulti municipalities with Asansol Municipal Corporation in 2015. Residents here celebrated the much-awaited electrification in their locality with a tribal dance and  chicken curry rice and sweets.
"We had to depend on the batteries of tractors in our locality to recharge our mobile phones and battery-operated lights. People here used to queue up in front of tractors to recharge their phones whenever they got the chance," said Kisku's son Sunil.
Sources said that work for electrification of Namo Jamdoba had begun two decades ago during the Left regime but stopped after a few electric poles were installed. The project hit a hurdle because land was not found to install transformers and poles to bring electricity to the locality. 
"The problem was overcome after we took a detour of 1 km to install poles and supply electricity to Namo Jamdoba," said an official of WBSEDCL in Asansol. 
Electrification has sparked a power struggle between Trinamul and the BJP as both the parties — BJP MLA Agnimitra Paul and Trinamul councillor Tarun Chakraborty — have claimed credit for the job. Residents,however, credited primary schoolteacher Deep Narayan Nayak for electricity. He ran from pillar to post to bring electricity to Namo Jamdoba, they said. 
"I have many students in this locality who were not able to study properly after sunset in the absence of electricity. I wrote to local authorities urging them for electrification of the area. The local councillor supported me," said Nayak, who teaches at Tilka Maji Adibashi Primary School in Jamuria.
Nayak, popularly known as "Rastar Master (teacher of the streets)", gives free tuition to students and their mothers in evenings twice a week with the help of lanterns. 
However, Namo Jamdoba is still deprived of basic facilities like drinking water through taps, a health centre and a primary school.
Children travel 5km to study at Arahadanga Primary School, the nearest from Namo Jamdoba. People here depend on ponds for water. Many, however, illegally tap water from corporation supply lines that run through the fields for supply elsewhere.
Though corporation officials could not answer why water supply was yet to reach the locality, Nayak said: "I will now try to bring tap water."
Local BJP MLA Agnimitra Paul said she kept her pre-poll promise of bringing electricity to the locality. "The Left did nothing in 34 and Trinamul too was indifferent towards bringing electricity to Namo Jamdoba. I was surprised to know during my election campaign during last year's Assembly polls that this area didn't have electricity.... I promised them and brought electricity here within a year of my being MLA," said Paul who had started for the village on Tuesday but alleged Trinamul workers stopped her from entering the locality.
Trinamul councillor Tarun Chakraborty refuted Paul's claim and said he was the man behind power reaching the area. 
"I tried my best to bring electricity there since I won only three months ago. The area finally got electricity connection with chief minister Mamata Banerjee's blessings," said Chakraborty, who switched on the lights on Wednesday to inaugurate the electrification. 
"I will now work to bring electricity in domestic households and tap water supply of the civic body to the region," he said. 
Responding to the claims of the BJP and Trinamul, a CPM leader in Asansol said everyone knew the Left Front had started the project.