Chinese national held without travel proof at Digha
Wang Yan, who hails from Jincheng city in Shanxi province of China said he was robbed of his belongings on the beach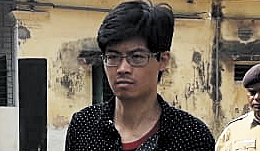 ---
|
Digha
|
Published 18.11.18, 07:54 PM
---
A 28-year-old Chinese national was arrested from Digha beach on Saturday morning on charges of not possessing proper travel papers.
Wang Yan, who hails from Jincheng city in Shanxi province of China, said he had been robbed on the beach and travel documents, cash and cellphone had been stolen.
When Yan was taken to Digha coastal police station, he allegedly could not give proper answers during interrogation.
Yan was arrested under the Foreigners Act after the interrogation. The foreigner told the police that he was a computer engineering student,
Yan told this newspaper: "I arrived in Digha around 5am on Saturday from Howrah by bus after reaching Calcutta by train from Siliguri. I tried to check into a hotel, but none would accept an early check-in. So, I decided to spend some time on the beach. I went into the sea leaving my backpack on the beach. When I returned an hour later, I found the zip of my backpack open and another smaller bag inside with my travel documents, money in Indian currency and mobile phone was missing."
The check-in time at the hotels in Digha is 10am.
Police officers spoke to the Chinese, who could converse in broken English.
Additional superintendent of police (rural), Indrajit Basu, said: "There were inconsistencies in his statement and we are not satisfied. He could not provide any document and alleged that the bag with his travel documents had been stolen from the beach while he was bathing."
Yan was produced in the Contai chief judicial magistrate's court on Sunday and remanded in two days' police custody.
A police officer said: "We even gave him a laptop and asked him to show us some e-mails of his visa application or confirmation but he refused. So, we will investigate a little more to find out what the actual purpose of his visit was."
A police officer said they would also contact the Chinese embassy.
None of Digha's 10 bathing area has arrangements for the safekeeping of tourists' personal belongings. Digha Shankarpur Development Authority's vice-chairman Akhil Giri said: "We will discuss with officials if a system can be put in place for the safekeeping of tourists' luggage near the beach."