Mamata plays Hindi translator in Asansol
The chief minister listed the achievements of the Trinamul government first in Bengali and then translating them in Hindi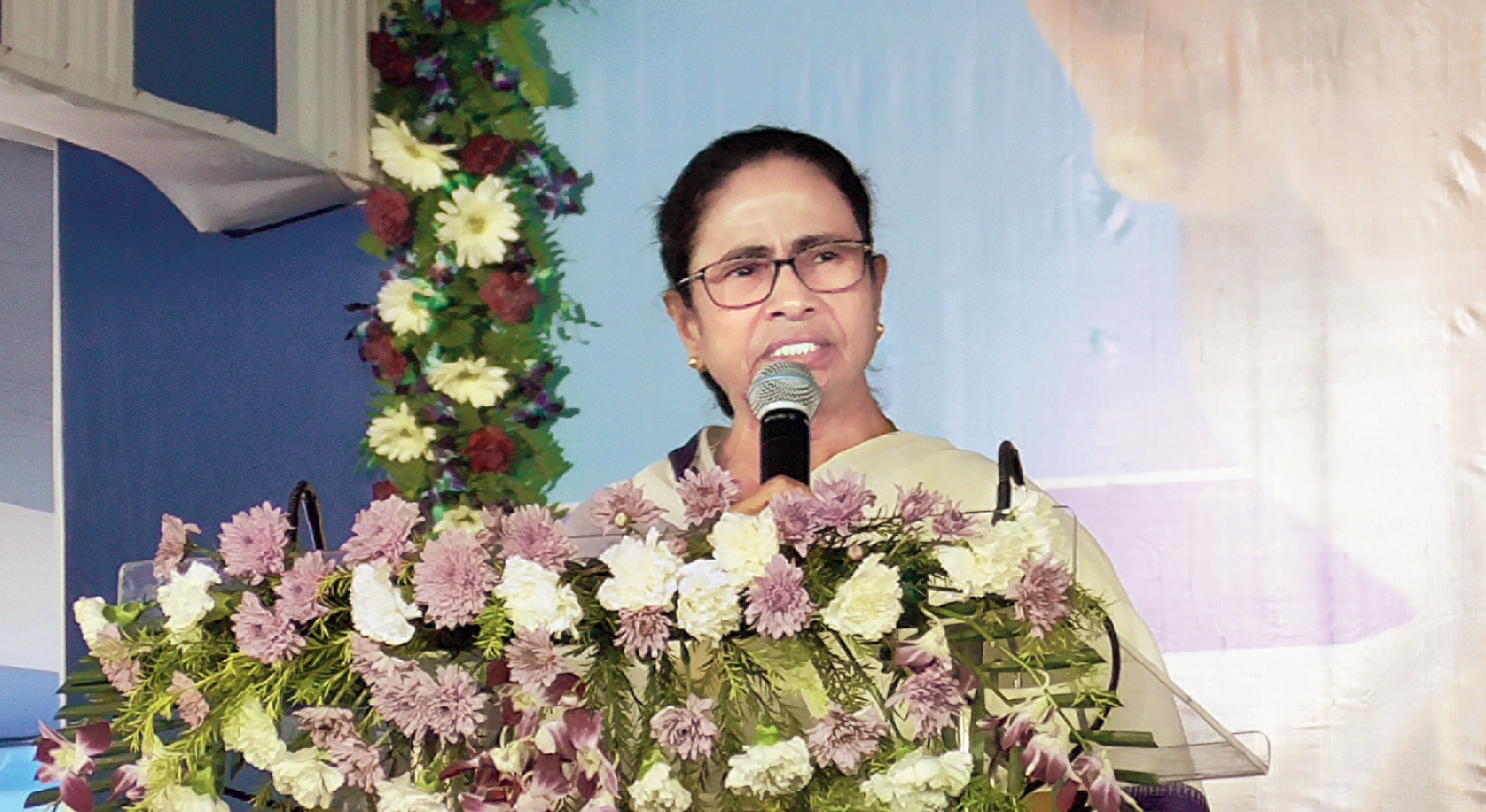 ---
Jamuria(Burdwan)
|
Published 29.11.18, 09:35 PM
|
---
Mamata Banerjee played harbinger of development and translator for the largely Hindi-speaking electorate as she addressed a mixed audience at a rally in Asansol's Jamuria on Thursday.

The chief minister listed the achievements of the Trinamul government first in Bengali and then translating them in Hindi.
During her 35-minute speech, Mamata kept switching from Bengali to Hindi besides explaining in details how she has tried to stand by the Hindi-speaking people of Bengal in an attempt to connect with the audience.
"We have set up a Hindi-medium college in Asansol and Hindi-medium schools will also come up in the areas where Hindi speakers make up at least 10 per cent of the population. We have also introduced Urdu and Alchiki-medium schools in Bengal," she told the gathering to stress her commitment to the linguistic minorities.
The decision to clarify herself in Hindi surprised some Trinamul members at the meeting as Mamata is known to deliver rural speeches in Bengali. However, another section saw her logic.
"Didi has frequently visited Asansol and held several public rallies here, but she never spoke in such a manner," said a Trinamul leader, referring to her style of repeating claims in Hindi and Bengali.
Another said: "The Asansol Lok Sabha area has a large chunk of Hindi-speaking voters and migrant labourers from Jharkhand and Bihar who work in factories. Most of them are BJP loyalists and it is clear that Didi is trying to reach out to them."
Estimates suggest that in the Asansol Lok Sabha constituency, 45 per cent of voters are Hindi speakers.
In the 2014 Lok Sabha elections, BJP candidate Babul Supriyo won from Asansol by defeating Trinamul's Dola Sen by a margin of more than 70,000 votes. The BJP secured 36.75 per cent votes, an increase of 31.19 per cent over the 2009 elections.
As Mamata tried to stress that Hindi-speaking people were better off in Bengal, she drew comparisons with neighbouring Dhanbad, which is in Jharkhand.
Referring to the incidents of violence at Dhanbad in April, Mamata claimed that it was "the tradition" of Bengal to "stay together" and to ward off disharmony triggered by "outsiders".
Sources said that she was trying to distance herself from the anti-Hindi stance that is seen as a mainstay of some BJP opponents in southern India.
Mamata followed up her rally promises on Thursday by meeting with the West Burdwan inspector of schools (secondary) and asking for proposals relating to the setting up of Hindi and Urdu-medium schools in the districts.
At a similar rally in Purulia on Tuesday, Mamata had described herself as a "family member" of all Hindi speakers.