Chidambaram lied on Goa tie-up proposal: Abhishek Banerjee
At a news conference, Mamata's nephew mounted an offensive on the senior Congress leader, the high-command-appointed in-charge for the Feb 14 Assembly polls in the state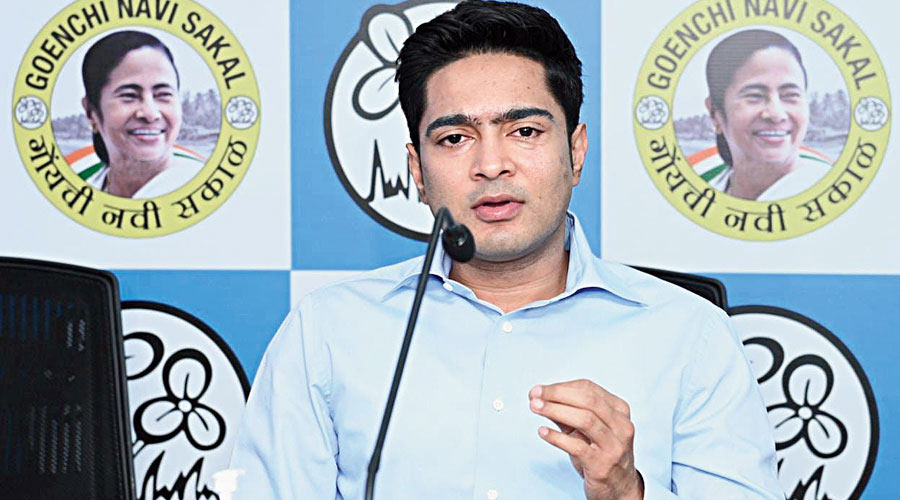 Abhishek Banerjee addresses the news conference in Goa on Thursday
Telegraph Picture
---
Calcutta
|
Published 21.01.22, 02:10 AM
|
---
Trinamul Congress national general-secretary Abhishek Banerjee on Thursday attacked the Congress, accusing it of being hand-in-glove with the BJP in Goa and urging the electorate of the coastal state to remember that "every vote to the Congress is a vote cast for the BJP".
At a news conference in Goa, Mamata Banerjee's nephew mounted an offensive on senior Congress leader P. Chidambaram, the high-command-appointed in-charge for the February 14 Assembly elections there.
"Those who are spreading lies from the other parties must be exposed. Mr. P. Chidambaram, for whom I have the highest regard… but the way he has been misguiding people to serve the interest of his party is something that should be exposed and brought to the public domain," said the Diamond Harbour MP, who has been in Goa since Monday.
"He (Chidambaram) said Trinamul never made any offer (of a truck). However, Pavan Varma put this in the public domain, that being a national vice-president of Trinamul, he went to Mr Chidambaram's house on Lodhi Road, on December 24, at 1.30pm. Mr. Chidambaram is an eminent, senior lawyer… if he thinks that if we are fudging any information then he can sue us. Let us go to court and find out who is lying," he added.
Earlier in the day, Varma had issued a statement on the meeting with Chidambaram. He said a "concrete proposal" for an alliance had been given to the Congress on behalf of Trinamul to strengthen the Opposition space. Varma said the former Union finance minister's statement that he was "not told about any concrete offer" was "public untruth".
In Goa, where Trinamul had aggressively been trying to achieve growth inorganically just ahead of the elections, several leaders who had defected to Mamata's party from the Congress and elsewhere have already left. Some of them have issued critical statements, embarrassing and even surprising Trinamul.
The only ally Trinamul has in Goa at the moment is the MGP. Despite Abhishek's four-day presence in Goa, with the election to the 40-seat Assembly just 25 days away, the struggle to announce candidates has been apparent.
Kalyan is 'correct'
Responding to questions on Trinamul's Serampore MP Kalyan Banerjee's public criticism of him, Abhishek asked: "What has he said? He has said that Mamata Banerjee is his leader, he does not consider anybody else his leader. That is absolutely correct. What is wrong with that?"
"There is no controversy in this. I too believe Mamata Banerjee is my leader, I do not obey anybody else," he added.
"If Kalyan Banerjee did speak out against me, it proves Trinamul does not have a high-command culture and is a democratic party. If there is democracy, there will be things said."