Chess club under Gariahat flyover gets facelift
Police aim to preserve character of hangout while adding to facilities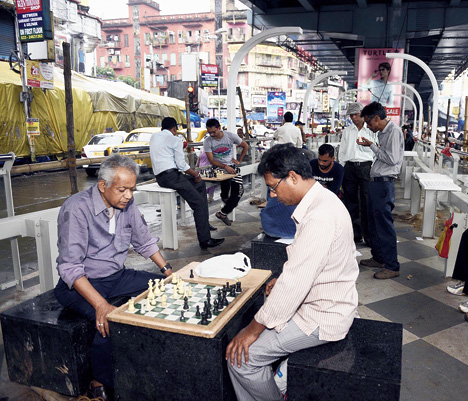 ---
---
Gariahat: The chess hangout that grew under the Gariahat flyover from humble pavement beginnings near Golpark in 1985 has attained the look of a legitimate club with 13 tables bearing laminated boards, arched lamp posts and 26 stools laid out for anyone who likes an endgame.
Regulars at the Gariahat Chess Club range from government officials to hawkers, all with a shared love of the game and a capacity to concentrate in the all-day din around one of Calcutta's busier intersections.
The new arrangements have been made by Gariahat police station as part of a project with a budget of around Rs 20 lakh. "We could have gone for view-cutters but that would rob the club of its essence. It had to retain its character of being a place anybody can walk into," an officer said.
Future plans include arranging coaching for youngsters by some of the accomplished regulars. "We will put up a giant screen on one of the pillars of the flyover. We intend to invite top players to take special classes, which is when the screen will be required," the officer said.
The club had started out as an informal group of residents, shopkeepers and passers-by who would stop for a chess break. It wasn't until 2006 that this daily assemblage of chess nerds metamorphosed into a registered club that "opens" around 3pm every day.
Abhijit Saha, among the founding members of the club and currently the secretary, is delighted that its character hasn't changed much from the time he and a few others had started playing on the pavement near Khadi Gram Udyog Bhavan near Golpark. When the Gariahat flyover was built, shifting there was an easy decision to make.
"We had a free shade over our heads and so decided to shift. The number of members started growing and now we have around 120 regulars. There is also a floating population that just drops by to watch games and play if they get the chance," Saha, who owns a stall on the Gariahat pavement, said.
Priya Ranjan Das, a 65-year-old member, developed an interest in chess while studying English literature at Jadavpur University in the Seventies. Back when Gariahat Chess Club started, he and the rest of the group would sit on the iron railing with the board in between.
"There used to be space for six to seven boards at best. We now have more than double that number and more players too," he said.
The "open and welcoming nature" of the club is something that officers at Gariahat police station intend to retain even as they plan to add features to this unique chess address.