Cheer for kids with autism
A makeshift "quiet room" had also been created where visitors with autism could sit and relax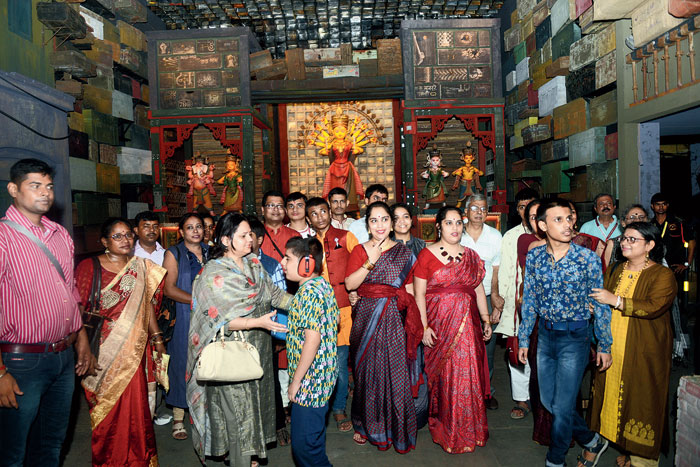 ---
|
Calcutta
|
Published 10.10.19, 08:15 PM
---
Barsha Deb would spend Durga Puja at home, stationed in front of the TV. But this year the 18-year-old got to visit a puja in south Calcutta, where special arrangements had been made for persons with autism.
The 74-year-old Samaj Sebi Sangha Puja on Lake Road near Southern Avenue created a separate entrance that allowed children and adults with autism exclusive access inside the pandal.
A makeshift "quiet room" had also been created on the ground floor of a building near the pandal, where visitors with autism could sit and relax.
Representatives of the Autism Society of West Bengal accompanied a group of children with autism on their visit to the pandal.
They explained to Barsha and her friends why the goddess and her entourage were decked out as they were.
Durga's trishul is what Barsha, who came with her twin sister, liked best.
The children put up a performance on a stage in front of the pandal. Darsh, Arpan and Supratik walked the ramp to the tune of a song sequence from the film Fashion on Chaturthi evening. Barsha, Abhisekh Sarkar and Koustav Basu danced with dhunuchis and daflis.
A puppet show was also organised.
The parents of the children were happy with the arrangements. "We could enjoy Puja because my son (Aniket Dutta) was enjoying every bit of the festive occasion," father Partha Dutta said.
Autism spectrum disorder impacts the nervous system and affects the overall cognitive, emotional, social and physical health of the individual.
Common symptoms include difficulty in communication, difficulty in social interactions, obsessive interests and repetitive behaviour.
Tapati Ghosh, the president, Autism Society, West Bengal, said individuals with autism stay away from visiting pandals as they cannot figure out what the festivity is all about. They need time and care.
"If you force them to go along with other pandal-hoppers, they won't be able to figure out anything and eventually would lose interest. That is the reason they usually stay away from pujas. But Samaj Sebi Sangha made a sincere attempt to involve them in the celebration," she said.
Arijit Maitra, the general secretary of the puja committee, said pandal-hoppers were not allowed to enter the puja for 10 to 15 minutes so that the visitors with autism felt comfortable.
Samaj Sebi Sangha had made provisions for visually challenged persons last year.
"We want to make the puja inclusive for the disadvantaged section as much as possible," said Arijit Maitra.
Autism Society, West Bengal, is a parent-supported non-profit-making organisation that was formed for the purpose of working for the welfare of adults and children with Autism Spectrum Disorder (ASD).