Charges fly over Bengal Trinamul MLA's murder
Mukul Roy, former TMC leader now with BJP, says he has been named in FIR on Mamata's instructions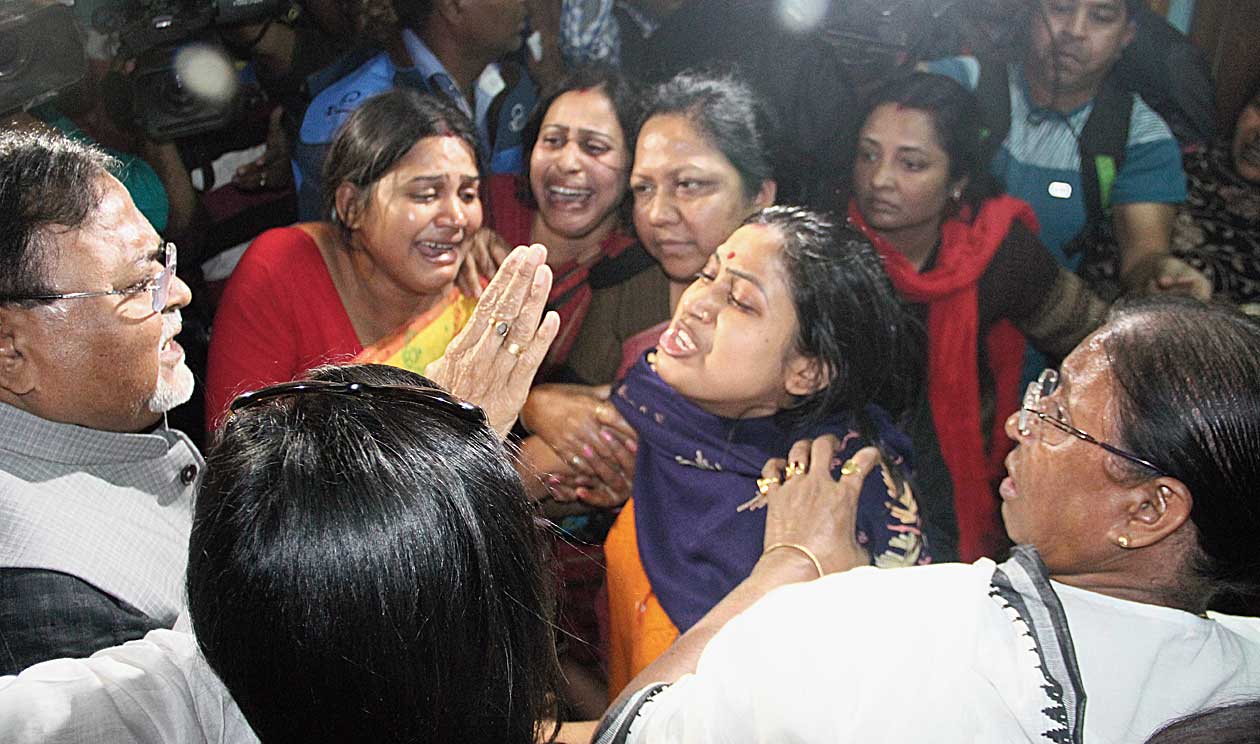 ---
|
Nadia
|
Published 10.02.19, 07:56 PM
---
A Trinamul supporter and an ex-BJP activist undergoing treatment for depression have been arrested in connection with the murder of Krishnaganj MLA Satyajit Biswas.
Kartick Mandal, alias Mithun, 24, who is a Trinamul activist, and Sujit Mandal, 29, were among the five named in an FIR lodged by the deceased MLA's close aide Milan Saha.
The other three are BJP leader Mukul Roy and Trinamul workers Abhijit Punduri and Kalipada Mandal. While Mukul was booked for criminal conspiracy, the other four were accused of murder and criminal conspiracy.
Kartick and Sujit were produced in the additional chief judicial magistrate's court in Ranaghat on Sunday and remanded in police custody for two weeks.
The 38-year-old Trinamul MLA had been shot dead while watching a Saraswati Puja programme at Phulbari village in Hanshkhali in Nadia district on Saturday night.
The ruling party had alleged that the BJP was behind the murder.
Nadia police on Sunday suspended officer-in-charge of Hanshkhali police station Anindya Bose and the MLA's security guard Prabhash Mandal on charges of dereliction of duty.
Two years ago, Trinamul block president of Hanshkhali Dulal Biswas had been shot dead inside a party office. Bose was the OC of the Hanshkhali police station then.
"The MLA's guard, a constable, has been suspended as he went on leave without intimating superiors. No alternative security arrangement could be made for the MLA," said a police source.
Mukul Roy alleged on Sunday that his name had been dragged into the case because of chief minister Mamata Banerjee's instruction. "She is doing all this out of fear of the BJP's rise. We demand an independent probe into the murder," he said.
Amid different theories in circulation on the reason behind the murder, some police and Trinamul sources talked about the possibility of a personal rivalry angle.
Trinamul sources in Phulbari said the MLA had beaten up Abhijit during Kali Puja last year after a number of complaints had been lodged against him over illegal collection of subscriptions from students of Sri Krishna College at Bogula.
Satyajit Biswas's younger brother Sujit said: "Abhijit was involved in collecting money from college students, for which dada (the MLA) had warned him. On one occasion, he lost his cool and slapped Abhijit. But it is beyond our imagination that he could conspire with the BJP to kill dada."
Abhijit's elder brother Prasenjit and the neighbours sought to refute the allegations.
"As far as I know, my brother is a Trinamul activist. I have never seen him with the BJP. He was unemployed and failed to get a job. Recently, he joined our father to help him in agricultural work. I don't believe he could kill the MLA."
The other accused, Kartick, is the son of a labourer and a Trinamul member. "Kartick was also beaten up by the MLA recently as he was gradually distancing himself from Trinamul," said a resident of Phulbari.
Kartick's wife Sunita said: "In the past three months, my husband was mostly at home as he was busy in sewing vests. He bought sewing machines and engaged a youth for the work. On Saturday, he was at home busy in his work. But police came about 9pm and took him away. My husband has been falsely implicated in the case."
Trinamul secretary general Partha Chatterjee, along with the party's Nadia observer, Anubrata Mandal, visited the slain MLA's home on Sunday. They assured Biswas's wife Rupali and his parents of all possible support.
Chatterjee said: "We have told police to arrest the culprits soon and ensure strong punishment for those involved in the murder."
Mamata also called up Rupali but couldn't talk to her. "The chief minister spoke to his parents and said she would call up again later," a family member said.
A CID forensic team visited the murder spot with a sniffer dog on Sunday. CID additional director general Neeraj Singh also went to the spot.