Channel of confusion as tariff clock ticks on cable TV homes
What you need to do before December 28 deadline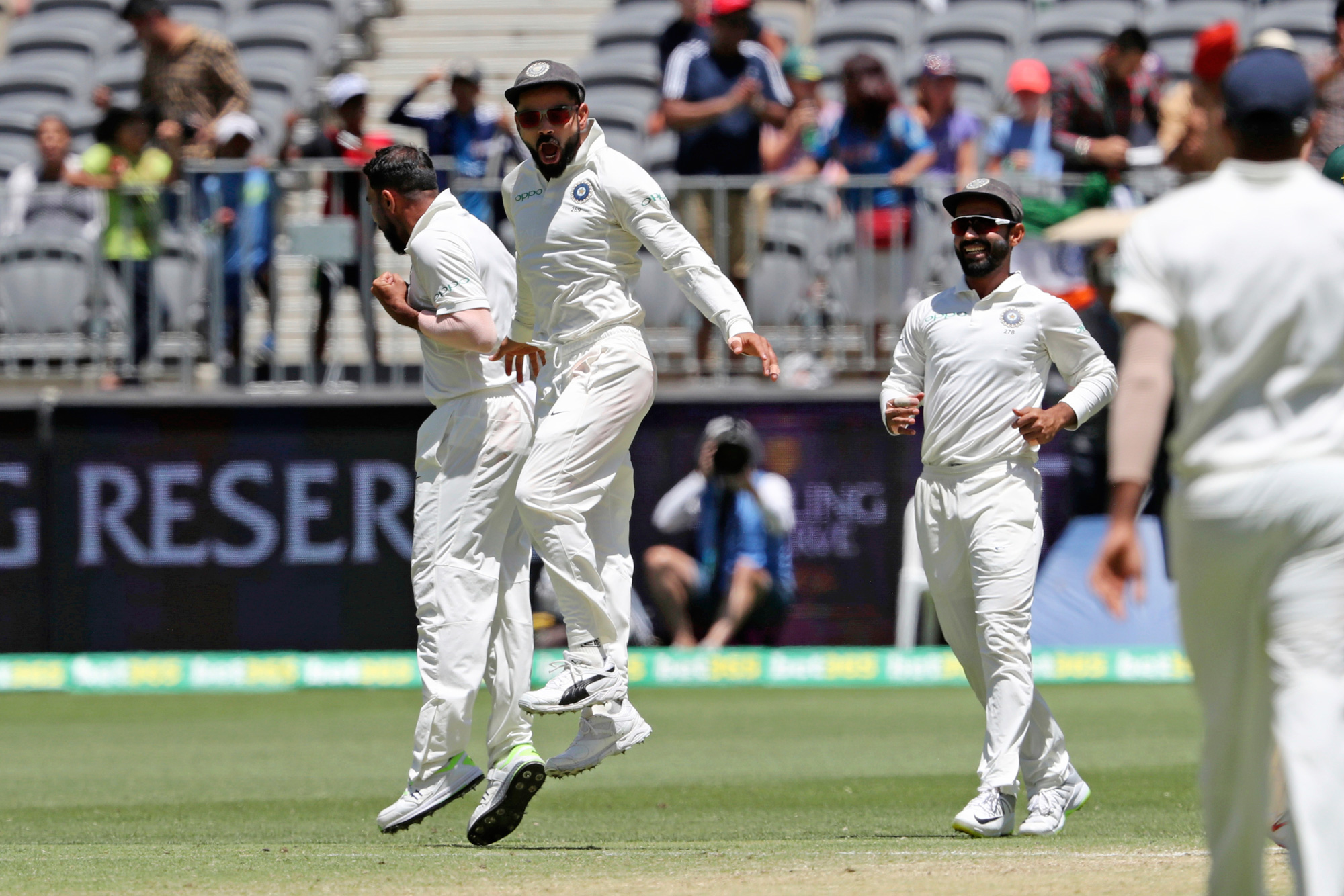 India's Mohammed Shami, left, and Virat Kohli leap as they celebrate the dismissal of Australia's Aaron Finch during play in the second cricket test between Australia and India in Perth, Australia, on Monday, December 17, 2018.
AP
---
Calcutta
|
Published 22.12.18, 10:10 PM
|
---
The new cable television tariff regime scheduled to kick in at midnight on December 28 has plunged subscribers into confusion over the methodology of a model that has killed the convenience of packages in giving them the choice to pay for only what they will watch.
Subscribers are required to register their choice of pay channels on offer at a-la-carte rates by filling in forms distributed by their service providers before the deadline. But as Metro found out while speaking to subscribers and cable operators, Calcutta is anything but prepared to make the switch.
Most people seemed unaware of the change. Many among those who knew about the new system said they were waiting for more clarity, blaming their service providers for the lack of information.
Here is what the cable television subscriber needs to know before the change takes effect.
What has the Telecom Regulatory Authority of India (TRAI) said?
Channel packages will cease to exist at midnight on December 28.
According to the Telecommunication (Broadcasting and Cable) Services (Eighth) (Addressable Systems) Tariff Order, 2017, unless a-la-carte channels are activated for an individual subscriber by that date, only free-to-air channels will be on TV.
The free-to-air bouquet contains 100 channels for Rs 130 plus taxes. Those who opt for pay channels will have to pay the MRP for those individual channels along with the fee for free-to-air channels.
How will not transitioning to the new model affect a subscriber?
Unless a customer makes a list of his or her choice of channels and submits it with the cable operator or DTH operator, only free-to-air channels will be available post-midnight on December 28.
All popular movie, sports, news and general entertainment channels are pay channels. For instance, a cricket fan would miss the Boxing Day Test between India and Australia from the fourth day onwards. The series is being exclusively telecast on Sony SIX, Sony SIX HD, Sony TEN 3 and Sony Ten3 HD, all of which are pay channels.
What kind of channels will be available on the free-to-air bouquet?
According to the TRAI notification, there should be 100 free-to-air channels, including the Doordarshan bouquet and at least five channels each from the genres of general entertainment, devotional, infotainment, kids' entertainment, movies, music, news and sports.
What should I do to prevent channels from going off my TV?
Submit the list of pay channels you intend to watch at the earliest. As the deadline draws nearer, the number of applications submitted to
operators is likely to mount and they might not be able to process all of them before the new system takes effect.
Will it affect me even if I am on the DTH (direct-to-home) platform?
Tata Sky had moved Delhi High Court against the TRAI notification. The next hearing is on January 10 and the court has said that Tata Sky is not bound to introduce the a-la-carte system by December 28.
But for all other DTH operators and cable homes across the country, the deadline remains December 28.
If pay channels disappear from my TV, who should I contact?
You have to contact your local cable operator or the DTH service provider. But you need to first submit your list of preferences.
Is there a possibility that pay channels will not go off air even if I don't submit the list of preference?
A TRAI official said meetings were being held with representatives of broadcasters and multi-system and DTH operators to ensure a smooth transition. But industry sources warned that channels could disappear if not opted for. "For each day after December 28 that someone watches pay channels, broadcasters will charge a-la-carte rates from the multi-system operators. A blackout of pay channels cannot be ruled out, at least for the smaller players," said a cable industry veteran.
If I inform my cable operator of my choice of channels today, is there a guarantee that the pay channels will not go off air on December 28?
There is no guarantee as of now. According to multi-system operators, less than five per cent of subscribers have submitted their preferences. Many customers are likely to submit their applications over the next few days. Based on industry estimates, there are 35 lakh cable and five lakh DTH subscribers in Calcutta. If even 10 per cent of these subscribers submit their applications together, it would take more than a week for the operators to process them all.
How do I know the rates for each channel?
Visit the websites of individual broadcasters like SONY, ZEE and STAR India to check the rates. Apart from individual channels, customers can also choose clusters of channels from the same operator at reduced rates.
Will the reform bring down cable TV rentals, as TRAI has promised?
Not if one wants to watch all channels, including in HD.
A simple calculation has shown that if a subscriber wants access to all the prominent HD movie, sports and entertainment channels that are now part of the premium HD pack, the rental would exceed Rs 600 a month. The current rate for the same is between Rs 400 and 450 a month in the city for cable television.
On the DTH platform, prices are set to increase. Those who have subscribed to basic and middle-tier packages are also expected to feel the pocket pinch.
Many cable operators have not been informing subscribers of what they need to do. Are they against the move?
Cable operators say they are not keen on the new system because their revenue share will go down.