Cave-in at Burdwan rail station
Falling chunks flash alert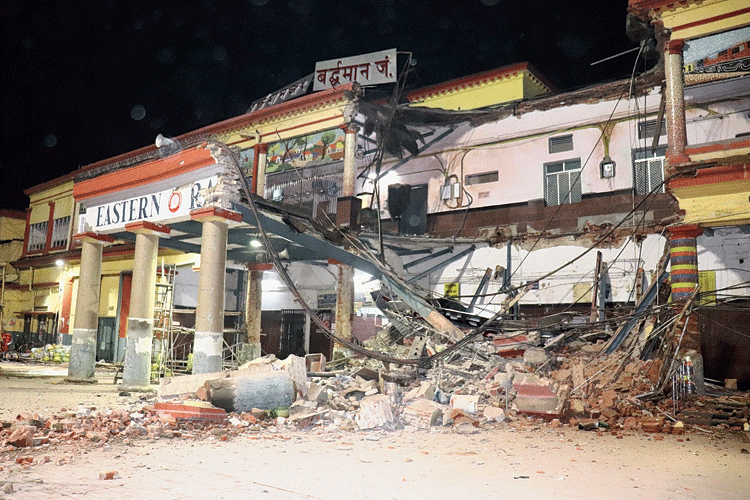 ---
Bolpur(Birbhum)
|
Published 04.01.20, 09:02 PM
|
---
A portion of the 140-year-old main building of Burdwan station, one of the busiest railway stations of Bengal, came crashing down on Saturday evening, injuring at least two persons.
Railway officials said more people could have been injured but for the fact that the portion of the two-storey building — used by passengers to enter and exit the station — that gave in was mostly a corridor and that small chunks had started coming off around 20 minutes before the collapse, alerting people to the impending danger.
The two injured persons were taken to Burdwan Medical College and Hospital where the condition of one was stated to be very critical.
Ishaq Khan, the Howrah divisional railway manager, said: "One person was seriously injured and he has been taken to the local medical college. Some others who suffered injuries were treated and discharged."
The DRM did not clarify what led to the collapse, but promised a thorough inquiry.
Some railway officials said minor repair work was being conducted in the building, but could not give details. "I cannot comment on whether the collapse has anything to do with the repair work," an official said.
The building is adjacent to platform No. 1, but the portion that collapsed is on the other side. There weren't many people on the platform at the time of the crash.
As over 230 passenger trains pass through the station everyday and thousands of people use it, the injury count could have been more, an official said.
The building houses chambers of officials, waiting rooms for passengers and railway employees, a dormitory and guest rooms.
"Thank God that small concrete chunks first began to come off around 20 minutes before the collapse and people came rushing out," the official said.
According to him, at any given time, the station area, including the affected portico where some people spend the night and the inquiry counter, has at least 200 people.
Vijay Bharti, the district magistrate of East Burdwan, also said that as small concrete pieces had started to fall off the building, people had vacated the place on their own. "This saved many lives," the DM said.
The collapse, however, didn't affect train services. Although trains were not allowed to use platform No. 1, the other seven platforms were open. "Train services were not affected as the platforms did not suffer any damage.… No train will be cancelled," DRM Khan said.
Former junior railway minister Adhir Chowdhury said: "The BJP government is increasing railway fares, but it has not spent a single rupee on the safety of passengers."