Cash seizure prompts Mamata Banerjee to taunt BJP
Charge came in backdrop of seizure of over Rs 90 lakh from SUV by Jalpaiguri district police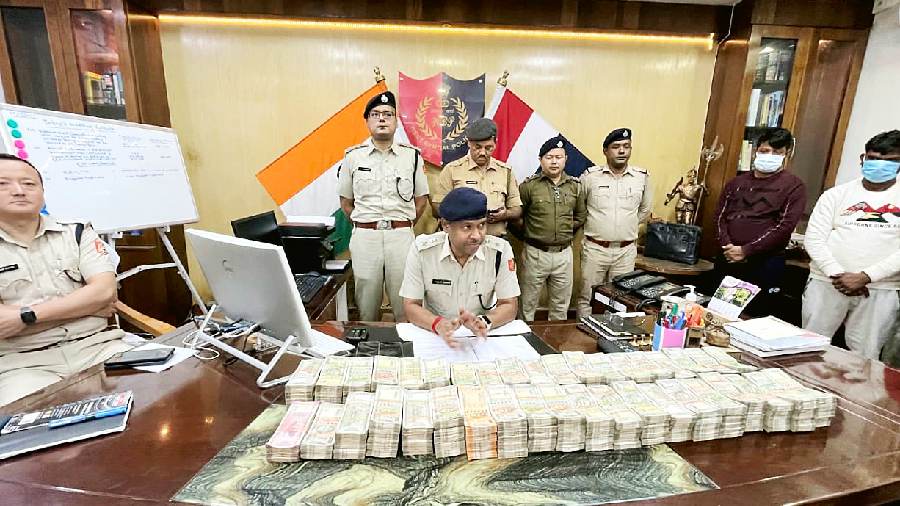 Jalpaiguri district police chief Biswajit Mahato with the seized cash in his office on Monday
Biplab Basak
---
Siliguri/Jalpaiguri
|
Published 06.12.22, 03:58 AM
|
---
Mamata Banerjee has accused the BJP of bringing illegal cash, firearms and hooligans to Bengal with the help of paramilitary personnel who are engaged for the security of the party's leaders.
The chief minister's charge came in the backdrop of the seizure of over Rs 90 lakh from an SUV by Jalpaiguri district police on Sunday evening.
"I am aware of the seizure…. The BJP is using hawala channels to bring money to Bengal. The party is also bringing in cash, guns and goons by using central forces so that state police cannot conduct checks," Mamata told journalists at the Calcutta airport before leaving for Delhi on Monday.
The Trinamul Congress chairperson had in the past also accused the BJP of perpetrating violence in Bengal and trying to foment tension in northern parts of the state by playing the polarisation card.
"I would request BJP leaders to take care… we should contest politically and not resort to force (coercion)," Mamata said on Monday.
In Jalpaiguri, a team of Banarhat police personnel intercepted an SUV bearing the Biahr registration number and seized Rs 93.83 lakh in cash from the vehicle on Sunday evening.
"We detained the SUV after receiving a tip-off. Initially, we could not find the cash and the vehicle was taken to the police station. There, we interrogated the SUV's occupants. They admitted that the cash had been concealed in the stepney," Jalpaiguri district police chief Biswajit Mahato said.
The police called a mechanic to open the spare tyre. Eventually, bundles of cash in the denominations of Rs 200, Rs 500 and Rs 2,000 were retrieved from the tyre. The notes, the police said, were wrapped in plastic packets and hidden in the tyre.
"There were five people in the vehicle. They claimed to be traders and said they were on their way to Assam to place orders. However, none of them was carrying any documents to prove that they were carrying the cash in a legal manner. All of them have been arrested," the SP added.
The arrested were Mohammad Toufiq, Mohammad Naushad, Imtiaz Alam, Mohammad Mozammel — all from Purnia in Bihar – and Guddu Rajak, a resident of Dalkhola in North Dinajpur district.
The five were produced in a court here on Monday and remanded in police custody for 10 days.
Manoj Tigga, the chief whip of the BJP in the Assembly, said the police could always check the vehicles of the party's leaders and elected representatives.
"The chief minister is perturbed over the political consequences of the involvement of Trinamul leaders in corruption and anti-social activities. She is purely and simply trying to divert people's attention by raising baseless allegations against us,'' said Tigga, the MLA of Birpara-Madarihat in Alipurduar district.