Carbon wrap or steel bands for Calcutta's Ultadanga flyover crack
The flyover connects the Bypass and VIP Road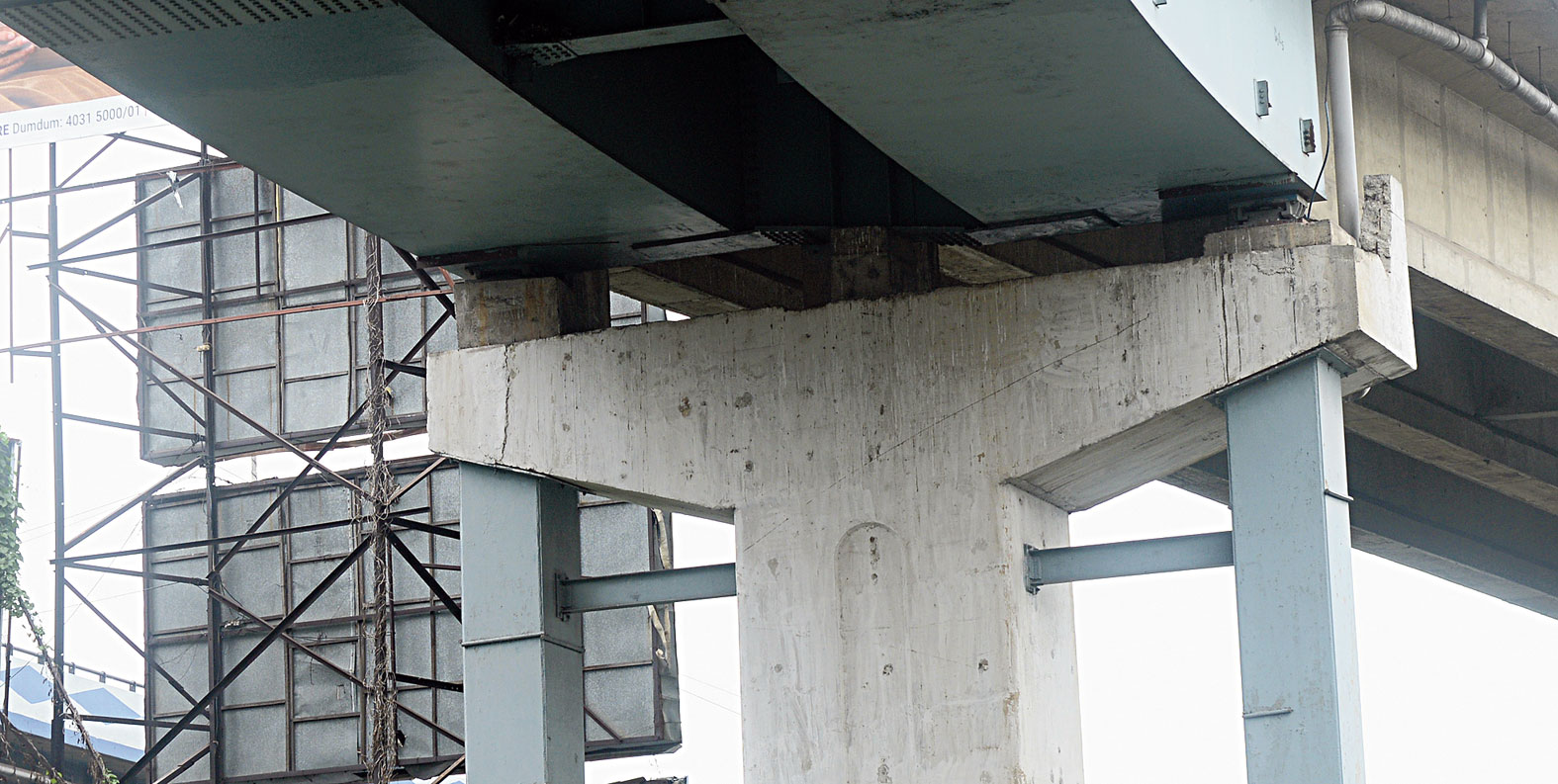 A crack on the flyover.
Picture by Bishwarup Dutta
---
Calcutta
|
Published 13.07.19, 08:49 PM
|
---
Engineers are mulling carbon wrap or putting steel bands around the crack that necessitated a complete shutdown of the Ultadanga flyover on July 9.
The crack was detected on the flyover's Bypass-bound flank that is still closed to traffic. The airport-bound flank was opened late on July 11.
The flyover connects the Bypass and VIP Road.
It is difficult to specify when the Bypass-bound flank will be thrown open to public, an engineer who was part of the team that inspected the flyover on Saturday said.
Members of the bridge advisory committee set up by the urban development department after the collapse of Majerhat bridge in September last year, engineers of the Calcutta Metropolitan Development Authority (CMDA) and engineers from a Delhi-based agency that is studying the health of flyovers in the city were part of the team.
Two members of the four-member advisory committee who were not present during the previous inspection on July 11 took part in the inspection on Saturday, a CMDA official said.
Carbon wrapping will take less time than putting steel bands, a Jadavpur University engineering teacher said. "Carbon wrapping means putting Carbon Fibre Reinforced Polymers around the crack. This will prevent the crack from expanding further."
Steel bands across the crack perform a similar function, the teacher said. "But carbon wrapping can be done quicker than putting steel bands."
After the inspection, the engineers in the team held a meeting to discuss the ongoing health assessment of flyovers. "We analysed the preliminary results of the concrete chunks that were taken from the pier in whose cap the crack had been detected," an engineer who was present at the meeting said.
The advisory committee, as well as the CMDA, wants a comprehensive plan for the flyover's well-being.
Engineers from GPT, the company that had built the span of the flyover over Kestopur canal after the original had collapsed in 2013, were present at Saturday's meeting.
The crack was detected on the cap of one of the two piers that hold the span above the canal.
"GPT has been asked to repair the crack. They are best suited for the job as they had built the stretch," an engineer said.
The government-owned Mackintosh Burn will erect trestles under eight spans of the flyover. A span is the portion between two piers. Cracks have been detected in girders under eight spans. "Mackintosh Burn is mobilising men and machinery for erecting the trestles. The work may begin next week," the engineer said.