Car crashes into Royal Calcutta Golf Club wall
College student arrested on Thursday night on charges of dangerous and rash and negligent driving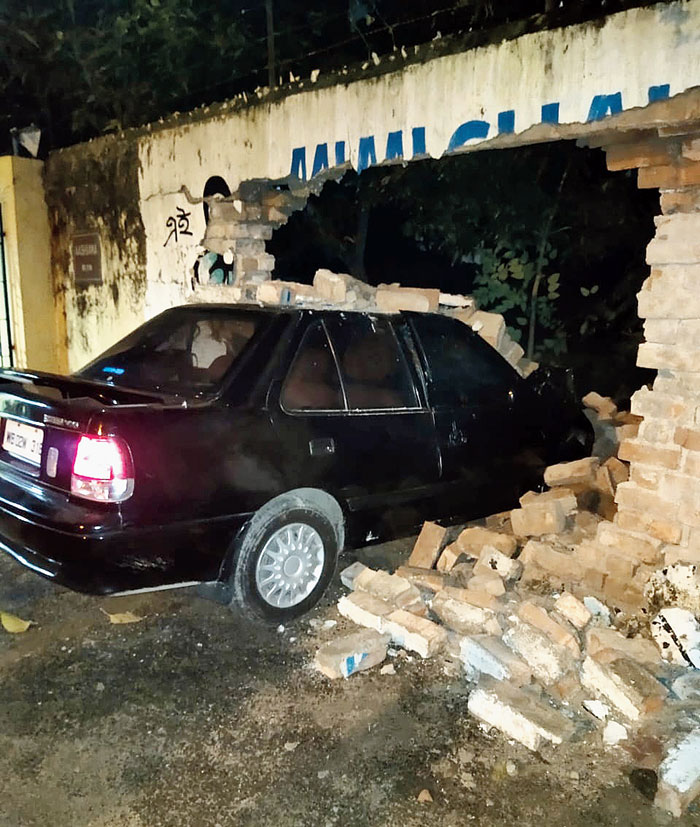 The car after it rammed into a wall of RCGC on Thursday night
Telegraph picture
---
Calcutta
|
Published 16.08.19, 09:07 PM
|
---
A college student was arrested on Thursday night on charges of dangerous and rash and negligent driving after the car he was driving rammed into Royal Calcutta Golf Club's boundary wall.
Akash Mukherjee, 22, son of actress and BJP MP Roopa Ganguly, survived the crash just outside his home with head injuries caused by glass shards of the smashed windscreen.
The accident occurred around 9pm in a residential area on Prince Golam Mohammad Shah Road adjoining the flat where he lives with his father. His mother lives in another flat two blocks away.
Police have booked Mukherjee for mischief, dangerous driving, and rash and negligent driving and under the prevention of public property act.
The charge on causing mischief with public property is non-bailable and carries a maximum punishment of five years in jail.
Officers of Jadavpur police station said the Maruti Esteem Mukherjee was driving damaged some crash barriers before ramming into the wall.
His family has refuted the charge. "We are of the firm opinion that no public property had been damaged," a family friend close to his parents said.
His lawyer said the car had not damaged any crash barriers.
Mukherjee was produced in Alipore court on Friday and remanded in police custody for a day. He will be produced in the court again on Saturday. The public prosecutor told the court that the police wanted his custody to find out if "there was any intention behind the crash".
Three hours after the accident on Thursday night, Roopa Ganguly had tweeted: "My son has met with an accident near MY RESIDENCE. I called the police to take care of it with all legal implications. No favour/politics plz. I love my son and will tk cr of him BUT LAW SHOULD TAKE ITS OWN COURSE. Na main galat karti hun, na main sehti hun (neither do I do wrong nor do I tolerate)." She had tagged Prime Minister Narendra Modi in her tweets.
An hour later, refuting rumours that he had left the city, she tweeted: "How funny... I spoke to him in the afternoon... discussed about his lunch and other basic things at 3pm.. now I get to hear such stupid comments by the media. He just left this morning by 7.50 flight..What sort of political rubbish is this?"
Mukherjee is a student of the University of Tampa in Florida, a family friend said.
According to neighbours, the car was speeding when it rammed into the RCGC wall. "He often drives at high speed... it inconveniences our children when they play here," a neighbour said.
Mukherjee had called his father after the crash and it was he who rescued him before calling the cops, the police said.
Neighbours had alleged that Mukherjee was drunk at the time of the accident but a medical examination at MR Bangur Hospital has ruled out the possibility of drink driving, an officer of Jadavpur police station said.
The car did not have airbags and Mukherjee had contusions on his head, the police said.
After first aid at the hospital, Mukherjee was taken to Jadavpur police station and kept there for the night.
An officer said the way the car had crashed into the wall, it was no less than a miracle that he survived with minor injuries.
The vehicle has been seized. It will undergo forensic and mechanical tests to ascertain the speed at which it hit the wall.