Cancel Modi candidature: Mamata
Modibabu's daydreams about finding a toehold in Bengal will never come true, says Mamata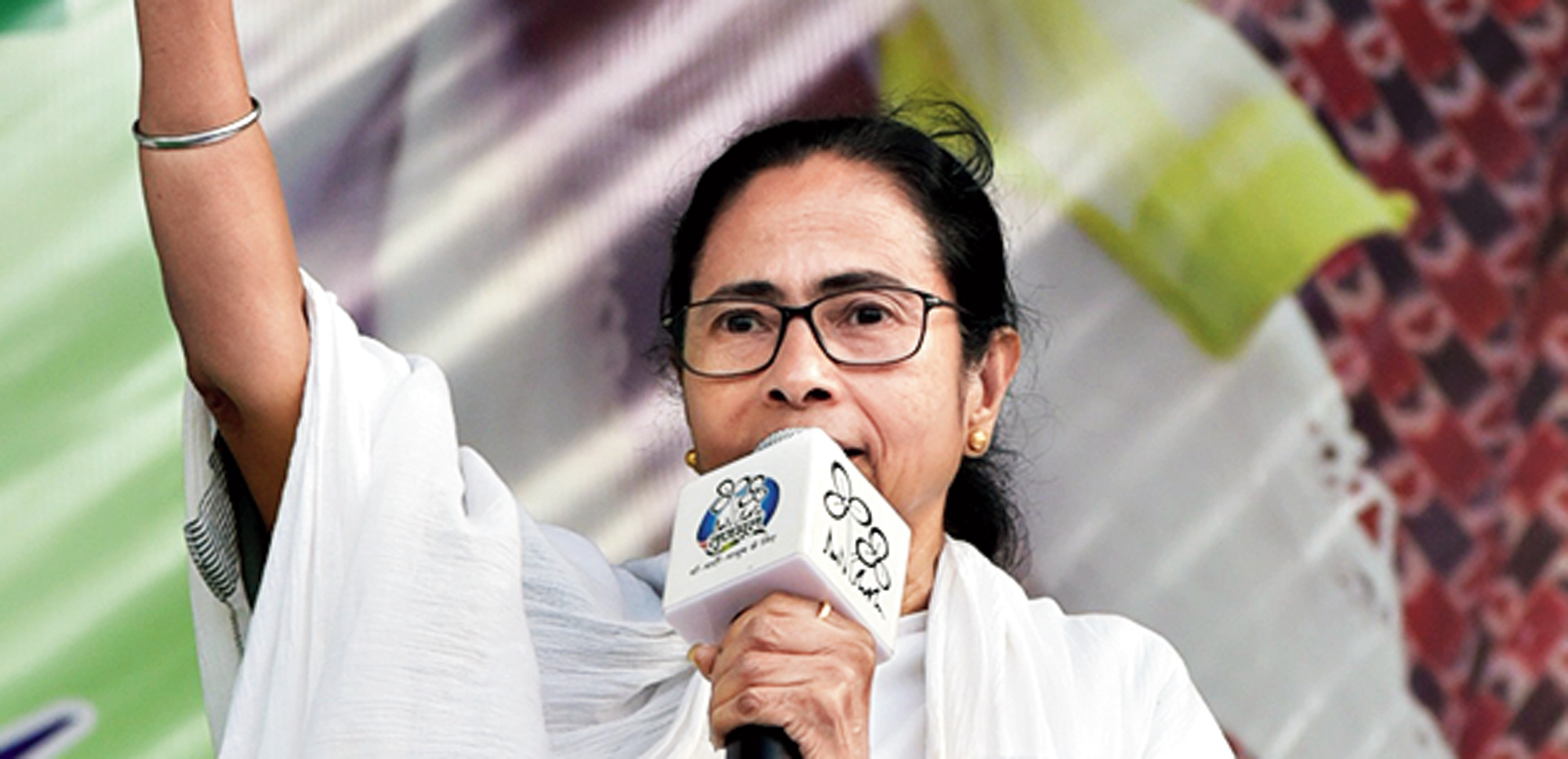 ---
|
Calcutta
|
Published 30.04.19, 07:41 PM
---
Mamata Banerjee has demanded cancellation of Narendra Modi's candidature from Varanasi for "shameless admission of horse-trading" and Akhilesh Yadav has said he deserves a "72-year ban", in response to the Prime Minister's claim that 40 Trinamul Congress MLAs were in touch with him to switch parties.
"His candidature must immediately stand cancelled because he is violating the Constitution by trying to buy off elected representatives. He has no right to continue," Mamata said on Tuesday, at a rally at Bhadreswar, Hooghly.
Her party has complained to the Election Commission.
Samajwadi Party chief Akhilesh tweeted: "Vikas is asking: Did you hear the shameful speech of Pradhanji? Having lost the faith of 125 crore people of the nation, he now relies on the unethical assurance of defection allegedly given to him by 40 Bengal MLAs."
He added: "This shows his black money mentality. For this, he should be banned, not for 72 hours but for 72 years."
At Bhadreswar, Mamata said: "He is a shameless Prime Minister. He talks about buying 40 MLAs of Trinamul. In my party, people are dedicated and ready to sacrifice, shed their own blood. They cannot be bought with money power, Modibabu…. Forget 40, find even one for your purchase,".
At Chanditala in Hooghly on Monday, Modi had said: "Didi, the ground is slipping beneath you. Mark my words, the lotus will bloom in every direction after May 23. Your brothers will desert you…. Even today, Didi, 40 of your MLAs are in touch with me."
Mamata said such tactics of Modi and the BJP would not yield them seats in Bengal, despite his "daydreams" for gains in the state to compensate losses in the Hindi heartland.
"Modibabu's daydreams about finding a toehold in Bengal will never come true…. I am not afraid of Modi's intimidation. I am not afraid of khaki shorts. I fight like a tigress," she said at a rally in Howrah's Salkia.
Repeatedly questioning the source of the "crores and crores" the BJP had been spending on its campaign, Mamata lambasted Modi for allegedly not understanding Bengal and what works here.
"I had served under many Prime Ministers. But the person occupying the chair now is the most unfit in our history…. He is Hitler's grandfather… does not know basic courtesies, political and otherwise. Look at the language he uses…. He thinks everyone is his servant," she told a rally at Amdanga in North 24-Parganas.
Trinamul wrote to chief election commissioner Sunil Arora demanding Modi's disqualification.
"This is very unbecoming of the Prime Minister. He is trying to influence the voters to vote for BJP creating a mala fide impression in their minds that many MLAs of AITC are in touch with him and will cross over to his party which will have a bearing on the fate of the present government in West Bengal. We lodge a strong protest against this mischievous campaign of Sri Modi," wrote Trinamul's chief national spokesperson Derek O'Brien.
"We demand that Election Commission of lndia take cognizance of this unfounded, inappropriate and illegal campaign and utterances of Mr. Narendra Modi and take strong action against him," he added.