Call to respect all religions, accept criticism
Bose Institute boss talks tolerance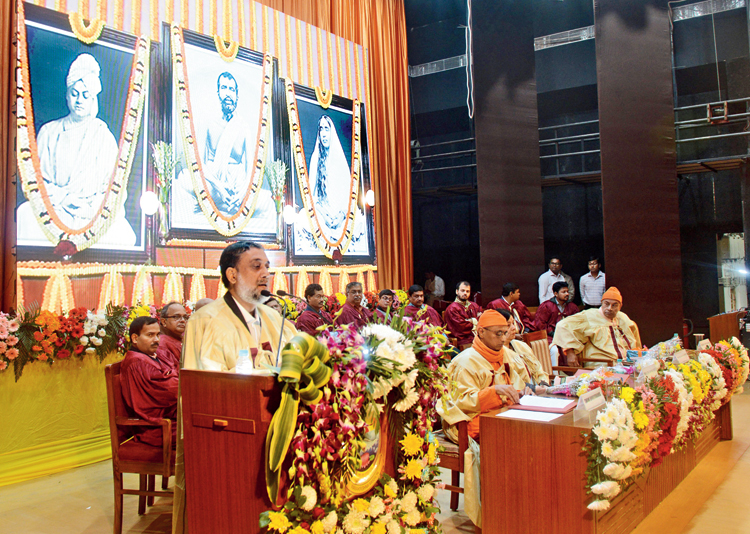 Uday Bandyopadhyay, director of Bose Institute, speaks at the convocation of Ramakrishna Mission Residential College on Monday
Telegraph picture
---
Calcutta
|
Published 23.12.19, 09:05 PM
|
---
The director of Bose Institute told a gathering of young graduates on Monday that "a respectful attitude towards all religions" and the ability to "accept criticism" were the two most important lessons for them going into the future.
"Development of the spirit of service to fellow beings, development of respectful attitude towards all religions, attainment of knowledge of science and spirituality, development of generous yet rational attitude in life, respecting cultural boundaries etc are the pivotal objective of man-making education," Uday Bandyopadhyay said in his convocation address at Ramakrishna Mission Residential College (Autonomous), Narendrapur.
"We should develop such individuals who are ethically sound, physically strong, intellectually sharp, religiously generous, spiritually enlightened and vocationally self-sufficient," he added.
Bandyopadhyay also spoke on modesty and open mindedness and how "modesty is also the fundamental parameter to judge who is educated".
Bandyopadhyay, the guest-in-chief, delivered the convocation address at the eighth convocation of the college.
He referred to Ramakrishna Paramahansa's lack of faith in an education that focussed only on earning money and spoke of Swami Vivekananda and his guru's philosophy that advocated "man making".
"If you forget the cultural boundaries, you can't have growth in different paths. If we have some bigotry and you seize it, then how will you be able to choose which path is good for you? First, welcome all paths, and then find out," director Bandyopadhyay later told Metro when asked about the need to rise above cultural or religious boundaries.
Bandyopadhyay also spoke on the need to accept criticism and the need to shun "vanity".
"It always helps to accept criticism. The biggest problem of our education is that we do not like to accept criticism," he told the students.
He later told Metro: "A person who is seeking knowledge must be open-minded. Otherwise, you cannot. The biggest problem right now (is) we are not accepting criticism…. If you are facing criticism, then you can rejuvenate what you are thinking."
In his address, Bandhyopadhyay said: "The open mind is very much important and the lack of open mind is dangerous."
He said religious bigotry stems from "lack of education, lack of open-mindedness" and lack of the spirit to accept criticism. He also said that religious intolerance or bigotry was also because of "culturing vanity".
Swami Sarvalokananda, secretary of the Ramakrishna Mission Ashrama, Narendrapur, said the need of the hour was to build students with strong characters.
"There is turmoil all around and the challenges that are facing us currently requires students who have strong characters. There has to be focus on building students with strong characters," he said.