Call for early weather warning system in hills
Darjeeling does not have a meteorological station and all nearby stations are located in Gangtok and Jalpaiguri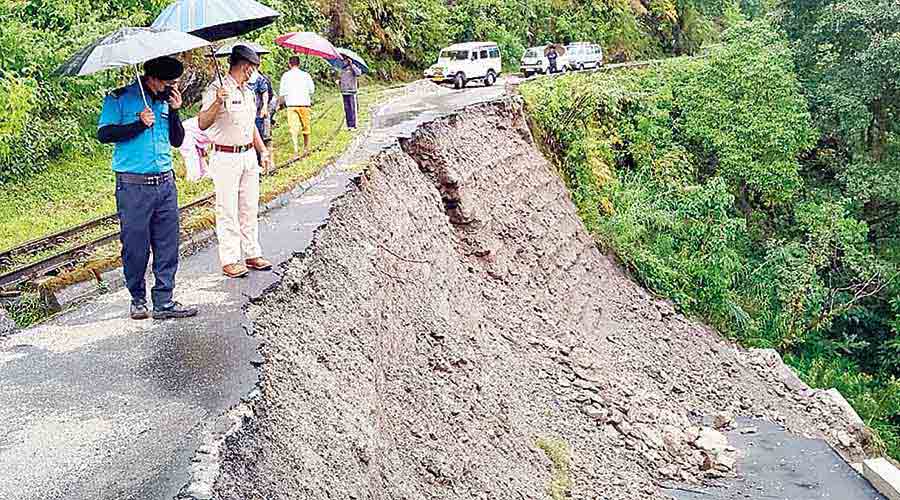 ---
Darjeeling
|
Published 24.10.21, 02:26 AM
|
---
Torrential rain and landslides in North Bengal have swivelled the spotlight on the need to augment early warning systems for the fragile hills of Darjeeling.
Amar Singh Rai, vice-chairman of Siliguri Jalpaiguri Development Authority (SJDA) and a former Darjeeling MLA, on Saturday wrote to chief minister Mamata Banerjee seeking specific intervention that found resonance among experts working on disaster management.
Rai has requested the installation of a doppler weather radar (DWR) station and automatic weather stations (AWS) in all major urban centres and at the block level.
"A DWR would be able to give more precise warnings on the quickly changing mountain weather and enable accurate nowcasts to be issued.  The earning warning would go a long way in saving lives," Rai has written. Nowcasting is weather forecast in a very short period of up to two hours.
The Darjeeling hills do not have a meteorological station. The nearby stations are located in Gangtok and Jalpaiguri and experts believe that public dissemination of information is slow.
Doppler weather radar sends pulses of electromagnetic energy into the atmosphere to find precipitation, determine its motion and intensity, and identify the precipitation type such as rain, snow or hail.
"DWR system would give early warnings and this would be extremely helpful for nowcasting in the fast-changing mountain system," said Wing Commander (retd) Praful Rao, founder, Save The Hills, a group formed by experts on disaster management. "We welcome the points raised by Amar Singh Rai, as in the past we have seen that people are only after funds instead of setting up tangible assets."
Rai has also raised the issue of establishing a state-level research centre on landslide hazards. "The centre could be co-located with an existing institute of higher learning and should include officials from GSI (Geological Survey of India)," said Rai.
According to GSI, about 0.42 million sq km of land in India is prone to landslides out of which 0.18 million sq km falls in the northeast Himalayas, including Darjeeling and Sikkim.
"Our hills experience every type of landslide and it makes sense to have a centre here to study and look toward mitigating such disasters instead of having experts coming from other regions and lecturing us," Rao said.
The need to upgrade drainage systems in the hills and to check the stability of major structures in Darjeeling and Kalimpong has also been requested by Rai, who is also a former chairman of Darjeeling municipality.
During the past few days, the hills witnessed numerous landslides triggered by torrential rains on October 19 and 20.
The IMD on Saturday said the southwest monsoon had completely withdrawn from Bengal.
Darjeeling witnessed a sharp drop in the weather. The AWS at St Paul's School, Darjeeling recorded a minimum temperature of 8°C at 1.45pm on Saturday while the maximum temperature in the hill town was 12°C at 9.45am.
The maximum and minimum temperature in Darjeeling for the month of October has been recorded as 19°C and 11.6°C, respectively, as per the District Survey Report of Darjeeling.
Body recovered
The body of Suman Thapa, 59, a home guard, who had gone missing after a landslide hit Vauxhall, the official residence of Darjeeling SDO on October 19, was retrieved from the debris on Saturday morning.
"The bereaved family will be sanctioned Rs 2 lakh as ex-gratia as per government norms," said a senior district official.