Zoology graduates in Howrah hold off 'hunters'
The men were chasing a female palm civet when Santra and his friends confronted them; a group of villagers who had been bystanders till then now joined the protest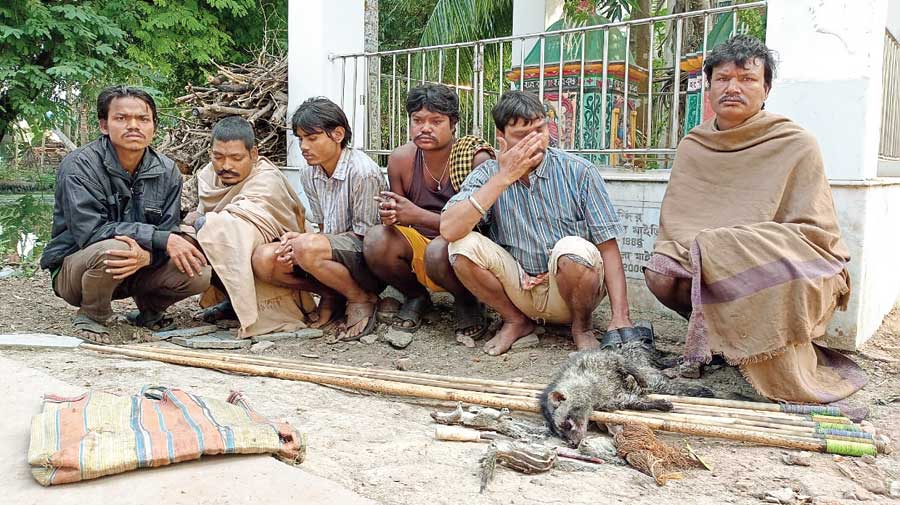 ---
|
Calcutta
|
Published 21.12.20, 02:45 AM
---
Three young men in a Howrah village confronted a group of alleged hunters armed with spears and axes and carrying a kill of animals on Friday.
The three, in their early 20s, stood firm for over three hours, not letting the group of six escape. Some other villagers accompanied them in the vigil. A team of foresters eventually arrived at the spot and apprehended the alleged hunters.
The three men are zoology graduates from Shyampur Siddheswari Mahavidyalaya in Howrah, around 75km from the heart of Calcutta. They are also members of a local environment club started by a zoology teacher of the college.
Soumyadip Santra, Suprakash Adak and Supriyo Dhara, who live in Benapara village in Bagnan, were out on a round of birdwatching in the morning when they got a call from a resident of a neighbouring village, Chandanapara.
A group of alleged hunters had entered the village and killed an Asian palm civet. "We rushed to the spot. The group had six members with spears and axes. The carcasses of a male palm civet and five squirrels were at their feet," Santra told Metro.
The men were chasing a female palm civet when Santra and his friends confronted them. A group of villagers who had been bystanders till then now joined the protest. The stand-off started around 11.30pm.
Seeing the protesters' ranks swelling, the hunters tried to escape but were stopped by Santra and his friends. "We stood in the way and made it clear we were not going to budge," said Santra, who is pursuing a master's in biotechnology.
Santra and his friends are volunteers of Human and Environmental Alliance League (HEAL), an NGO. On Friday, Santra called up a HEAL member, who in turn alerted the forest department.
A team of forest officers arrived after 3pm and arrested the alleged hunters. The men, charged under Section 9 (hunting) of the Wildlife (Protection) Act, 1972, face a jail term ranging between six months and three years if convicted.
"The arrested persons are residents of West Midnapore. They visit forests of south Bengal and collect honey and kill animals and birds for food," said Raju Sarkar, the divisional forest officer of Howrah.
"All credit goes to the young men. They showed great courage and determination." Santra, Adak and Dhara are members of Eco Club, a local platform for nature lovers started by Prosenjit Dawn, assistant professor of Zoology at the Shyampur college.
"They are active members of the club and conduct regular awareness campaigns in schools in Bagnan and Shyampur blocks. The campaigns are pictorial so that the children do not get bored. They tell children not to kill snakes and help them identify different types of snakes," said Dawn, who joined the college in 2017 and started the club a year later.