'PM forgot us but don't forget 300 martyrs', says farm leader
Balbir Singh Rajewal appealed to Bengal's voters to ask BJP candidates why the Centre had not since January 22 talked to the protesting farmers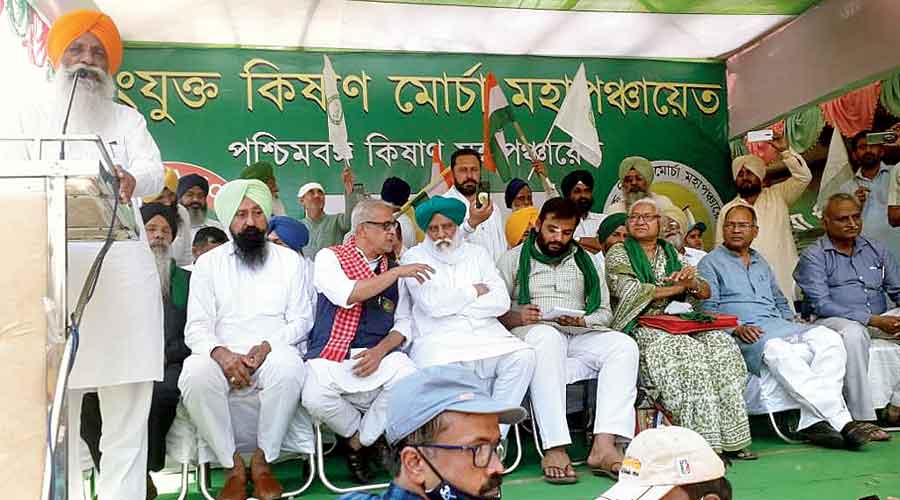 ---
|
Calcutta
|
Published 15.03.21, 01:59 AM
---
A farmer leader on Sunday described how the Narendra Modi government had been disregarding the movement against the new farm laws since June last year and how the Prime Minister had described the agitators as parasites.
Balbir Singh Rajewal, a leader of the Bharatiya Kisan Union (BKU) addressing a kisan mahapanchayat in Singur, urged Bengal's farmers to vote while keeping in mind that 300 farmers had been martyred in the struggle.
He appealed to Bengal's voters to ask BJP candidates why the Centre had not since January 22 talked to the protesting farmers, massed at Delhi's borders since November 26.
"We have been protesting since the ordinances were issued in June. We sat on railway tracks in Punjab, not allowing trains to run, but it made no difference to the Modi government. They have forgotten the value of farmers," Rajewal said.
He later told this newspaper that Punjab's farmers had squatted on railway tracks from August through October.
"We then marched towards Delhi in November. We were stopped at Delhi's borders on November 26. Since then, we have been camping there," said Rajewal, also a leader of the Samyukta Kisan Morcha (SKM), an umbrella body leading the protests.
"When the government held meetings with us, we criticised the new farm laws clause by clause. They said they would make amendments but we demanded the laws be repealed. Since January 22, the government has not met us once."
Several SKM leaders have while addressing Bengal's voters cited the issue of the Centre's refusal to meet the farmers.
Addressing a meeting in Calcutta on Saturday, BKU leader Rakesh Tikait had said: "The government has not met us since January 22. We waited thinking they would meet us but they didn't. So we thought we'd go to the nation."
Rajewal cited how the Centre had slighted the farmers. "The Prime Minister called us andolanjeevi. Yes, we are andolanjeevi but andolans (movements) have done a lot of good. They got India freedom," he said.
"The Prime Minister has also called farmers parjeevi, which means parasites. Itni badi gaali di (He hurled such a serious abuse)...."
Rajewal then made an emotive appeal: "Three hundred farmers have died while protesting against the farm laws. When you go to vote, remember these 300 martyrs."
He said that when BJP candidates came to voters' doors, people should ask them why the Centre had not met the farmers after January.
On Saturday, Tikait had urged Bengal's farmers to ask BJP candidates: "Where is the law on the MSP (minimum support price)?"
The Singur event, held near Singur Bazaar, drew a crowd of about 2,000.
Rajewal and several other SKM leaders had arrived in the state on Thursday. They held three meetings in Calcutta and one in Nandigram on Friday and Saturday. After the Singur meeting on Sunday, farmer leaders travelled to Asansol to address another mahapanchayat.
At all the meetings they have addressed in Bengal, the farmer leaders have urged voters to reject the BJP while stressing that they were not seeking votes for any particular party.