The good news — the intensity of the rain is likely to come down and the weather is set to improve from Sunday.
The caution — an abnormal surge in the water level of the Hooghly, imminent next week, can flood low-lying areas again if coupled with heavy rain.
The city was lashed by another round of heavy rain on Thursday night. A couple of more sharp spells are likely till Sunday, the Met office has said.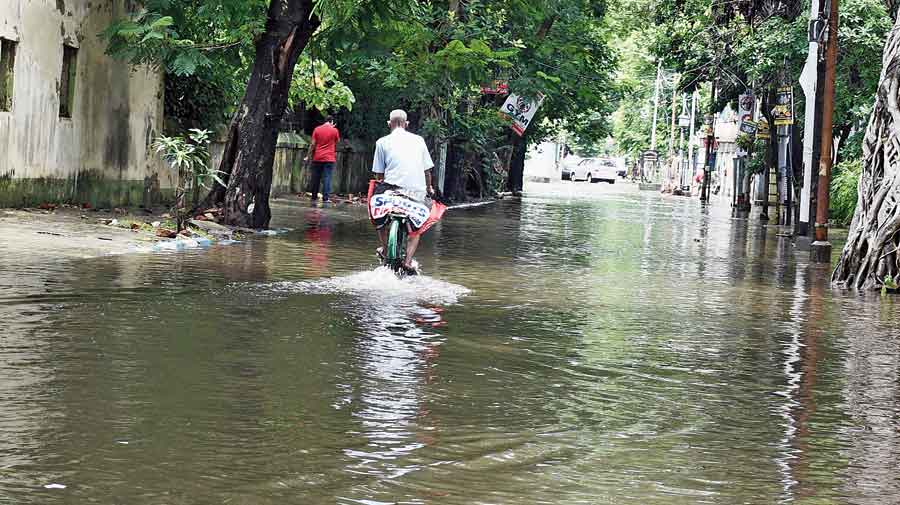 Burdwan Road on Friday afternoon. Pradip Sanyal
The weather systems triggering the latest wet spell would weaken from Sunday, said a Met official. "The rain will not go away. But their intensity will come down from Sunday," he said.
But the port trust has issued an alert of an above-normal rise in the water level of the Hooghly because of high tide from June 21 to 26. The surge can cause widespread waterlogging if accompanied by heavy rain.
A Met official said there was no immediate threat of a new system that can cause a fresh downpour next week.
The Met office recorded around 60mm of rain in Alipore between 8.30pm on Thursday and 8.30am on Friday. Pockets of EM Bypass and Behala also received close to 60mm of rain during that period. Cossipore and New Market got around 50mm each.
"A cyclonic circulation took shape over Bangladesh and the north Bay of Bengal on Thursday. The new circulation and the existing trough of low pressure extending from Punjab to northeast Bay were aided by strong moisture incursion from the Bay to trigger fresh showers," said G.K. Das, the director of the India Meteorological Department, Calcutta.
The cyclonic circulation over Gangetic Bengal, one of the contributors to the downpour on Wednesday night, has since moved towards Bihar and eastern Uttar Pradesh. The present circulation and the trough are likely to remain active for 48 hours, from Thursday to Saturday, the Met office said.