Pangolin scales weighing over 3kg and 38 claws were seized from two men in an app cab on Bentinck Street by a joint team of the Calcutta police's detective department (wildlife wing) and the wildlife crime control bureau (WCCB) on Saturday.
The International Union for Conservation of Nature lists the Chinese pangolin as a critically endangered species.
Based on a tip-off, WCCB officials and officers from the detective department intercepted the cab.
"It seems that multiple pangolins were hunted for quite some time and their claws and scales taken off," said Agni Mitra, regional deputy director, WCCB.
The two men — identified as Satish Kumar Chouhan, 37, and Basant Kumar Saw, 35 — were produced in a court that sent them to custody.
A forest department official said pangolin scales were valued at nearly Rs 3 lakh a kilo in the grey market.
New kids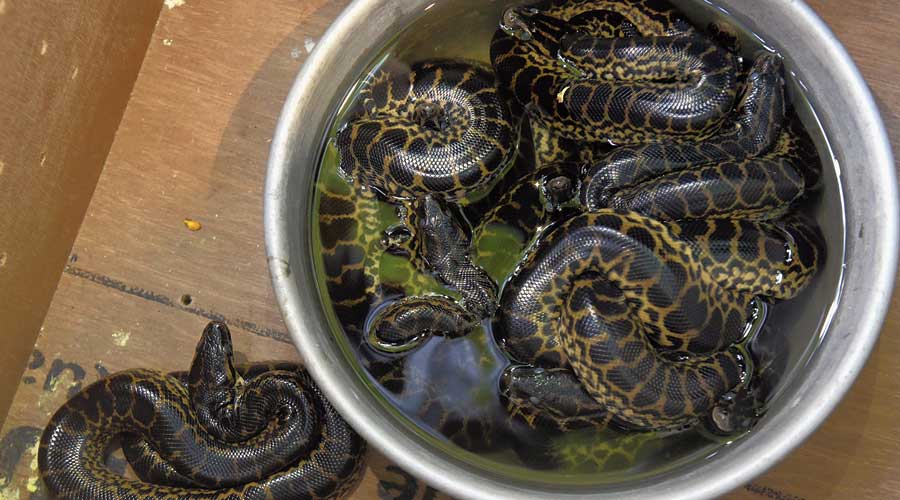 Nine anaconda babies in a vessel with water in a wooden box at the Alipore zoo on Saturday.  Sanat Kr Sinha
The babies were born to a yellow anaconda at the zoo on July 11. The mother is one of the four yellow anacondas that were brought to Alipore in June 2019 from the Madras Crocodile Bank and Centre for Herpetology in Mamallapuram, near Chennai, where they had been bred in captivity. Most snakes lay eggs. But some, like anacondas, give birth to babies.
The babies weigh between 100 and 150g and are around a foot long. "The enclosure that we built for the anacondas, comprising water bodies, rocks and swamps, helped in the breeding," said a zoo official. y