Tragedy reminder on forgotten flyover lessons
Scooterist should not have stopped, driver should have kept braking distance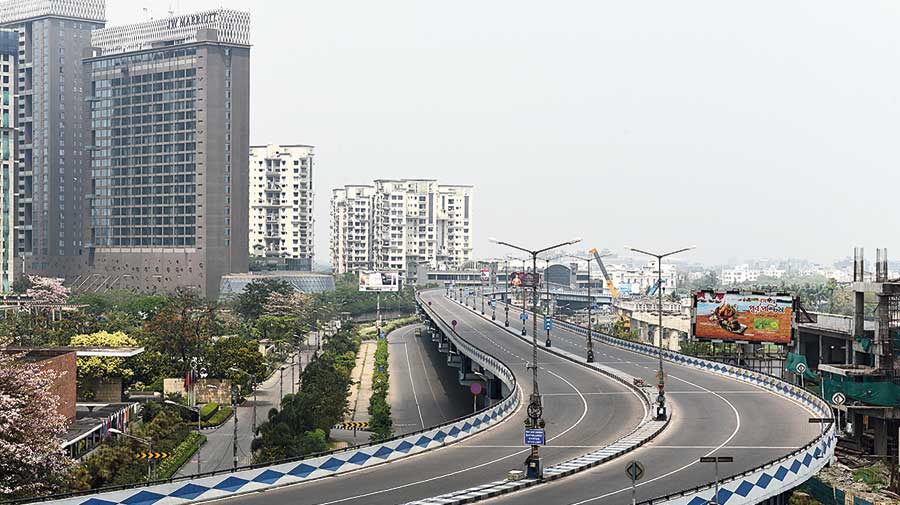 Parama flyover
File picture
---
Calcutta
|
Published 03.02.21, 02:16 AM
|
---
One man could have been still alive and another could have been saved from being accused of causing death due to negligence had both followed road rules while commuting through the Parama flyover on Monday afternoon.
Arijit Maitra, 26, had allegedly stopped his scooter on the flyover to answer a phone call and died after being hit by a car from behind. Fahin Halder, in his 20s, who was at the wheel of the car — a Maruti Suzuki Alto — has been arrested for the death of the scooterist. If convicted, he can be jailed for up to two years.
Senior officers in the traffic department said the scooterist violated a basic rule by suddenly stopping on the flyover. "No vehicle is allowed to stop on a flyover. That is the most important rule that all motorists must follow," an officer said.
The second violation committed by Maitra, the officer said, was to make an attempt to talk over the phone while driving on a flyover. The police have learnt during investigation that Maitra had suddenly stopped on the flyover to answer a phone call.
"We always encourage people to stop the vehicle and make a call, if at all it is necessary. But in this case, to stop in the middle of the flyover was a wrong step. No one should talk over the phone while driving on a flyover," the officer said.
Several officers feel the crash could also have been averted had Halder, who was driving the Maruti Suzuki Alto, maintained enough braking distance and stopped the car before hitting the scooter.
Halder, who was with his mother and younger brother, faces charges of causing death due to negligence. According to the rule, his driving licence will be suspended for at least three months and may remain impounded for a maximum period of one year.
Apart from the criminal charge of causing death due to negligence, which will be probed by the fatal squad of the traffic police, Halder will face a separate trial headed by the deputy commissioner of the traffic department to get back his driving licence.
The rulebook says that once a driving licence is suspended, the details are sent to the public vehicles department to update their records so that the offender cannot re-apply for a licence during the period of suspension.
Halder has told the police that a white four-wheeler was in front of his Alto. It had allegedly suddenly steered right to overtake the two-wheeler in front of it, leaving Halder with no time to react.
Officers said they were probing the presence of the white vehicle. "If at all there was a white vehicle in front, it is apparent that it was not maintaining the braking distance. Else, it could have pressed the brake in time to prevent a pile-up," said another officer.