Subdivisional hospital gets critical care unit
It was virtually inaugurated by chief minister Mamata Banerjee, who also holds the health portfolio, from a programme at Netaji Indoor Stadium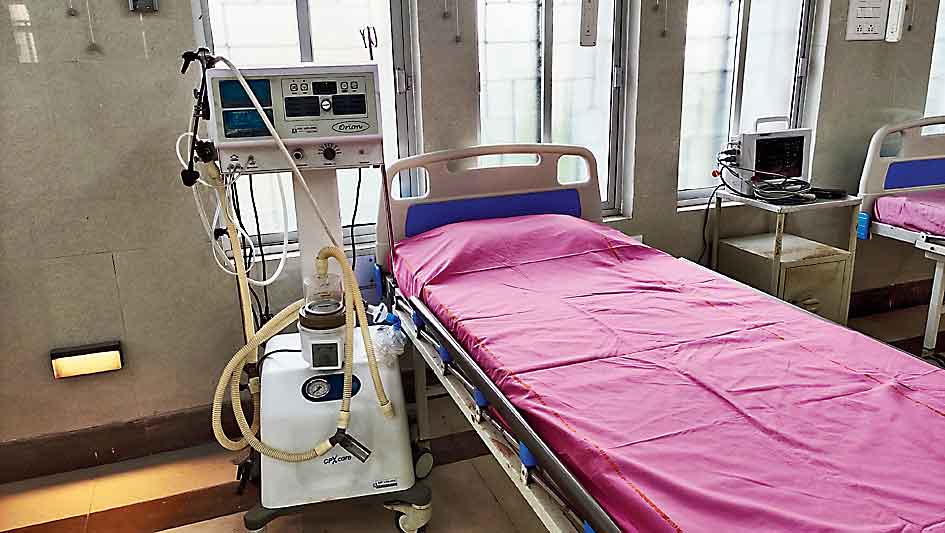 A bed in the critical care unit at the Bidhannagar Subdivisional Hospital on Monday.
Debasmita Bhattacharjee
---
Salt Lake
|
Published 12.02.21, 02:52 AM
|
---
The opening was done virtually by chief minister Mamata Banerjee, who also holds the health portfolio, from a programme at Netaji Indoor Stadium while local MLA and minister Sujit Bose, deputy chief medical officer, health, North 24-Parganas, Suparna Chattopadhyay and sub-divisional officer Biswajit Panda were present on a stage at the hospital.
The guests were given a tour of the new ward where till recently Covid vaccination was being undertaken. Now the space has been sanitised and fitted with ventilators, ECG machines, defibrillators, BiPAP machines and infusion pumps. The 12-bed facility will run from next week with six beds for now.
"The hospital caters to a wide cross-section of people in a big sub-division that ranges from Duttabad on one side to Sukantanagar and Polenite on the other, including all the blocks of Salt Lake and 10 more outside. It has developed step by step in recent years. I have contributed
Rs 29 lakh from my local area development fund for this," said Bose, who is also the chairman of the Rogi Kalyan Samiti of the hospital. Partha Pratim Guha, the superintendent of the hospital, expressed satisfaction that patients would no longer have to be referred to Nil Ratan Sircar Medical College and Hospital if they turned critical. "Sometimes getting a bed would be difficult. Now we hope to provide complete care under the same roof," he said.
Other facilities that have been added in the past three years are blood bank, digital X-ray, and CT scan. "All these are open round the clock. The chief minister had visited the hospital in 2015 and asked us what facilities were needed. The requirements are being met gradually," Guha added.
The programme was conducted by medical officer Subhro Bhattacharya, who is in charge of the state homeopathy dispensary at the hospital.
An award of contract has also been passed this week for an ENT endoscope worth Rs 18.45 lakh for the hospital.
"We hear even a dialysis unit has been sanctioned for us. We will create space for it once there is confirmation," hospital sources said.