Steel plaques to mark houses of famous Calcuttans
Project starts with residence, off Hazra Road, of singer-composer Pankaj Mullick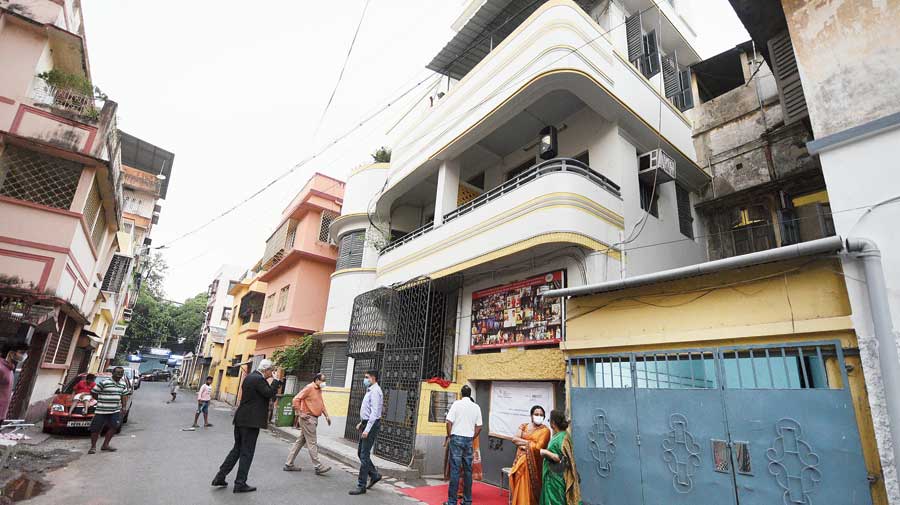 ---
|
Calcutta
|
Published 30.11.20, 01:20 AM
---
The city will get its own edition of London's blue plaque that commemorates eminent residents by installing an inscription on their houses.
The only difference is that in Calcutta it will be a stainless steel plaque, while the ones in London are blue and made of ceramic.
Intach, Calcutta along with Rotary 3291 installed the first of such plaques on singer-composer Pankaj Mallick's house at 2/2 Sebak Baidya Street, off Hazra Road, on Sunday, in the presence of Trinamul councillor Debasish Kumar.
The plaque, which has Mullick's date of birth and death, reads: "The first man of Rabindrasangeet — he was the first to popularise Tagore's songs among the masses. A renowned music composer for Indian films, he was a revered singer as well. As a radio and recording artist and as a film personality, he was extremely popular across India and internationally, his repertoire comprised songs in Bengali, Hindi, Sanskrit, Urdu and other Indian languages. He also set the parameters for the Indian National Anthem."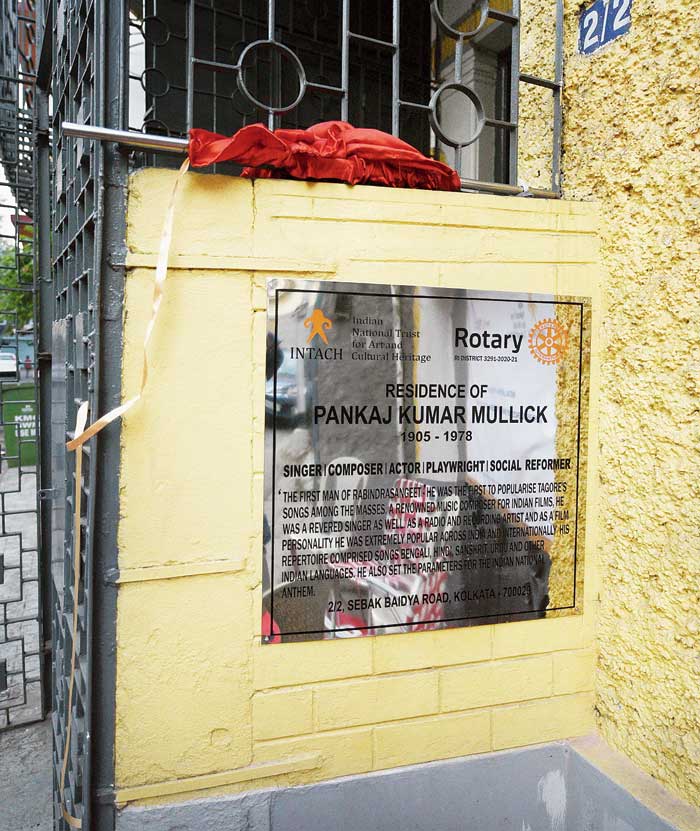 Intach had earlier started the scheme for heritage eateries.
Bhim Chandra Nag, KC Das, Mocambo, Eau Chew, Shiraz and others have an enameled blue plaque at their addresses. But for identifying the houses of eminent personalities in the city, Intach decided to go for stainless steel plaques because they are a lot easier and quicker to make.
"The blue plaques for eateries are enameled plaques made at a factory that has remained shut since the Covid lockdown," said G.M. Kapur, convenor of Intach, Calcutta.
"We have been wanting something like this for the building where my grandfather lived. In the West, it is an established practice to have plaques on the houses of eminent people. So when Intach and Rotary approached me with the idea I readily agreed," said Rajib Gupta, grandson of Mallick.
Intach and Rotary will install plaques at the houses of Satyen Bose, Meghnad Saha, Tarashankar Bandopadhyay, Mrinal Sen, Uttam Kumar, V. Balsara, Jamini Roy, Ali Akbar Khan and Chuni Goswami. This will be done over three months.
Intach also proposes to publish a book on 100 eminent personalities of Calcutta and hopes to set up plaques at each of their houses.
London's blue plaques are ceramic plates that are embedded on the wall of the houses of eminent people. Chief Minister Mamata Banerjee had unveiled a blue plaque at the house of Sister Nivedita in Wimbledon in 2017. The blue plaque scheme in London had started in 1866.