Rs 10 cr granted for road repair
Sujit Bose asked for Rs 4 crore but I realised more money would be needed, said Firhad Hakim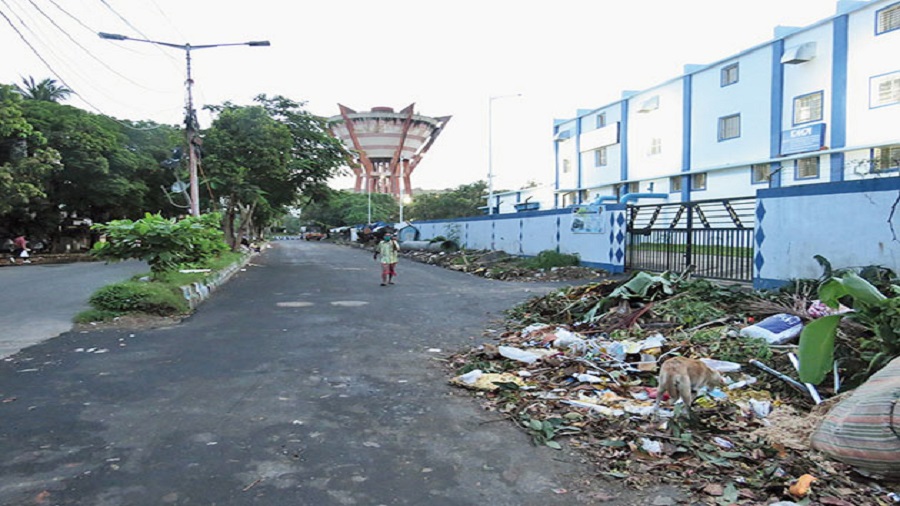 Two roads have been repaired on an "emergency basis" in time for the inauguration of the two pumping station cum water reservoirs. The flank of the road in front of the Tank 13 complex was blocked with uprooted trees and lacked a metal top since cyclone Amphan. Within three days of repair, the road has a heap of garbage blocking it.
Sudeshna Banerjee
---
Published 09.10.20, 02:38 PM
|
---
Urban development and municipal affairs minister Firhad Hakim inaugurated the purified drinking water project at Tank 5 near Baisakhi on Saturday. He announced the sanction of Rs 10 crore for road repairs before Puja.
"Sujit (Bose, the local MLA) had asked me for Rs 4 crore but on studying the plans sent by the Bidhannagar Municipal Corporation, I realised more money would be needed. So I have sanctioned Rs 10 crore," he said. He also urged the corporation to take the online route for application of trade licences. "It is a certificate of enlistment. So why not make it online? We have already carried out these reforms in Calcutta," he said.
In his address, what came out repeatedly was anguish at the lack of support for Trinamul Congress from Salt Lake residents in the ballot box. "Why are people not blessing us during elections? Had there been no development, I would not have said this. But so much work is being done, yet people are voting elsewhere — keu Ram-er namey, keu Bam-er namey (some in the name of Ram, some in the name of the Left)," he said. The Bidhannagar Assembly segment had given a lead to the BJP in the 2019 Lok Sabha polls.