Reluctance to get tested worries Calcutta doctors
Self-medication by Covid patients can lead to avoidable complications, warn experts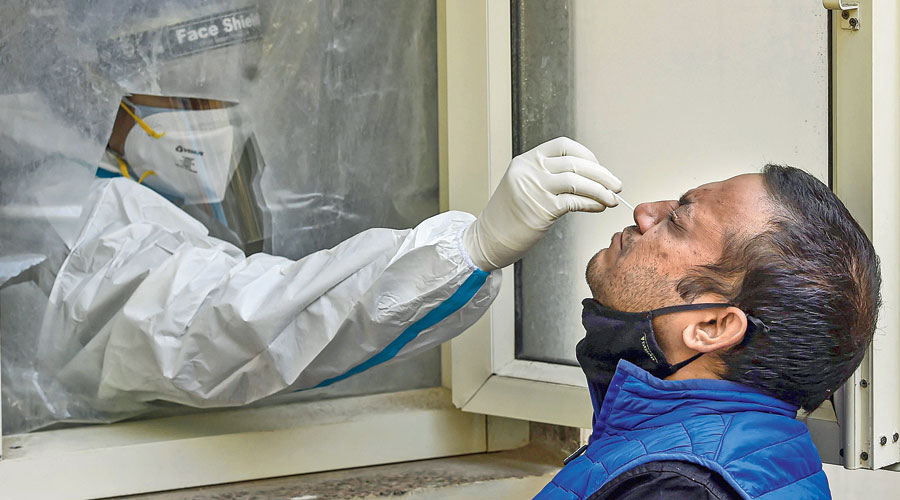 ---
|
Calcutta
|
Published 29.12.20, 03:01 AM
---
The number of people turning up for Covid-19 tests has gone down significantly over the last few weeks leaving doctors worried about the fallout both in treating those who develop complications after self-medication and those who turn up with post-Covid symptoms without any test results.
Health department officials said the number of people turning up for Covid-19 tests daily across Bengal has dropped from 47,000 a month-and-a-half back to just about 32,000 on an average across 99 laboratories. The officials are attributing the slide to a growing sense of apathy towards visiting clinics for tests.
The rate of hospitalisation has dropped, too, officials at Sasthya Bhavan said. Occupancy of Covid beds fell from 38 per cent in October to 13.5 per cent on December 27.
Calcutta, which recorded around 900 cases daily in the last week of October, tested 315 samples on Sunday.
Doctors and other health experts said the tendency to skip tests, possibly because of the social stigma attached to positive cases, is a dangerous trend and could have several far-reaching effects.
"A patient may turn up with joint pain. If he is a Covid survivor, I will know this a post-Covid reactive arthritis and it might last for three months and give him medicines accordingly," said Ajoy Krishna Sarkar, a critical care expert at Peerless Hospital. "But if he has not undergone the test and is not even aware of the coronavirus infection and subsequent recovery, we will have to wonder about the different types of arthritis. It will baffle us and delay the treatment."
Health experts said that while fewer Covid beds are occupied in general wards, the ICUs and HDUs across hospitals are still full. This is mostly because patients have been turning up in a critical state and on being tested they are found Covid positive.
"This is a warning sign," Sarkar said.
Health experts said there had been an increasing tendency among families to go for presumptive treatment for the rest of the members after someone has tested positive. This could have serious implications, said experts. "Someone in the family has mild Covid does not necessarily mean others will not develop a more severe form of the disease," said an expert.
Doctors have identified three possible fallouts of self-medication without getting tested.
⦿ The patient could develop sudden breathlessness. This could be because of "happy hypoxia", a condition in which the patient is not even aware that his oxygen saturation level has gone down drastically because he didn't bother to check the saturation level under the false impression of being mildly positive.
⦿ Palpitation. This could be because of inflammation of the heart muscle or myocarditis.
⦿ Sudden fall because of low blood pressure.
"Many critical patients have told us that they didn't feel it necessary initially to get tested because the fever didn't persist. Nowhere it is written that Covid fever has to persist. There can be several other complications," said Himadri Chakrabarty, a senior physician who is leading a team of doctors across different state-run Covid hospitals in North 24-Parganas.
"Patients with mild symptoms who do not undergo tests often turn out to super-spreaders of the virus. That is the biggest threat."
Several doctors said they had come across numerous instances of patients arriving at hospitals with a critical heart condition and a test revealed that many of them were Covid positive. A large number of such patients had comorbidities and some died of pulmonary fibrosis, a lung disease that occurs when lung tissues get damaged.
"On Sunday we lost a senior doctor to pulmonary fibrosis. He had battled for life for 27 days. The coronavirus aggravates a problem or a disease that can have a telling effect," said a senior health department official.
The health department has asked doctors across Covid-19 hospitals attending to new patients to convey clearly to the relatives accompanying them the need to get tested for Covid-19.
"If a 28-year-old turns up at a clinic with frequent palpitations, we might tend to pass it off as a case of anxiety. But if he is a Covid survivor, we will immediately ask him to get an echocardiography and an ECG done," said the official. "That will be the level of difference in assessing patients."