Relief soon near Avishikta crossing
Twenty-five metres have been widened on the western side and 12 metres on the eastern side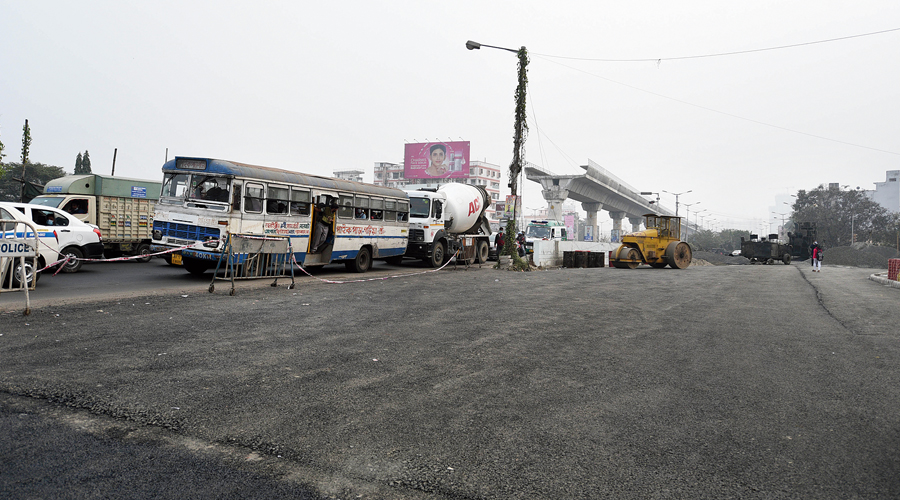 Vehicles from Garia approach the Avishikta crossing on EM Bypass.
Pictures by Gautam Bose
---
Calcutta
|
Published 23.01.21, 02:47 AM
|
---
The widening of a stretch of EM Bypass near the Avishikta crossing is nearly complete and cars will be running on the widened portion in about 10 days, a senior official of the Calcutta Metropolitan Development Authority (CMDA), the custodian of EM Bypass, has said.
Twenty-five metres have been widened on the western side and 12 metres on the eastern side. 
The widened stretch, which runs over a canal, will handle a lot of traffic soon after it is opened as the Avishikta crossing would be closed for construction of the New Garia-Airport Metro tracks, said an officer of Calcutta police's traffic department.
"We have almost completed the widening work. The bituminous top coat is being laid now. Some illumination work is left. It will be operational within 10 days," said the CMDA official.
The existing width of the Bypass is 26 metres — each of the two flanks is 13 metres wide.
After the widening, the total width will be 72 metres.
The official said that the widened portions were actually two culverts that have been built above the canal. There were two culverts on which vehicles moved.
Two more culverts have been built to widen the road width. 
The work began in November 2019. The CMDA had to temporarily block the flow of water through the canal to build the piers of the culvert. Work on widening another stretch of EM Bypass — near the Metropolitan crossing — is underway.
The CMDA official said the widening work there would be completed by July. The CMDA had embarked upon widening EM Bypass in 2013.
The CMDA official said the width of EM Bypass between Ultadanga and Ajoynagar, further south of Avishikta crossing, was 72 metres wide.
But the portion of the Bypass between Ajoynagar and Dhalai bridge was 55 metres wide. "We have not been able to widen EM Bypass further south of Ajoynagar," he said.
The total length of EM Bypass — Garia Dhalai bridge to Ultadanga — is 15.6km.
The police officer said that once Avishikta crossing is closed, vehicles coming from Anwar Shah Road connector would not be able to take a right turn towards Garia from the crossing.
Similarly, cars coming from Ruby cannot take a right turn towards Anwar Shah Road connector.
"Garia-bound vehicles coming from Anwar Shah Road connector have to turn left and then take a U-turn from a place called Mandipara to enter the Garia-bound flank of EM Bypass," said the officer.
"Anwar Shah Road connector-bound vehicles coming from Ruby have to go straight towards Patuli and take a U-turn from the Kalikapur crossing. The vehicles will then come to the Avishikta crossing and turn left to enter Anwar Shah Road connector," the officer added.