Private hospitals seek Covid vaccine clarity
Some said they might not be in a position to provide infrastructure and personnel for the if it goes on for an indefinite period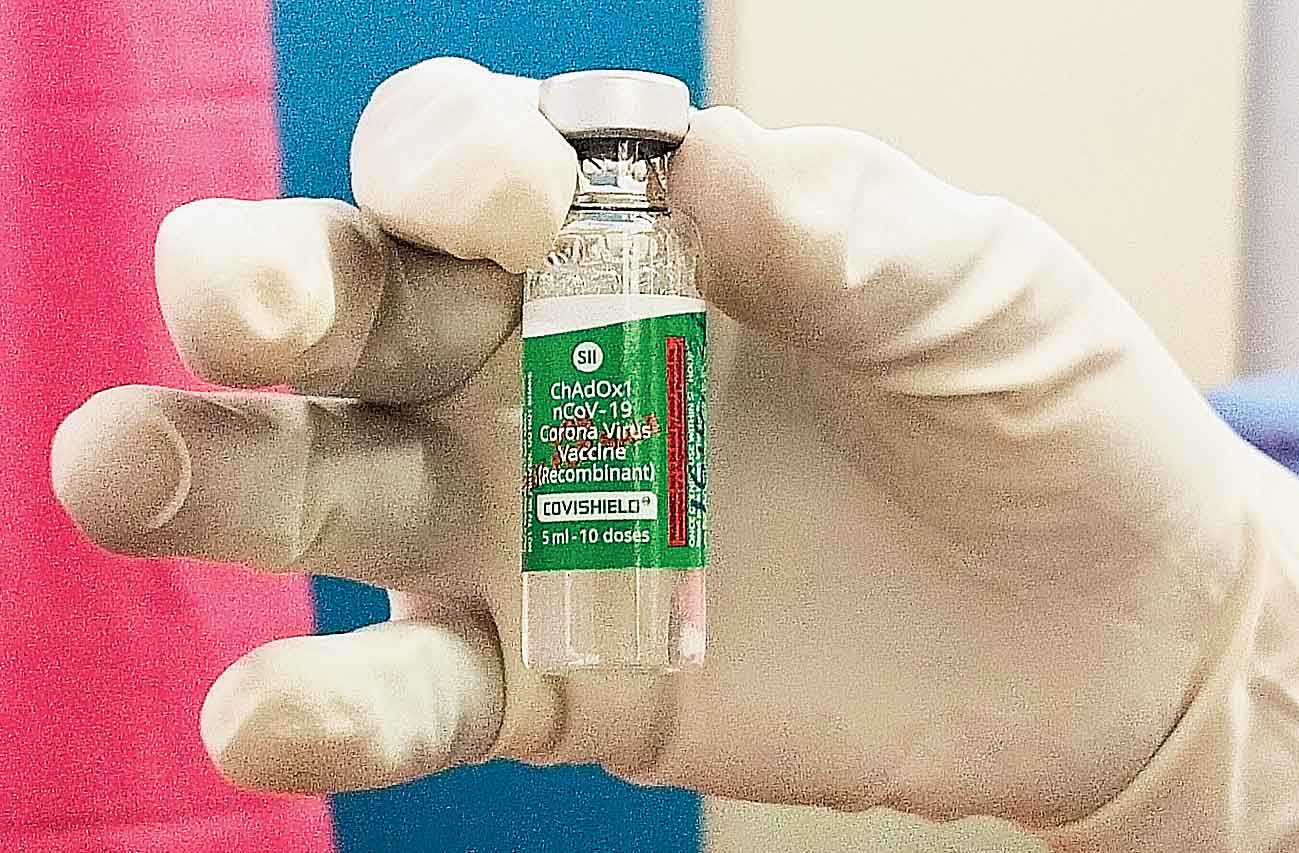 ---
|
Calcutta
|
Published 12.02.21, 02:30 AM
---
The Centre is planning to start Covid-19 vaccination for two priority groups among the general public and private hospitals are asking how long they will have to provide infrastructure for the campaign and whether they need to allot more space and personnel.
Some private hospitals said they might not be in a position to provide infrastructure and personnel for the vaccination programme if it goes on for an indefinite period. Others said they are ready to vaccinate the general public.
If private hospitals opt out in large numbers, the queue for the jabs will increase at government health-care units, including those run by civic bodies across the state.
The Centre has hinted that Covid vaccination among two priority groups of the general population — people above 50 and those below 50 but with comorbidities — would start after March 6.
Most private hospitals said they had to provide five rooms for Covid vaccination. The room where recipients are made to wait for half an hour after being administered the jab has to be large to ensure physical distancing.
Around 10 personnel, including doctors and nurses, are needed each day for the vaccination. Now most hospitals are administering Covid-19 vaccine doses to not more than 100-odd people — health-care workers and frontline workers.
But officials of several private hospitals said the number could increase several times when others would start getting doses. Then they might need more rooms and personnel.
"We have decided not to continue the vaccination programme after inoculation of health and frontline workers is completed. At the beginning of the drive, the state government's form had three options for vaccination — health-care workers, frontline workers and general people. We ticked only the first two," said Sudipta Mitra, the chief executive of Peerless Hospital.
"A large area of our hospital has been dedicated to the vaccination programme and we cannot keep it like that indefinitely."
The CEO of another private hospital said they had asked the state government whether it was possible to pull out of the vaccination drive midway.
"We have limited space in our hospital and can run the programme for maximum six months. It's fine if everyone is covered in that period. Otherwise, we'll have to opt out," said the CEO.
An official of the state health department said taking part in the vaccination drive was optional for private hospitals. "They can opt out anytime," he said.
An official of the RN Tagore International Institute of Cardiac Sciences said they would approach the state government to know how many people would have to be vaccinated each day when the programme starts for the general public.
"Now we are vaccinating around 100 people on an average every day. If the number increases, we have to gear up our infrastructure and personnel," said R. Venkatesh, regional director, east, Narayana Health, of which RN Tagore hospital is a flagship unit.
"With the existing infrastructure, we can vaccinate more than 200 people. We have to increase the number of rooms and personnel if the government says more people will have to be vaccinated daily," Venkatesh said.
Doctors and government officials said they are flooded with queries from "common people" about when they would be vaccinated and where. "More than 70 per cent of my patients are asking me when they will get the vaccine," pulmonologist Ajoy Krishna Sarkar said.
Some of the hospitals said they would continue with the vaccination drive. "We have told the state government that we are ready to administer vaccines to the general public," said Rana Dasgupta, CEO, Apollo Gleneagles Hospitals.