Phones for Calcutta kids to help them continue with studies
NGO aid comes with contract to ensure responsibility and accountability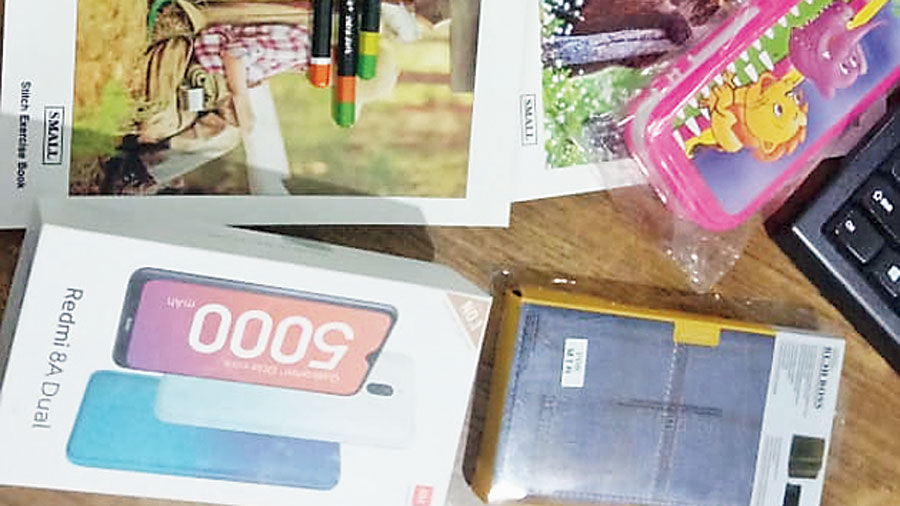 ---
|
Calcutta
|
Published 06.08.20, 04:13 AM
---
A city NGO working with women and children for almost five decades will provide underprivileged children in the city with phones to prevent them from giving up studies because of circumstances triggered by the pandemic.
Their parents, mostly helps, rickshaw-pullers, and idol-makers, have to sign a contract that the phones, along with SIM cards and data plans, will be used only for online classes and to submit assignments and not for any other purpose.
If the students miss two online classes, the NGO, Calcutta Social Project, will have the right to take back the phones. If the data pack is exhausted before the usual time, parents will have to recharge, a member of the NGO said.
The idea behind the contract is to create a sense of responsibility and accountability among parents and children, the member said. Also, this will prevent any adult in the house from taking the phone from the child and using it.
The NGO, though, understands it is natural for children to browse various sites if they have a phone and it is not possible for teachers to monitor the usage.
"In fact, if they browse sites, it will familiarise them with the digital world… it will be a further learning for them," Arjun Dutta, president of Calcutta Social Project, said.
The NGO has been providing underprivileged children with worksheets for the past four months. Parents take the sheets and return them to the centres while collecting food and ration.
"Street and slum children do not have access to smartphones/ computers/tablets… they have become completely cut off from academics. We have been trying to bring such children out of marginalisation by educating them, but Covid seems to have pushed them back into darkness," Dutta said.
"We are reaching out to children and parents who are committed to studying and making them sign a contract so that they value and recognise what is being given to them."
The phones will be handed out from next Monday. Initially, the programme will cover 60 children of Classes I-V. Some parents will let two other kids to attend classes, along with their children, a member said.
"When parents visit the centre for food, they submit and collect the worksheets from us. For some parents food is an incentive to visit the centre," Mohuna Dutt, the head of the NGO's open shelters and child development programme, said.
"There are some parents and some children who want the worksheets so that they can study… they can't be left behind because their parents cannot afford phones."
But money is an issue during the pandemic. Many organisations or donors have been tight with resources with no end in sight.
"Food involves instant gratification and more people are forthcoming. But for education, arranging finances is a difficult proposition because people don't know whether they will get results," Dutt said.
"But we have some long-time donors who are worried about the academic progress of these children… they have raised funds for us."