PCB gives coal-to-LPG push to ironers in Salt Lake
The programme has been undertaken to reduce air pollution and carbon emission in the area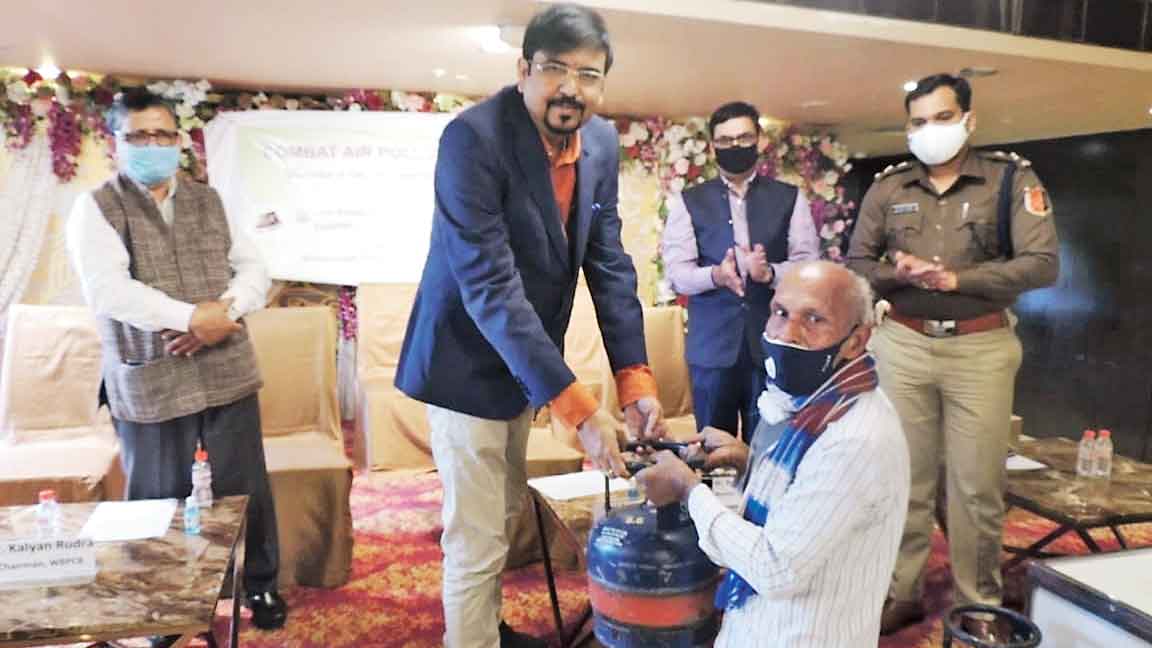 Fire and emergency services minister Sujit Bose hands over a cylinder to an ironer at a programme in Lake Town as (left) PCB chairman Kalyan Rudra looks on
Sourced by the correspondent
---
Salt Lake
|
Published 12.02.21, 03:12 AM
|
---
Coal burnt by the neighbourhood ironer has been identified as a significant source of air pollution. So the West Bengal Pollution Control Board (WBPCB) has decided to distribute LPG-powered iron pressers to them.
On Tuesday, the programme was initiated in Lake Town by handing over 60 such irons to the roadside ironers from the Bidhannagar assembly constituency area.
The programme, held in presence of fire and emergency services minister Sujit Basu, WBPCB chairman Kalyan Rudra and member secretary Rajesh Kumar, has been undertaken to reduce air pollution and carbon emission in Salt Lake, as well as in Calcutta and Howrah. The pollution levels remain consistently higher in these areas compared to the national benchmark.
"We want to reduce air pollution caused by burning of coal to generate heat in roadside laundries by handing over free LPG-powered iron pressers to them," said PCB chairman Rudra. "So far, we have received a list of about 400 such ironers in Salt Lake. We will hand over the rest soon," he told The Telegraph Salt Lake.
Minister Sujit Bose pointed out that air pollution needed to be reduced without affecting the livelihood of poor people. So this is a useful move on both counts," he said.
The PCB chairman claimed that apart from the environmental benefit, the switch over from coal to gas would mean economic gain for the ironers. According to a survey, roadside laundry workers spend around Rs 200 per day on coal to iron about 150 clothes. "The cost would reduce to Rs 40 per day once they switch."
While the PCB is providing the iron presser worth Rs 4,800 with a gas-filled cylinder free, the recipients would have to refill the LPG once the first cylinder gets exhausted.
State environment minister Soumen Mahapatra had earlier told The Telegraph Salt Lake that the PCB planned to handover 10,000 iron pressers in Calcutta, Bidhannagar and Howrah in a phased manner. 
A recent air pollution study conducted by the National Environmental Engineering Research Institute (NEERI), commissioned by WBPCB, found that ironers contribute 0.14 per cent of the total PM 10 pollutants and 0.29 per cent of the total PM 2.5 pollutant load in the Calcutta Municipal Corporation area's air pollution mix. PCB officials say that though Bidhannagar was out of the purview of the NEERI study, its figures are expected to be close to Calcutta's.
Both PM 10 and 2.5 pollutants are toxic — the latter more so — as they can enter the respiratory system and trigger diseases, including cancer.